Thomas Burrell, a soybean grower for more than 50 years, noticed something was off last August, two months before harvest: The soybean pods planted in about 2,000 acres in the northern Mississippi Delta were flat and not maturing.
But when he saw other soybean fields that used a more familiar seed variety, he said, they were vibrant and fuller.
He and his partners, all of them black farmers, had a hunch about the difference.
"This is not our first rodeo growing soybeans. We knew it was the seeds," said Burrell, who is also the president of the Black Farmers and Agriculturalists Association, a nonprofit advocacy group in Memphis, Tennessee.
Burrell is among a group of a few black farmers in Mississippi suing Iowa-based Stine Seed Co. for allegedly selling them "inferior" soybean seeds, which they claim is part of a wider conspiracy to take land from black farmers.
"Somebody played a game. We were anticipating thoroughbreds, and we got sold a donkey," David Allen Hall Sr., a partner with Burrell, said after Stine Seed put out a statement last week calling the suit meritless and "factually unsupportable."
The complaint, which has been winding through a U.S. District Court in Western Tennessee since April, lays it out this way: The black farmers purchased more than $100,000 worth of certified seeds on credit, as well as related chemicals, from Stine Seed at a March 2017 farm conference in Memphis.
Certified seeds are considered genetically pure, and are favored in many cases for their nearly 100 percent germination rate that ensures a more viable plant.
But after the farmers picked up the seeds and planted them, they said they saw a limited yield and noticed that the soybean plants were growing about 40 percent shorter than varieties purchased from other sources. The leaf developments also didn't look normal, they said in their lawsuit.
When farmer Walter Jackson informed a Stine Seed district sales manager about his concerns, he said the manager told him it could have been the result of "over spraying," according to an affidavit.
Meanwhile, fields that used other soybean seeds yielded about 48 bushels per acre, but the Stine Seed products yielded less than half of that, Jackson said in the lawsuit.
Burrell also said in the suit that fields where another variety of seeds were used grew 50 bushels per acre, but Stine's yielded less than five bushels per acre.
The farmers said other factors, such as rainfall or soil, couldn't have only negatively affected their fields where Stine Seed was planted because other varieties grew as intended. The issue was with the seeds themselves, they claimed in the lawsuit.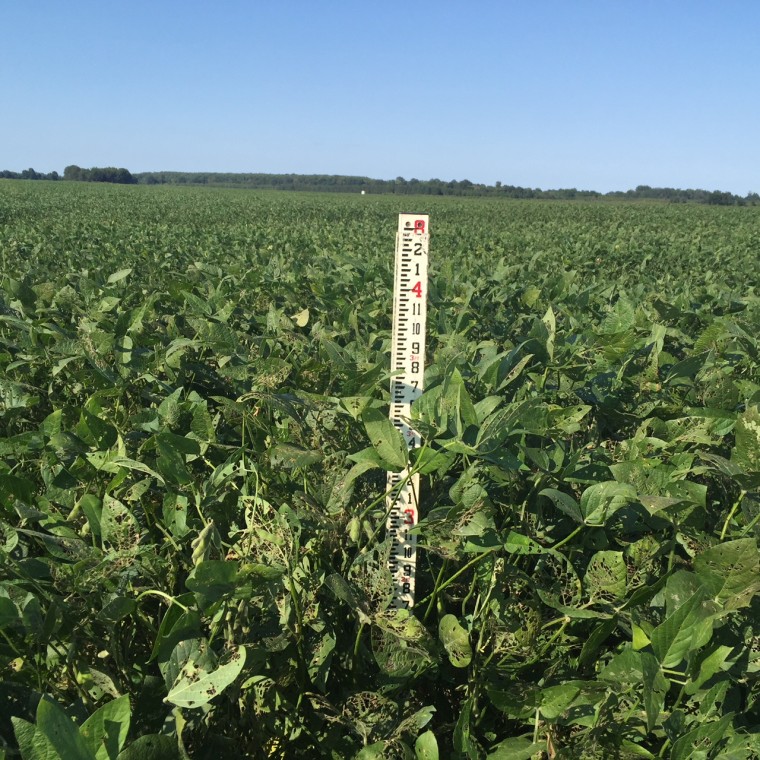 After the farmers say they met in November with Stine Seed sales reps who verified they had a "yield problem," according to the lawsuit, they decided to get the seeds examined through the Mississippi State Seed Testing Laboratory.
According to the lawsuit, testing through that lab, paid for by the farmers, found the seeds had zero percent germination ability.
A Stine Seed spokesperson said the company was unable to independently verify the results of the testing or the seeds themselves. The testing is dated December 2017, six months after the seed was first provided.
The testing laboratory could not be reached for comment.
The farmers also claim that a warehouse in Sledge, Mississippi, was used as a "switching station" for uncertified seeds to be repackaged and labeled as "certified," while the certified ones were sold to "other" farmers. They said they would be able to prove that as part of the discovery process.
They also claim that one of the sales reps had spoken to them about the powerful weedkiller dicamba being sprayed on vegetation in the area and warned of the phenomenon known as "dicamba drift," in which crops that are not genetically modified to withstand it are inadvertently damaged.
But, according to the lawsuit, the farmers believe mentioning dicamba was a cover for the "yield problem" the company already anticipated. They said they never had an issue with dicamba.
Regardless, Stine Seed's spokesperson said the seeds themselves did germinate as shown by the plants' growth.
Ultimately, the farmers allege that their poor soybean yield means they have no significant product to sell on the open market, and ultimately they fear they can't afford to repay the credit they owe on the seeds or to financially maintain their farms. Some of the farmers say their losses from planting the allegedly defective seeds amount to more than $1 million on about 2,200 acres. (The soybeans they sell ultimately end up as oils, tofu, soy sauce, and in paints and plastics.)
Danny Murphy, a white soybean farmer in central Mississippi, said last year was generally a good production year for farmers. If a soybean crop didn't grow as intended, he added, there could be countless factors at play, and it's possible a variety that came from out of state is "not well-adapted to this area." (Murphy is not connected with the lawsuit and said he has never bought Stine seeds.)
In Mississippi overall, soybean production and value were up in 2017 compared to 2016, according to Mississippi State.
Burrell conceded that no black farmers have actually lost their farms specifically after buying seeds from Stine Seed. The business is the largest independently owned seed company in the nation, and also provides seeds to thousands of customers every planting season and covers millions of acres across the country.
This is only the latest accusation adding on to decades of "racial animus," Burrell told NBC News, as black farmers have historically been denied loans or subjected to segregationist policies.
In 1920, there were more than 900,000 nonwhite farmers in the South, census data show. By 2012, the number of black farmers was down to about 44,600, mostly in the South, according to the most recent data.
U.S. farmers are more than 95 percent white, according to 2017 federal statistics, while blacks make up less than 1 percent of the profession.
The federal government has previously agreed to settle class-action lawsuits for more than $1 billion claiming the Agriculture Department discriminated against black farmers by denying them loans or having them wait longer in the approval process.
In a statement, Stine President Myron Stine said this latest lawsuit is "without merit and factually unsupportable."
"Stine takes seriously any allegations of unlawful, improper, or discriminatory conduct and is disturbed by the baseless allegations leveled against the company," he said. "Upon learning of these claims, the company took swift action to conduct an internal investigation, which has not revealed any evidence that would support these allegations."
Attorneys for Stine filed a motion to dismiss the lawsuit on Tuesday, and said it is false that the company would engage in a "racially motivated conspiracy to secretly switch soybeans" or an "elaborate racketeering scheme." The company said the black farmers have also failed to identify racist statements made by employees or show that white farmers were treated any differently.
American soy farmers in general have been under a financial strain in recent weeks amid the ongoing trade war between the United States and China.
Hall, the black farmer who is also a Pentecostal bishop, said he and his fellow plaintiffs are furthermore disadvantaged when they're given seeds that fail to flourish as expected.
"We've been farming and been doing it right for a good while," he said. "We put the seed in the ground — and it's supposed to grow, whether you're black or white."