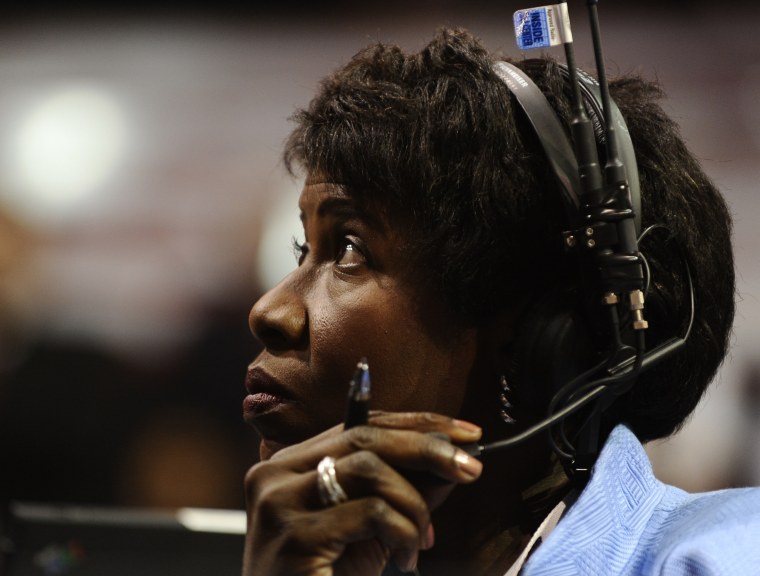 You didn't have to meet Gwen Ifill to be inspired by her integrity.
As many Black women journalists mourn her passing, we also remember this: Gwen Ifill was more than a brilliant Black journalist. She was simply a brilliant journalist, period.
It was a master class to watch the way she handled a roundtable full of men on Meet the Press or singlehandedly commanded a Vice Presidential debate. Her work stood on its own. She was unflappable. Even but exacting in her reporting. She got it right. And she smiled at us and extended a hand to her little sisters, so eager to follow her path.
We reached out to a few Black female journalists for their memories and reflections, in her honor.
---
She was a trailblazer for women and journalists of color and she was also a mentor to me. When I first arrived in Washington, D.C. —a novice to covering national politics — she carved out time from her busy schedule to have dinner with me. She gave me advice and answered my flurry of questions about how to succeed here. I was so touched that she would take so much time to invest in my growth. I will never forget that or the indelible mark she has left on journalism. She was simply the best. We can all honor her by living up to the very high standards of journalism she set. —Kristen Welker, NBC News Correspondent
---
I've know Gwen for most of my adult life and thus most of my professional life — which is why I have a hard time conceiving of being a grown black woman without her in the world, and being a journalist without her in somebody's newsroom. She was everything: a great journalist, a constant friend, an amazing godmother. She was #BlackGirlMagic. —Michel Martin, Weekend Host of All Things Considered
---
---
I met Gwen Ifill at a dinner in Washington, D.C. in 2006. I was a bit nervous walking up to this woman whom I viewed as a legend and icon in the world of journalism. I told her how much I admired her work and that she was an inspiration to young black female journalists, like me. She smiled warmly and couldn't have been more gracious. On this day that we mourn the loss of a great woman, I can't help but hope that she had lots of conversations like ours. I hope that she was aware of all the lives she touched with her words, her class and her dignity on the national stage. —Quiana Burns, Executive Producer MSNBC LIVE w/ Tamron Hall
---
Growing up, there weren't a lot of African-American women I could watch on national television news. Gwen Ifill sent a message to so many of us, just by her presence, that it was possible. An intelligent, steady, consistent, fair and reliable journalist. She will be missed. —Sheinelle Jones, TODAY anchor
---
I never had the privilege of meeting Gwen Ifill but her work as a journalist spoke deeply and personally to me. I admired her tenacity, stamina and her incredible intellect. She was what I grew up as a journalist aspiring to be. In an industry where few people looked like me, Gwen Ifill's existence encouraged me to believe I can and therefore I did find a place in this industry. I will be forever grateful for Gwen and other journalists who cleared the path so that people like me might humbly follow in their footsteps. —Yvette Miley, SVP MSNBC & NBC News Diversity & Inclusion
---
---
Gwen Ifill was a beacon of light for black female journalists, showing us that our voices were needed and belonged in our newsrooms. Her informed knowledge and continuous curiosity of politics helped us all better understand the importance of our profession. I strived to be better, because I considered her the best. —Kim Godwin, Senior Broadcast Producer CBS Evening News
---
Gwen mentored me and was someone I could turn to for advice both as a journalist covering politics and as a black woman navigating newsrooms. She would take the time to watch me on TV and give me feedback even though she had so much of her own work to do. We met through our hairdresser and her friend Athelia Knight, a former Washington Post reporter. I'll miss her dearly as she taught me so much about being strong, being tough and taking the time to help out journalists younger than me. —Yamiche Alcindor, The New York Times
---
---
Any black woman who has ever thought of being a journalist who dares to write about politics and race in America owes this woman a debt of gratitude. Gwen didn't grow up with someone like her to admire and aspire to. Because she was, so many of us are. We knew we could do it, and only hoped to be able to do it half as well as she did.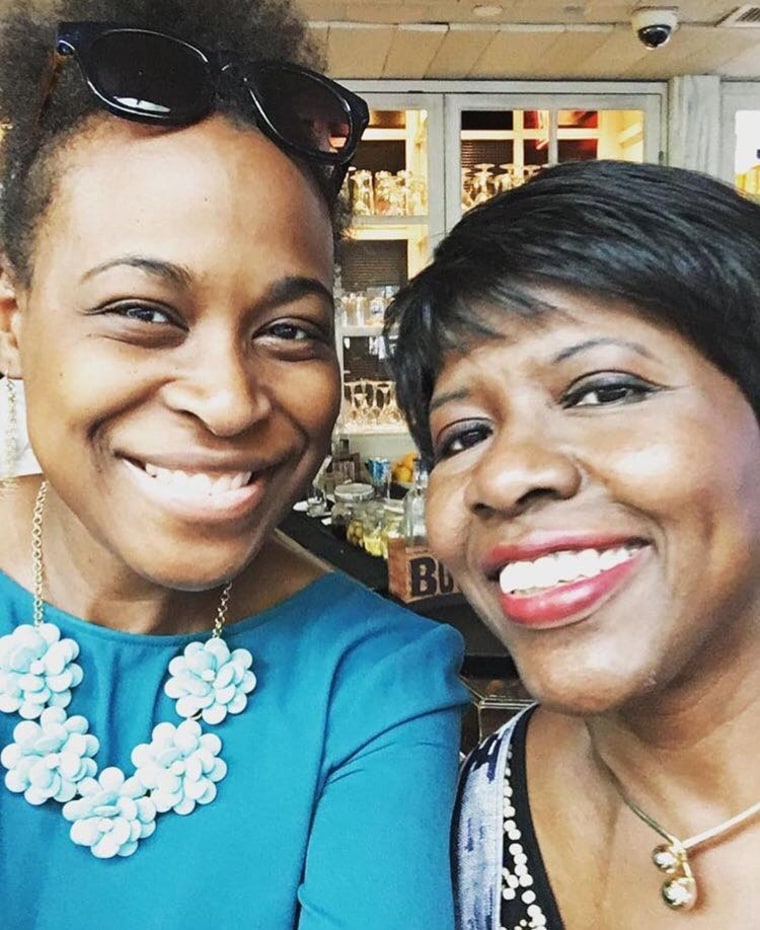 Every time any of us have ever shown up at a press conference to cover a candidate or politician and been the only one, we could walk in there with the armor of knowing that she had been where we were and we could do it. Every time one of us raised our hand to cover the big political story and they told us "not you" or "not yet" we knew they were wrong because she proved it and then turned around, reached back, and held the door open for the rest of us. She was so proud of us all, and so am I. —Errin Haines Whack, Associated Press
---
---
I admired Gwen Ifill before I came to Washington and then we became friends. That was a wow moment. Gwen supported me anytime I asked her too. The last few times we were in each other's space were filled with laughter and hugs. We could talk about gospel or text each other while we were both enjoying the Stevie Wonder Concert in Baltimore a few years ago. She saw my posts on social media and tried to find where I was in the crowd. She was that cool person you idolized and could laugh with. My heart is heavy and eyes filled with tears. She was our shining journalistic star and guide. She taught us by leading the way in journalistic integrity. —April Ryan, White House Correspondent and Washington Bureau Chief, American Urban Radio Networks
---
My heart sunk to read that Gwen Ifill had died. As a black woman who works in political television journalism, she was someone I couldn't help but look up to. Every interview and report she did reiterated how important it is to be prepared, thoughtful and focused on the idea that people deserve to know what their government representatives believe. I thank her for being an example.
My other journalism idol, Tim Russert, helped push her career and I hope both of them are together somewhere rehashing this insane election. —Shawna Thomas, DC Bureau Chief, Vice News
---
---
A sharp pain hit my chest when I learned of Gwen Ifill's death. Words cannot express the huge loss that will be felt among our community of Black journalists. Ifill was a trailblazer and icon that demonstrated to young Black journalists that our voices are not only important but vital in covering the news. The best way we can honor her is continue to ask the tough questions, hold those accountable, and give a voice to the voiceless. —Joey Cole, Senior Producer, MSNBC
---
---
Gwen Ifill was a heroine to so many of us. Her unflinching, direct and relentless journalim was an extension of her integrity and character. When she DM'd me recently to ask if I would go on PBSNewsHour for an election conversation, I felt I had passed a special litmus test, and I'll never forget her kind encouragement. She was a true champion for Essence women everywhere. —Vanessa K. DeLuca, Editor-in-Chief, Essence Magazine
---
She was the ultimate journalist: fearless and tireless and a remarkable woman. I met Gwen in New Hampshire covering a campaign stop by Massachusetts Governor Michael Dukakis, the Democratic candidate for president. When the event was over I looked around and there were very few black people in the room and ever fewer black reporters. I was one of them and Gwen was another. She was working for the Washington Post. We introduced ourselves and learned we both had graduated from Simmons College in Boston. So, now we really had something in common. We were Simmons sisters.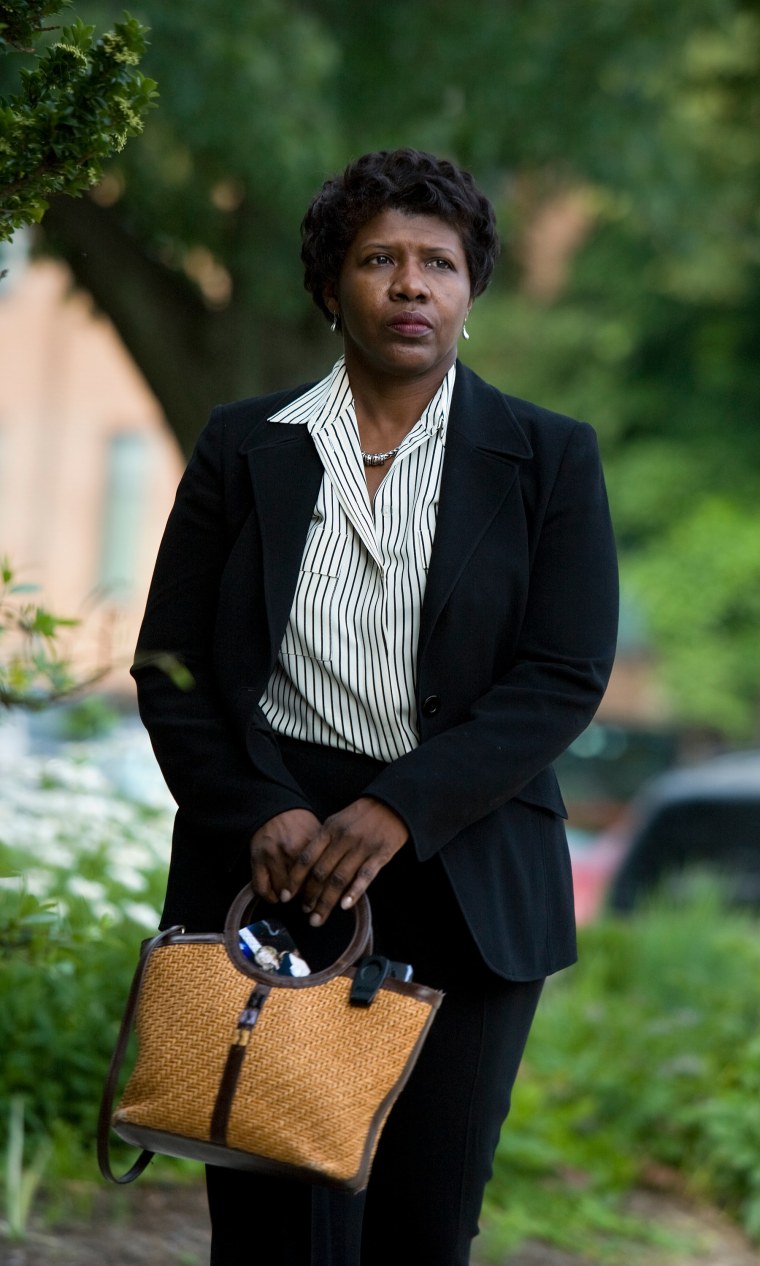 Over the years Gwen made a point to be available to encourage and inspire everyone, but especially young black women. Gwen was matter-of-fact about the rigors of the business but she was also incredibly witty and good-spirited about the possibilities in journalism for anyone willing to work hard.
Our professional paths crossed again in a big way when we both worked for NBC News. As I watched her star rise from NBCthen on to PBS I was so proud of her. Gwen made a point to stay true to herself and to the profession. She never seemed pressured about being the first with a story—even though that propelled her as it does all reporters—but, her real obsession was about being right.
Truth be told there was so much about Gwen that I admired. I hope that all those who aspire to be in this business of journalism will study Gwen's work. Learn from a master. —Rehema Ellis, NBC News Correspondent
---
---
Gwen was a transformative voice among journalists. Her professionalism and poise, coupled with an innate doggedness to report the story, reverberated throughout the industry. Gwen covered politics and the presidential race with class, wisdom and insight, separating her from the pack.—Sarah Glover, President, National Association of Black Journalists
---
Gwen Ifill was the epitome of hard work, purity in journalism and striving for excellence. The outpouring of those who benefitted from her guidance as a mentor and role model is the greatest example of the reach of her life's work. Her voice and perspective will be missed during this important time for our country. —Rashida Jones, Managing Editor, MSNBC
---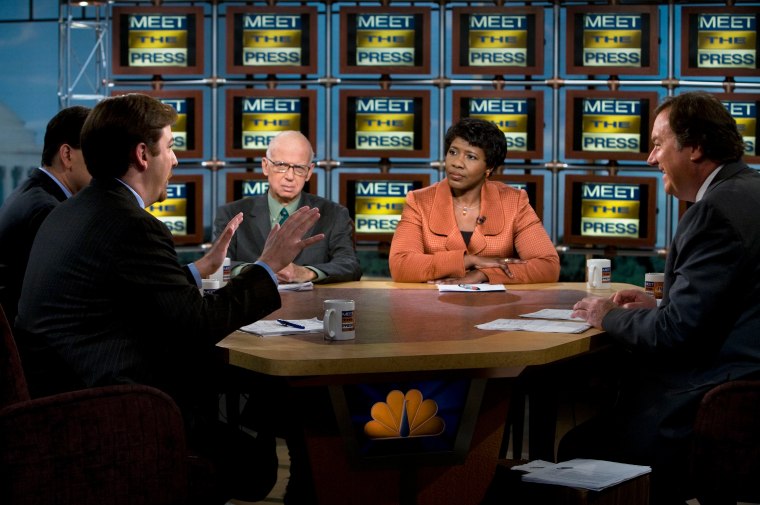 ---
Gwen Ifill's rise was fantastic to watch and as a young journalist, I found it nothing short of inspiring. When I finally got to meet her she was warm gracious and funny. And she understood what it meant to be a mentor. She got what it meant to be a role model. She embraced that responsibility. And she will be missed. —Audie Cornish, Co-host of NPR's All Things Considered
---
The thing about Gwen Ifill is that she knew exactly who she was and what she was doing – which, for young black women in the media, is an absolutely hypnotic thing to behold. I remember seeing her early in my career and thinking that she didn't just exude confidence, she engaged with it. She had such focused curiosity, such a relentless sense of purpose and integrity. She was black excellence in every possible way. —Rebecca Carroll, WNYC's Editor of Special Projects on Race
---
---
I'm beyond saddened by Gwen's passing. When I started in journalism over 20 years ago, she was one of the only black female journalists I could use as a role model. She was class and professionalism exemplified. Gwen was an icon, pure and simple. —Omnika Thompson, Executive Producer - MSNBC Live With Thomas Roberts
---
I remember meeting her, here in the halls of 30 Rock when she worked for NBC. Her smile was welcoming, her personality — effervescent. I admired her intelligence, her reporting skills, her style. Her passion for news was obvious, she was a shining beacon for all women of all ages to follow. Gone too soon, but what an impact she made on our industry, for all of us to see and be proud of. — Janice Huff, Meteorologist, WNBC
---
Gwen Ifill was a shining example of what was possible for many journalists of color. Her well-deserved accolades and accomplishments aside, she made a difference just by being. She created a space for herself in this industry and, in turn, made room for many more. She will be missed, but her legacy lives on. — Ugonna Okpalaoka, Associate Producer, TODAY
---