Video of Florida's only black state attorney being pulled over by two police officers prompted criticism after it was published to the Orlando Police Department's YouTube page on Wednesday.
The nearly three-minute video — which has been viewed on YouTube more than 228,000 times and shared through social media thousands times more — shows State Attorney Aramis Ayala being pulled over by two unidentified officers.
Ayala had just finished teaching a law class at Florida Agricultural and Mechanical University, a historically black university, when the traffic stop took place.
An officer is seen exiting an unmarked police vehicle with its lights flashing and approaching a white sedan as the clip begins.
As the officer approaches the car, he takes a driver license from Ayala, who remains face-forward.
"What agency are you with?" the officer asks.
"I'm the state attorney," Ayala responds.
The officer then tells Ayala that the license plate on her car did not come back as registered to any vehicle when the plate was run. The officer says he's never seen a license plate not return a registration before.
"What was the tag run for?" Ayala asks. The officer tells her that it's routine to run plates.
"That's how we figure out if cars are stolen," the officer says.
As he begins to explain that Ayala's windows are "really dark" as another reason for the traffic stop, the state attorney seems to smile uncomfortably.
"You guys have cards on you?" Ayala asks. The officer writes both his and his partner's name down on a piece of paper and gives it to Ayala before telling her to have a good day. The video then ends.
After the video was published, prominent activists tweeted out their questions and criticisms of the traffic stop.
Activist DeRay McKesson tweeted the video to his nearly 860,000 followers asking, "What was the reason for the stop?"
Shaun King, senior justice writer for the New York Daily News and Black Lives Matter activist, said in a tweet that the Orlando Police "struggl[ed] to give one reasonable explanation for why they just pulled over the only Black state's attorney in Florida."
Keith Boykin, a political commentator and author of "Beyond the Down Low: Sex, Lies, and Denial in Black America," also tweeted out the clip saying that Ayala had been pulled over "even though she had not violated any traffic laws."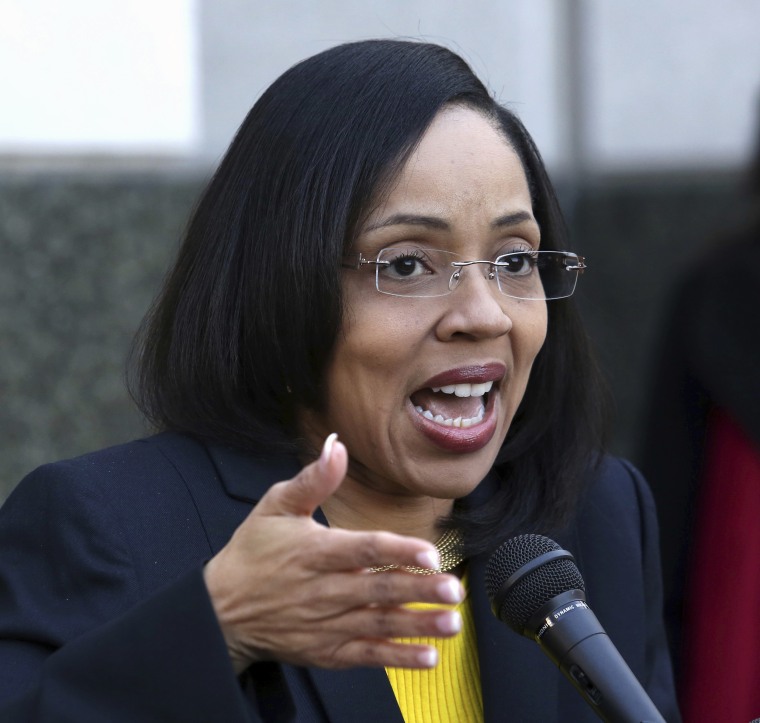 The Orlando Police Department said in a statement that the video was released as part of a public records request and its officers routinely run tags on patrol.
"In regards to the video, which was released by the Orlando Police Department last month, the officers stated the tag did not come back as registered to any vehicle," the statement said. "As you can see in the video, the window tint was dark, and officers would not have been able to tell who, or how many people, were in the vehicle."
Ayala said in her statement that the video has been viewed more than 2 million times and has produced some misinformation.
Related: Prosecutor Removed From Markeith Loyd Case Received Threats, Noose in Mail
She said she has not filed a lawsuit or complaint, as some have alleged.
However, Ayala said she violated no laws, her license plate was properly registered and her window tint was not a violation of Florida law.
She agreed the traffic stop was consistent with Florida law, but still merited a conversation with law enforcement.
"My goal is to have a constructive and mutually respectful relationship between law enforcement and the community," Ayala said. "I look forward to sitting down to have an open dialogue with the Chief of Orlando Police Department regarding how this incident impacts that goal."
Ayala was in the news earlier this year after she announced she would not seek the death penalty for an accused cop-killer. Gov. Rick Scott removed her from the case over the decision.
The state attorney received a racist message in March and a week later received another letter with a noose made of green twine enclosed. It was unclear who sent Ayala the message.