Student activists from across the globe will hold a day of action to further the movement of ending racial injustice on Wednesday.
Organizers are calling the latest movement #StudentBlackOut — a collective day of action where student leaders are encouraged to organize events that, according to Yamiesha Bell, one of the organizers, uplift Blackness.
"We hope that Black students organize and participate in actions that really challenge white supremacy and anti-blackness on their campuses," said the University of Connecticut student. "Every school is [unique] and has different needs and wants; however, we know oppression takes place at every institution in this country and white supremacy is embedded all through Higher Education."
There is an expectation that many of the actions will mirror much of what has already been seen in the past few weeks from the University of Missouri to Yale to Virginia Commonwealth University and others.
Brandan Marshall, one of the support members for the day of action, believes what will be witnessed on Wednesday is a student movement holding true to its roots of being traditional social justice work.
"I am pretty sure we will see rallies, marches, walk outs and the occupation of presidents' offices," he said. "Students from across the globe are experiencing many of the same issues on their campuses and Wednesday will display the collective experiences."
Marshall and Bell are members of Black Liberation Collective. Also known as BLC, the organization is in some ways the umbrella for #StudentBlackOut. But be not fooled, BLC is not a traditional organization in the sense of social justice organizations.
According to Marshall, it is truly a collective movement. Roughly 100 student leaders, organized by chapters, make up the leadership of BLC. Decisions are made by consensus and delegated.
"We are a group of people with a set goal in mind," said Marshall who serves as a member of the steering committee for BLC, "What can we do to fix these situations [in our institutions for which we pay tuition]."
A former Savannah State University student and native of Atlanta, Marshall said his role is simply to provide support where needed.
In preparation for Wednesday, BLC has held a series of conference calls for leaders who may be interested in learning more about the day of action; as well as BLC, its purpose, mission and goals.
On the prep calls leaders from the University of Missouri, Yale and other schools have provided background and updates on the climates of their campuses.
During Sunday night's call, representatives from Mizzou shared with participants the history of their movement, providing a timelime that stretches as far back as the 1950s – which is where their movement, #ConcernedStudents1950, gets its name.
RELATED: Student Activism Leading Change on College Campuses
They report the climate there has pretty much been the same since the admittance of the very first African American to the school in 1950. At that time, student leaders prepared a list of demands to the administration regarding issues of racial injustice, fairness and safety for people of color. Those initial demands provide the blueprint for #ConcernedStudents1950's present demands.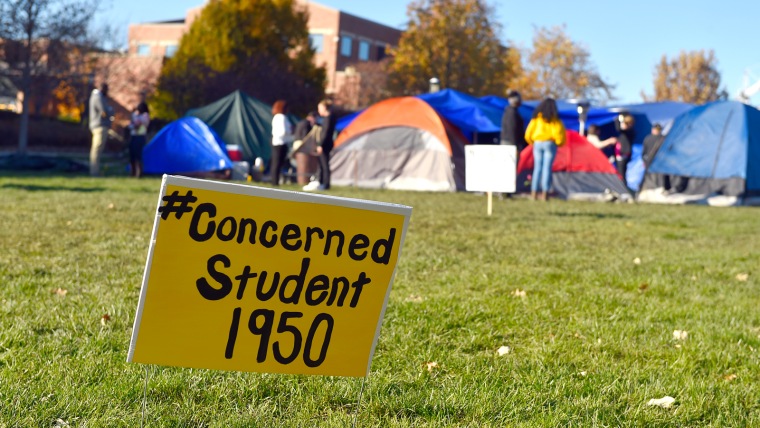 Zellie Imani, a member of BLC, said the response to the call to action has been amazing. More than 300 people have participated in the calls.
"Social media has played the largest role of promoting the call and informing the public of the day of action," he said. "From there, folks have been able to inform their personal networks, and begun organizing in preparation for #StudentBlackOut."
Members of BLC were also sure to obtain feedback from participants via real time polling and Q&A. In addition, an overview on the power of demands and how to make them was discussed and participants were directed to the group's website where a toolkit is available as a reference for organizers.
The calls have also provided safe space for participants, said Bell.
"[The calls have] allowed us to reach so many students and hopefully inspired them to fight for their right to be safe on their campuses in every sense of the word," she said. "We also wanted to make sure that we uplifted the students who were active on their campus to show love and solidarity with all of them."
So far, according to Marshall, leaders from Michigan State University, Emory University, Ohio State University, Spelman and Morehouse College and Princeton University have expressed plans to hold events on their campuses. Another call is scheduled the night before #StudentBlackOut.
College campuses are a microcosm of what is happening in the greater society, said Marshall.
Which is why BLC has been intentional in its efforts.
"We really want to give students the confidence and tools they may need to organize actions on their campuses," added Bell.
"Our goal is to empower students," Imani said. "They themselves are the leaders they've been looking for."