LONDON — The British capital was barely stirring when the nine black-rights activists stormed the runway.
Just before 5:40 a.m., the protesters used small inflatable dinghies to slip across the marina that surrounds London City Airport on three sides.
Once on the tarmac, they chained themselves to a bamboo tripod and unfurled banners reading "BLACK LIVES MATTER" and "CLIMATE CRISIS IS A RACIST CRISIS."
It was a controversial and bold statement — with each of the protesters risking a prison sentence — but the stunt stood out for another striking reason.
All nine of them were white.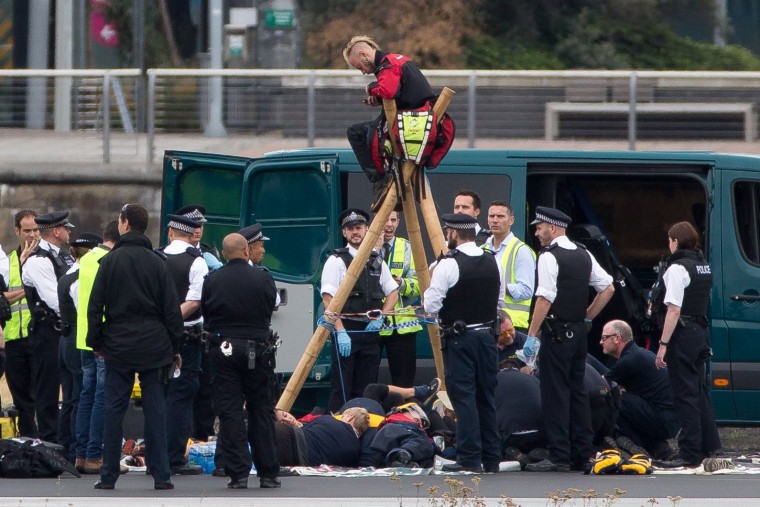 The protest on Sept. 6 was the most high-profile demonstration by Black Lives Matter U.K., an emerging offshoot inspired by its U.S. cousin.
The British chapter shares the sweeping ambition of its American counterpart, pledging to tackle everything from black deaths in police custody to the impacts of climate change on Sub-Saharan Africa.
"We don't live single issue lives and so there's no single-issue solution," spokeswoman Natalie Jeffers told NBC News. "The direct action Black Lives Matter U.K. is taking is to stop 'business as usual' and ... to bring truth to the narratives that we're being told."
On the surface, there is one fundamental difference between Black Lives Matter U.K. and its stateside counterpart: Comparatively few Brits of any race are killed by the country's police, most of whom don't carry guns.
So far this year, U.S. cops have killed 761 people — 187 of whom were African-American — according to The Counted, a database compiled by the Guardian.
In the same period, just 30 people have died while in contact with police in England and Wales, according to the British charity INQUEST. Two of these people were from "black and minority ethnic communities," a phrase used in the U.K. to describe people of non-white descent.
Despite this statistical chasm, many experts and activists — and even the police themselves — say that institutionalized racism is still rife across Britain.
A disproportionate number of people from black and minority ethnic communities die following the use of force in police custody, according to INQUEST. The charity says it is "concerned that institutional racism has been a contributory factor."
Several high-profile of deaths within the past 12 months — namely Sarah Reed and Mzee Mohammed, who died in custody, and Jermaine Baker, who was shot dead by police — have added fuel to what was an already smoldering disquiet.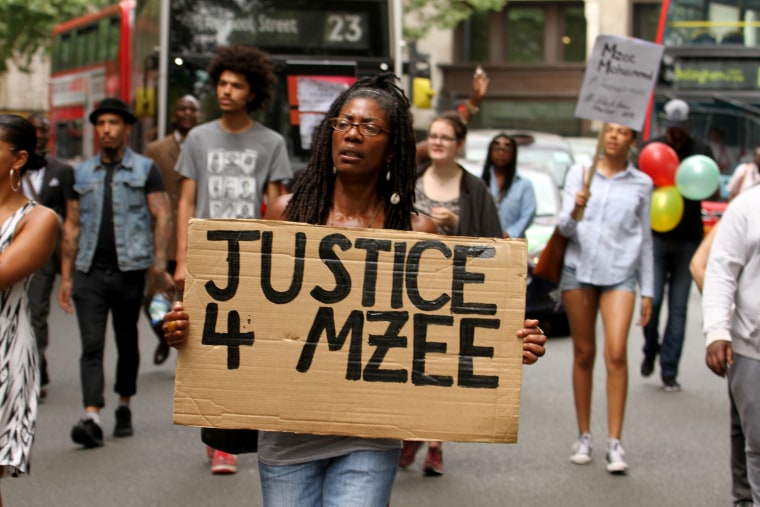 "America has a harsher version of racism than Britain," according to Dr. Kehinde Andrews, an associate professor in sociology at Britain's Birmingham City University. "But all the issues still exist here, just on a different scale."
While British cops may not kill as many people as their American counterparts, Andrews said the U.K. actually fares worse than the U.S. in at least one regard: racial diversity in top jobs.
He referred to a study last year by the race-equality think tank the Runnymede Trust that found there were only 60 black professors in the U.K. — which has a population of 64 million people. "And that's in any subject," Andrews said.
"The role of white allies is to take some of the biggest impacts of this fight, this liberation struggle"
There are myriad other indicators that prove "racism is pretty bad in the U.K.," according to Andrews, not least the country's lopsided jobs figures. The unemployment rate for whites is 4.3 percent — less than half the 9.6 percent for other ethnic groups.
This gulf is even wider for young people, with 27.5 percent of black people aged 16-24 unemployed, compared with 13.1 percent of white youths.
"On the face of it, you have got laws, an emerging middle class, but honestly if you look at the underlying issues it's not any better — it's actually got worse," Andrews said.
Top British police officials don't dispute there is a serious problem.
Sir Bernard Hogan Howe, the head of London's Metropolitan Police, admitted last year there was "some justification" to the allegation that his own force was institutionally racist. He went even further, saying: "I think society is institutionally racist."
This was echoed by Commander Mak Chishty, head of race and religion at the U.K.'s National Police Chiefs' Council. "Sadly there is still evidence to show that young black people are over-represented at all stages of the criminal justice system," he said in an email to NBC News.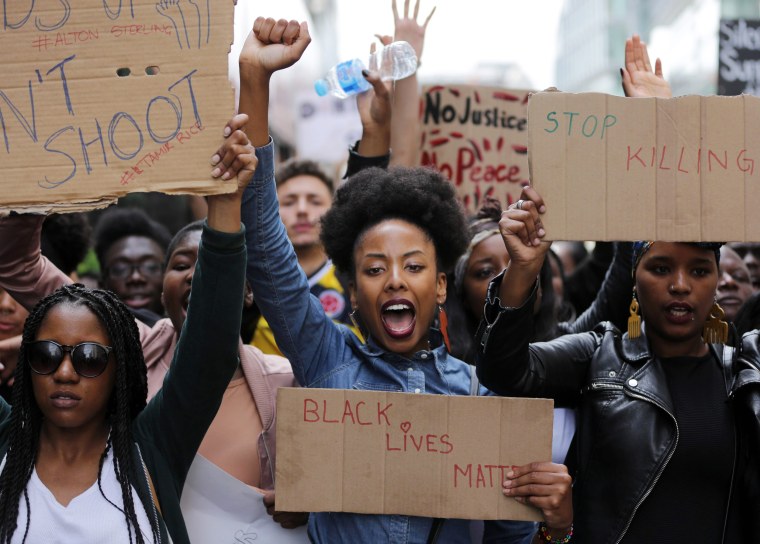 The problem may be acknowledged, but campaigners are still aggrieved about what they say is a lack of change in the system, and close to zero accountability for officers involved in the deaths of black people.
"We're not trying to compare ourselves to the U.S.," according to Jeffers, the BLMUK spokeswoman. "What we're trying to do is highlight the fact that there is a disproportional impact on black people in the U.K. when they come in contact with the state or those agents of the state."
The first U.K. chapter of Black Lives Matter was established in October last year.
The group has no hierarchy, Jeffers said, instead building itself around a "horizontal leadership model" where everyone is encouraged to take on different roles. BLMUK also places "queer, black, feminist principles at the front and the leadership," she added.
Jeffers wouldn't say how many active members the group boasts, nor how many people have participated in its protests. "Because of security, we don't give that information out," she said. She would only describe the organization as "quite large," adding that "we're across the whole of the U.K. and we're growing."
On Aug. 5, the movement announced itself to the nation by blocking the highway to London's Heathrow Airport, along with demonstrations in several other British cities. All of these prominently featured non-white protesters.
The "shutdown" marked five years since police killed 29-year-old Mark Duggan in north London, a shooting that sparked days of riots and looting across the country.
Both this demonstration and the subsequent blockade of London City Airport were accompanied by a slick promotional video pushed out on the group's social media channels.
The protesters included a cousin of the Oscar-nominated actor Ralph Fiennes, an organic farmer, and an Oxford University graduate. Three of the group live on a houseboat called "Northern Soul," which currently is moored in the historic English village of Roydon, according to the Guardian.
Most if not all of the protesters are well-known on the environmental-activism scene. They pleaded guilty to trespass at a London court earlier this month and were given conditional discharges and small fines.
The reaction, however, was mixed. And for several reasons. Most controversial was the decision by the group to deploy only white activists on the runway of London City Airport.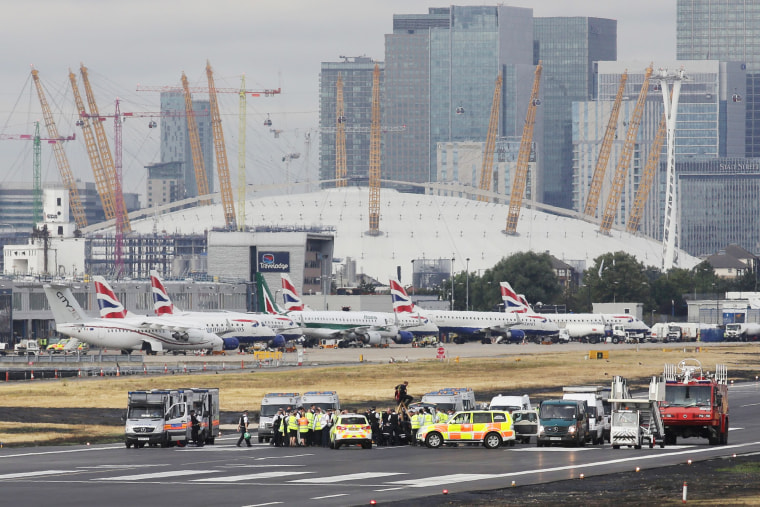 The absence of any racial diversity at the demonstration has angered some within the black-rights movement and perplexed many outside it.
"One of the things that people are suspicious of is [BLMUK] getting co-opted and taken over," said Andrews at Birmingham City University.
Focusing on climate change — "an issue of the white left" — has the potential to derail the entire organization, he said. It was essential, he added, to root the protests in the direct experiences and grievances of the black community.
London-based racial equality campaigner Stafford Scott said in a flurry of tweets that BLMUK was "fast becoming a joke" and urged the movement's "white allies" to instead focus on stopping people in their communities turning to far-right politics
"For such a high-profile action on our behalf I would expect black involvement," added Lee Jasper, co-chair of the campaign group Black Activists Rising Against Cuts.
BLMUK spokeswoman Jeffers responded by noting that the protests, while carried out by white people, were "black-led." None of the white protesters have spoken to the media — one of them declined to speak to NBC News when contacted by email — and the only interviews have been given by BLMUK's black members.
Jeffers declined to say whether BLMUK had approached the protesters or vice versa in organizing the demonstration, but said the decision to deploy only whites was motivated by the belief that they would be treated more leniently by the British criminal justice system.
"The role of white allies is to take some of the biggest impacts of this fight, this liberation struggle," she said. "It shouldn't be black people who are continually being incarcerated and hurt and put into trauma."
Equally controversial was BLMUK's claim that climate change is a "racist" crime.
The argument goes like this: The majority of global warming throughout history has been caused by the mostly white leaders of the industrial revolution, followed by the mostly white bosses of modern-day multinational corporations.
By contrast, most countries set to suffer from climate change are in Sub-Saharan Africa.
"The argument posed yesterday that climate change is 'racist' seems needlessly polarizing," said the website Climate Home. "Does that make car drivers racist? Does it mean heating your beans on the gas hob makes you a racist?"
However, for many activists, including BLMUK and Andrews at Birmingham City University, the kind of racism they associate with climate change is not perpetrated by individuals, but by an institutionally racist system.
"Climate change is being driven by mass industrialization," said Jeffers. "Those multinational corporations are owned by a very few elites — mostly white, mostly male elites."
The movement's biggest problem, however, might be that there is little evidence it has garnered support from the general public in the way its U.S. counterpart has.
The London City Airport protest disrupted an estimated 9,000 flights; much of the reaction on social media ranged from the disapproving to the vitriolic.
Jeffers told NBC News that "we're not doing this to be popular" — but some experts say a lack of mainstream public support may be a real stumbling block if BLMUK is trying to affect real change.
Successful civil disobedience campaigns — the anti-Vietnam protests and U.S. civil rights movement, for example — have thrived because they were able to "create a very powerful narrative" with which the general public could get on board, according to Simon Hall, a professor of modern history at the University of Leeds.
Dr. Lee Sartain, a senior lecturer in American Studies at the University of Portsmouth, agreed. "It is difficult to know what BLMUK are hoping to achieve," he said. "They lack a narrative that a broader public can sympathize with."
The campaign led by Martin Luther King Jr. and others "showed whites as the un-American aggressors, attacking good American citizens who just happened to be black," Sartain added. "In the U.K. it is much more difficult to identify leaders [such as King] and a clear historical rights movement."
The civil rights and anti-Vietnam War movements also had the advantage of focusing on just one issue.
What the group does have on its side, however, is a significant amount of media buzz. "I would say what they do next may make or break the movement in this country," Sartain said.
Of course, Jeffers won't divulge details of BLMUK's plans.
"We are a collective and we're here to stay," she said when asked about the future. "We will continue to address the issues of racism and anti-blackness in the U.K."