Reality TV is starting to show the world what healthy Black love can look like.
The season finale of "The Bachelorette," which aired last week on ABC, provided a happy ending for Charity Lawson and Dotun Olubeko. Despite a handful of Black women in the lead, it was the first time in 20 seasons in which a Black couple left the show headed for happily ever after. Season 18's "Bachelorette," Michelle Young, along with her pick, Nayte Olukoya — who are both half Black — announced their engagement during the season finale of the show before splitting months later in June 2022. Other Black contestants on these shows have dated and partnered with men of other races. 
But in an interview with People magazine, Olubeko said he wanted to "do our best to show what beautiful Black love can be like."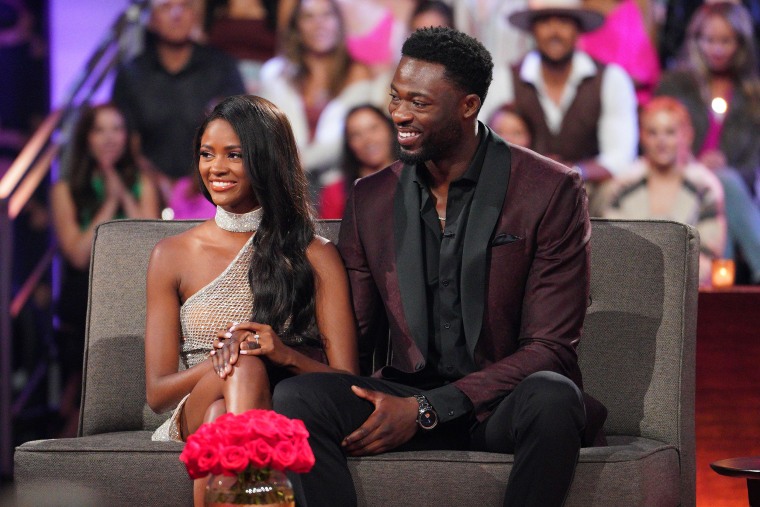 Reality dating shows have been a television mainstay for decades now, but the big ones, like the "Bachelor" franchise, tended to relegate contestants of color to the sidelines until somewhat recently. 
That's been changing, though, and Black couples have started to win in the end; in addition to Lawson and Olubeko, the fourth season of the Netflix hit show, "Love Is Blind" saw Tiffany Pennywell and Brett Brown saying "I do" at the altar. This seemingly small shift of successful Black relationships on reality dating shows is debunking long-held stereotypes that are often played up on the genre about Black relationships and Black people as partners.
While plenty of scripted shows have shown more positive aspects of Black relationships, such as Issa Rae's "Insecure" and 90s classic "Martin," reality TV tends to lean a little harder into racist stereotypes, says Treva Lindsey, professor of women's gender and sexuality studies at Ohio State University. 
"We share these stereotypes about Black women being unlovable — and particularly for heterosexual couples — that Black men are more likely to date outside of their race than Black women," she said. "I actually think, particularly for Black audience members, it was affirming to see the choices that these couples made." 
Black women are also simply being presented as desirable on reality TV made for the masses, while also having agency to chart their own journeys for love, said Brandy Monk-Payton, an assistant professor at Fordham University's department of communication and media studies. 
"And they're not just reacting to people seeing them as desirable, but they are presented as objects of affection in a very sort of explicit way," she added.
The Browns were not only fan favorites on "Love is Blind" season four, but they were also the only Black couple to remain together after the end of the show, in which contestants go on a series of "dates" without the ability to see or touch each other, before meeting in real life and then deciding whether to marry.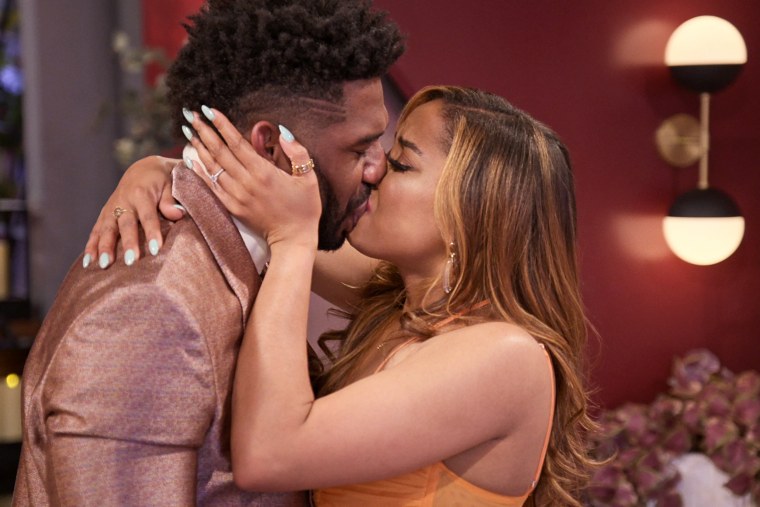 Pennywell Brown said the show allowed her and Brown to be their most authentic selves and that fan acceptance made her "feel good that our love story was well received." Being able to express his authentic self was also important for Brown, who said, "there aren't a lot of strong positive examples" of Black couples in reality TV.
The couple, who live in Portland, Oregon, said they both had positive examples of Black love growing up, which provided them with a model for what they wanted in their own marriage. Pennywell Brown's parents have been married for more than 35 years, and have "a healthy Black love where they've supported one another," she said. Her husband's parents have been together 34 years. Both said they found the examples set by their own fathers to be foundational. 
"Even having my father say, 'I would never break up this family,' like, I knew and I trusted that," Pennywell Brown said. "And it's something that I wanted when it came to choosing the perfect man for me. It was that stability, that strength. I just knew the qualities that I saw in my parents and my father was what I wanted to find in a partner."
The couple, who were married in May 2022, said they have both learned the importance of communication and vulnerability in their relationship. Brown said people should get to know someone by asking real questions and avoiding making assumptions. Pennywell Brown said Black singles should be open, vulnerable and not be afraid to express their feelings. 
"I had nothing to lose by telling Brett how I truly felt," she said. Pennywell Brown also said Black viewers need more shows promoting what healthy relationships can look like.
"We have the shows for entertainment," she said. "Yes, we are funny people. We are entertaining. But we also love hard, too. So, I think it's important for people to be able to, like — even if it's not in your community or in your household — you can look on the TV and say,  'You know what, I want a love like that.' It is so important for people to see what is possible in their love life if they choose to want it."