Dr. Damon Tweedy was just a medical student some years back when a 50-year-old African-American woman arrived in the ER complaining of chest pain. While the team prepared to treat her, she went into cardiac arrest and died.
In some ways the scenario reflects the vulnerability of being black in America: dying younger—and frequently from preventable diseases—Tweedy writes in his new memoir, "Black Man in a White Coat: A Doctor's Reflection on Race and Medicine."
"I always enjoyed reading medical stories…but so few talked about race," he explained. "So I wrote the book I wanted to read."
A professor at Duke University Medical School who practices at Durham VA Medical Center, Tweedy recalls being attracted to his profession, in part, because he figured that "numbers, equations and formulas would not be messy the way that life can be." And yet they were.
He recalls being on the receiving end of a number of racial micro-aggressions, such as the time his professor assumed that he was there only to fix the lights. Or when an admissions interviewer questioned whether he could succeed in medical school, despite a high GPA.
"My first thought was that I'd done something wrong," he says. The flames of insecurity were fanned, quite possibly, by being only the second in his immediate family to attend college; his father never finished high school.
A PAINFUL HISTORY
Going in, Tweedy was well aware of medicine's checkered past as it relates to people of color: The Tuskegee Experiment allowed nearly 400 unsuspecting African-American men with syphilis to go untreated for decades, so a government agency could collect data on the effects of the disease. And over the decades, would-be health-care providers have taken it upon themselves to sterilize poor women of color so they wouldn't reproduce.
In fact, when Tweedy was a student, a clinic nurse suggested they ask a 19-year-old black woman—whose baby was stillborn because of crack abuse—if she wanted her tubes tied. Ultimately, cooler heads prevailed.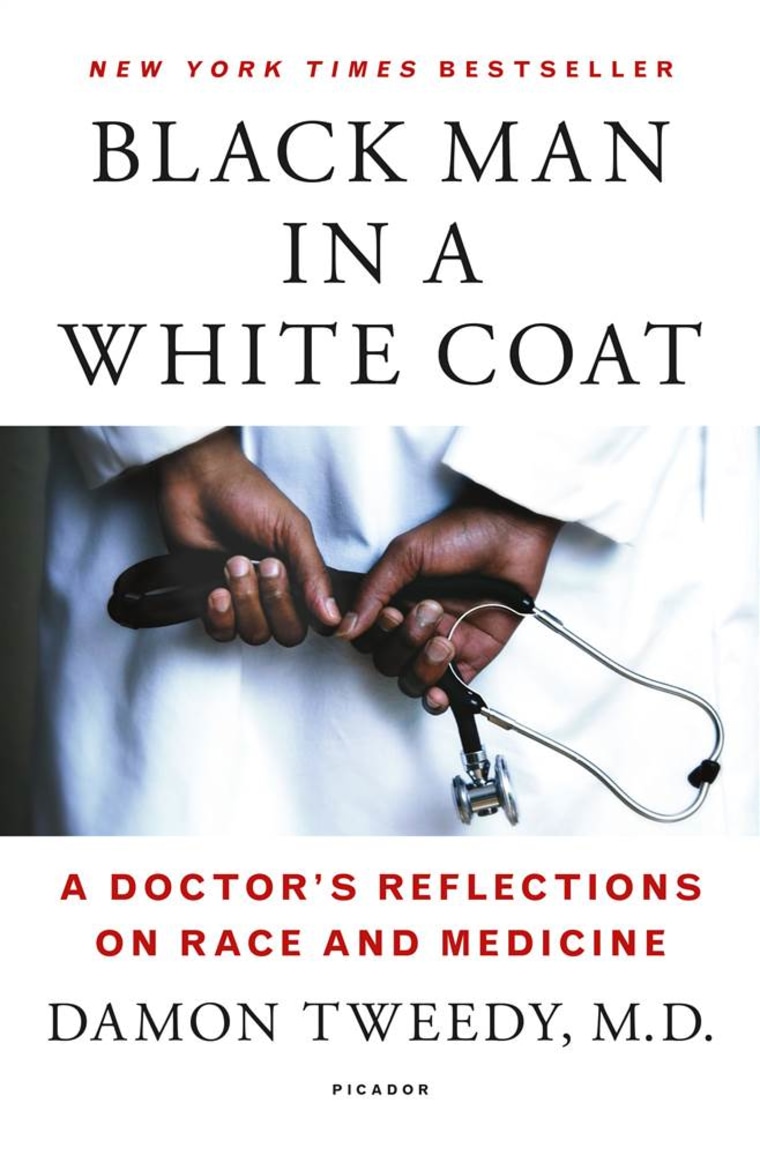 Black Man in a White Coat
As Tweedy continued his education and training, he discovered a passion for treating the mind over the body.
"The emotional side is every bit as important as the physical side," he asserts. But getting Black folks to seek psychiatric treatment can pose quite a challenge.
"They figure it's not necessary, and that there are ways [to get help] other than talking to a stranger—like going to church or talking to family," says Tweedy, who is married to a doctor and has two young children. The physician also finds that both black patients and white doctors sometimes mistakenly view African Americans as being more resilient because they've survived slavery and segregation, while continuing to confront institutional racism. But that assumption can decrease the likelihood that African Americans get diagnosed or treated.
'OFFERED A PATIENT MORE'
One of Tweedy's favorite stories in the book is about a woman who sought his help to face her anxieties and anger towards an emotionally abusive black father. She was a biracial PhD student who felt ambivalent about finishing her degree.
A few years later their paths crossed again, and Tweedy discovered that the woman had earned her PhD, married a black man, and found a position as a professor.
"I couldn't know whether she would have arrived at this place in life with someone else's guidance, or even on her own," the author says, "but for once, I felt that by being a black doctor…I had truly offered a patient something more."
I felt that by being a black doctor…I had truly offered a patient something more."
As Tweedy and his black classmates sought role models who looked like them over the years, many held presidential candidate Ben Carson in high regard. Tweedy recalls the time that he and his peers visited the illustrious doctor's home. But Carson's more recent comment that Obamacare is "the worst thing since slavery" struck Tweedy as irresponsible and bizarre.
As protests swell around the series of mostly unarmed, young black men dying at the hands of police, the author is even more alarmed by the number of blacks who pass away at early ages because of heart disease, diabetes, and other preventable illnesses.
"It's not as catchy in terms of a news story, but it's a real issue," he said.