It's been quite the year of groundbreaking accomplishments for O'Shea Jackson Sr., better known as, Ice Cube. The West Coast rap patriarch turns 47 today and has much to celebrate. Both of his films, "Straight Outta Compton" and "Barbershop" smashed box offices worldwide and his group N.W.A. was recently inducted into the Rock and Roll Hall of Fame.
Ice Cube says he is grateful and recognizes the importance that his projects have played in African American movie culture. The Compton native identifies the environment of barbershops and music as forms of social media.
"Franchises equal value in Hollywood," Ice told NBCBLK. "It's right where I want to be and I'm blessed to have been back in the spotlight with these passion projects of mine. A lot of black movies don't peak to this level in tinsel town and I'm positive it's the quality that's speaking volumes."
"The Barbershop, especially in urban communities, represents a safe haven for us. Everybody can't wait to hear your opinion on the latest current events, trends, pop culture, gossip. It's where folks can come on a Saturday afternoon and express themselves while getting a shape-up," he added.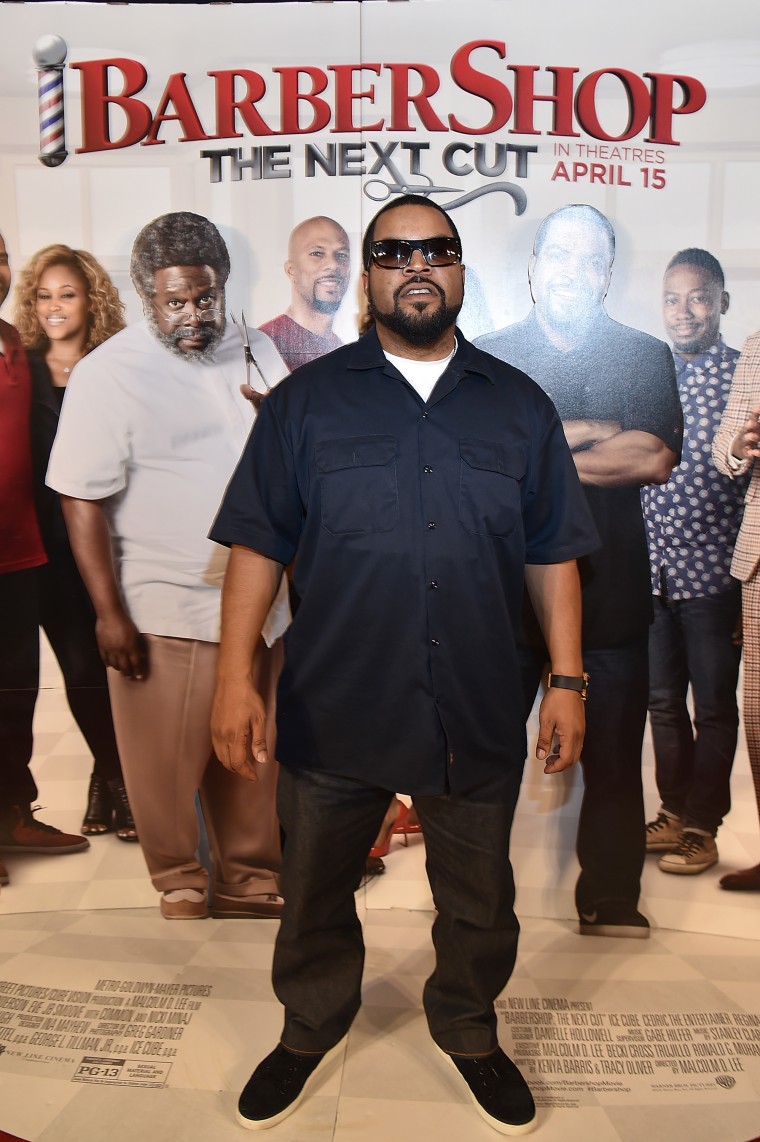 Directed by Malcolm Lee (The Best Man, Roll Bounce), "Barbershop" could not have arrived in theaters at a more convenient time this year. The movie highlights various issues such as the harsh reality of father-son relationships and the ramifications of gentrification within the neighborhoods of South Side Chicago.
RELATED: Essay: Sharing My Truth in A Black Barbershop
Calvin gradually deals with the hardship of nearly losing his 14-year-old son Jalen to gang activity. Ice Cube infused lessons from his own relationships with his father and raising five kids of his own.
"Out of all the movies I've starred in, I can probably relate to Calvin the most because I have three sons and it was certainly no joke raising them," says Jackson. "The same life lessons that Calvin gave Jalen in the movie about education, work ethic and avoiding illegal activity, are very similar to the ones I gave my boys. There's a lot of tough love. I'm privileged to have fatherhood on both ends as referenced experiences."
Speaking of his sons, Ice says he's still receiving excellent feedback for his second oldest, O'Shea Jr's role as a younger him in blockbuster giant, "Straight Outta Compton." He wanted O'Shea to follow in his footsteps by working alongside a full ensemble cast as opposed to diving in a starring lead role for his first film. It's an easier type of pressure young actors should take on before pursuing complex roles.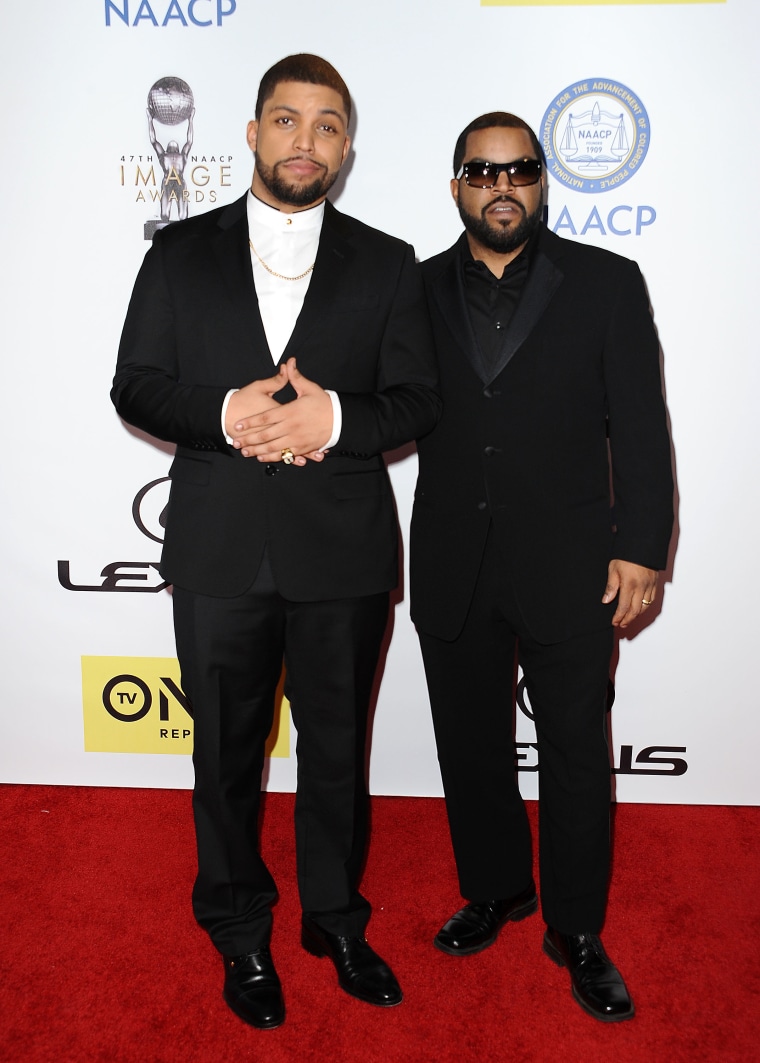 "If your co-star is not on that day, you have to prop them up and vice versa. Either way, you have to depend on just one individual and that's not always an easy job," He stated. "I loved that Jr, got to learn that his first time around with a group of talented thespians. He had real support from his co-stars on and off screen."
RELATED: Ice Cube: I'm so proud of son's role in 'Straight Outta Compton'
"Everybody in that cast is phenomenal and made our story a lot easier to convey," Ice declared. "As an actor and a producer, I'm not a comedian or the most dramatic character so I'm not fighting for the laughs or the biggest moments. Whoever I'm working with, I always try to set them up with the laughs. That makes me easy to work with because they know I'm not trying to suppress their talent or take all the shine. I want everyone to perform well. Not to take too much credit and all, but I think a lot of actors want to be in my movies because they know for a fact they are going to be their best. It's all about being a team player."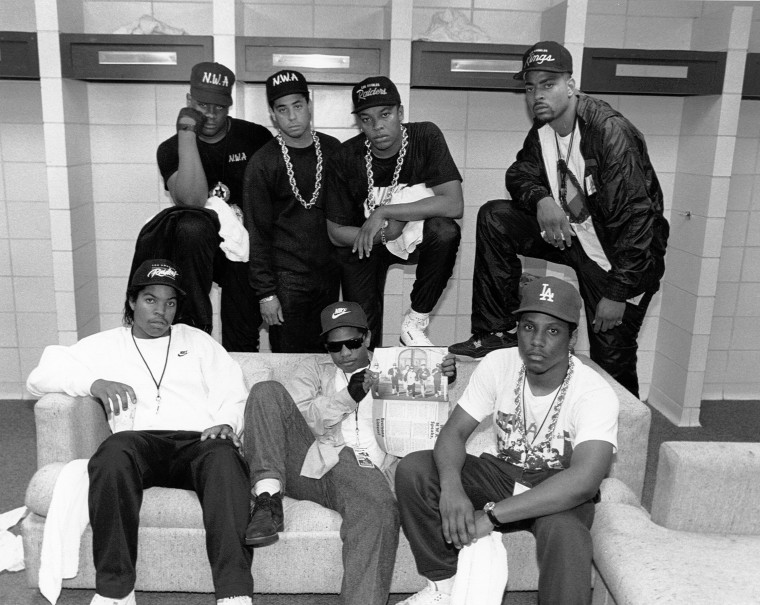 The rap icon is still beaming from his Rock and Roll Hall of Fame induction in April. Despite years of feeling overlooked and facing criticisms from other outdated perspectives, Ice wholeheartedly believes his group earned every right to be placed in company of legendary talent.
"We've never won a Grammy for any album or hardly any awards for anything we've done, so to be receiving the highest honor one in music can receive is pretty major," he said. "Celebrating the biggest accomplishment in my career along with my brothers on stage was the most incredible feeling. That's a moment that I'll always cherish for the rest of my life and I wish E (Eazy- E) was here to see this happening. But I know he's looking down, proud as hell."
RELATED: 6 Questions For 'Soul Man' Cedric The Entertainer
Ice Cube remarks that the music industry has changed drastically since N.W.A. debuted on the scene in the late 80's. He misses the passion before the politics, raw talent and gritty lyrics. Although he has a few reservations about the newer generation, there are a couple of artists who are worthy enough of holding his attention.
"l really enjoy listening to J. Cole and Kendrick Lamar," he admits. "They're great storytellers as well as conceptual artists. They're bringing rap back to how it's supposed to be done. All the trap stuff is good to listen to in the club, but music has to contain substance and great context. That was N.W.A.'s main goal starting out."