When Kim Harris and her partners opened the craft beer bar and pub Harlem Hops in New York in 2018, it was a long-fermenting vision brought to life after years of raising capital, sourcing products and executing a savvy business plan.
But then COVID-19 happened.
The pandemic is disproportionately affecting African American and communities of color in terms of infection and mortality rates, and that is throwing Harris and many other black business owners into an economic crisis that threatens to eliminate all of their hard-won gains.
"It's like I stood in line for, like, mad hours to get into this party and now I'm in it, and you're telling me the cops are shutting it down," Harris said. "It's like they yelled, 'Last call!'"
Harris and her partners, all graduates of a historically black college or university, applied for funding in the Coronavirus Aid Relief and Economic Security (CARES) Act, the $2.1 trillion bill that among other things is designed to prop up small businesses and save jobs.
"We applied for everything," Harris told NBC News, referring to the Payroll Protection Program and Small Business Administration loans. "And were denied for everything."
As another round of federal funding, $484 billion, is set to come on line, some experts and small-business owners, are alarmed it may already be too late.
On a recent New York Urban League conference call, J. Philip Thompson, the deputy mayor for strategic policy initiatives, said, "Most small businesses and especially black-owned businesses have, in a good economy, no more than two weeks of liquidity that they can rely on to keep them afloat."
"That is absolutely correct," said Nikoa Evans-Hendricks, executive director of Harlem Park to Park, a business and cultural consortium of over 250 small business owners, adding that many black entrepreneurs often start out undercapitalized.
"Let's say they do re-fund the stimulus package. You look at the way it's structured now, which is a real issue for certain types of businesses, like restaurants, retail, etc. — the loan forgiveness is really tied to how you pay your staff, right?" she added.
"If you use the money for your payroll, the loan is forgiven. What if a business has one employee or no employees? Which a lot of small businesses operating at capacity, black-owned businesses, they don't have employees, so then you can't get the loan forgiven so now you go into debt," Evans-Hendricks said. "It's a mounting financial hole, which at some point you can't dig yourself out of."
There is also rising anxiety that the new funding, even though some of it is earmarked for women and minority-owned businesses, will not reach African American-owned businesses, 95 percent of which are sole proprietorships or partnerships that have no employees.
"This new funding that's saying women and minorities, those two nuances almost always tend to leave out black people, or put black people at the very end of the line because of how minorities can be defined; it can be anyone who's not white," said Valerie Wilson, a public relations specialist, entrepreneur and small business owner.
"So, Asian businesses that are bigger, Hispanic businesses that are bigger, some other immigrant groups fall into that category and then of course white women-owned businesses, which are also bigger, also fall into that category before it trickles down to black-owned businesses," Wilson said.
Alfred A. Edmond Jr., editor at large for Black Enterprise, echoes Thompson and Evans-Hendricks, but says that the situation, on its face, is even more dire.
"It goes deeper than that," he said, adding that even if the Payroll Protection Program is re-funded and funded adequately, "nobody knows what 'adequate' means right now because no one knows how much money we will have to spend to keep small businesses afloat."
Many small black-owned businesses could disappear, changing the social and business landscape in cities like New York, Detroit, Philadelphia, Atlanta and Washington, D.C., where the venerable Ben's Chili Bowl is under threat of closing and awaiting recovery money.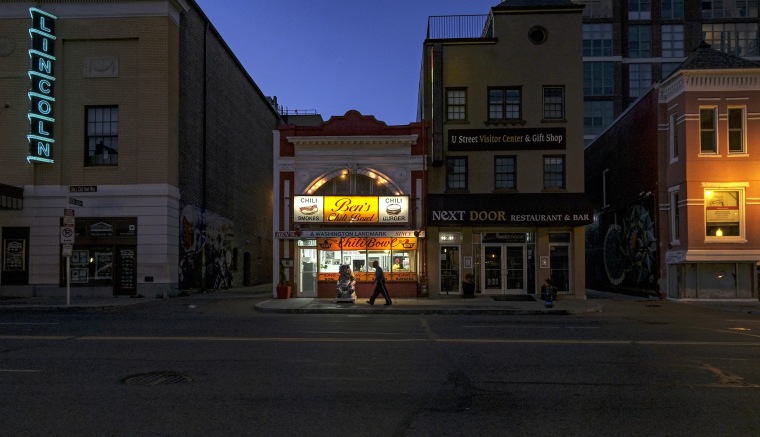 "In my opinion," added Edmond, "most of them will temporarily shut down, and then the question becomes how long will this last and will they be able to rebound or restart their businesses."
Harris and her partners are prepared to jump-start their business. But they haven't been idle, waiting to be rescued.
"It didn't pose a challenge for us to set up a model to do items or products to go," she said. "We already had a canning system to can the beer we have on draft, and it's something we invested in about nine months ago. It was always an option for our regular clientele."
Most of her staff has been retained, even though their hours have been reduced. Harlem Hops has also been feeding housekeeping staff at nearby Mt. Sinai Morningside Hospital.
Despite the uncertainty, Harris still strikes an optimistic tone.
"We as a people are not built to sit down and be crying 'woe is me.' No, we have to pick up our pieces and figure out what the next step is," she said. "We know how to pivot. We're always in survival mode. We just have to be strong."