Three weeks into "Black Panther" dominating at the box office, the woman behind the film's Afro-futuristic wardrobe said she feels like she's hit the jackpot.
"I cannot even put my head around $700 million worldwide," costume designer Ruth E. Carter said.
Audiences are turning out in droves for the Ryan Coogler-helmed Marvel masterpiece, which has been dubbed by many a cultural phenomenon. But beyond the usual merchandising associated with superhero-centered films, moviegoers are showing up to theaters adorned in Afrocentric garb, creating the type of fervor that can be considered the highest compliment paid to a film's costume designer.
"I can't say enough about how the pageantry of the film has connected with people in such a beautiful way," Carter, 57, said. "People want to honor themselves, they want to honor culture, they want to honor Africa. They just want to be happy to be who they are, not trying to be something they aren't."
For "Black Panther," Carter, who joined the film in July 2016, six months before shooting began, said she had a larger budget and teams to assist her in the creation of around 1,000 costumes — but there was also a lot more pressure. Her process entailed exhaustive research, endless meetings with Coogler, and education from Marvel's illustrators.
"The costumes are multilayered, and there's a lot of people involved with each step," Carter said. "Each step has to be shown and approved, and all kinds of stuff."
The success of "Black Panther" comes as Carter celebrates 30 years as a professional film costume designer. Her first major gig was Spike Lee's 1988 film "School Daze," which offered an unapologetic view of black college campus life.
I've said it before: I've been doing superheroes my whole career. Malcolm X was a superhero. Thurgood Marshall was a superhero. "Selma" with Martin Luther King Jr., made him a superhero.
Since then, Carter has worked on more than a dozen of Lee's films, including 1992's "Malcolm X," for which she was nominated for an Academy Award for Best Costume Design — becoming the first African American designer to ever achieve that status. She received her second nomination for her work on Steven Spielberg's 1997 Middle Passage epic "Amistad."
Her long list of film credits included last year's Thurgood Marshall biopic "Marshall," which also starred Chadwick Boseman.
"First and foremost, I am an artist, and I love the medium that I have to express my art and tell my story, which is fashion design," Carter stated. "I love it whether I'm doing 'Marshall' and hardly anybody sees it, or if I'm doing 'Black Panther' and the world sees it. It definitely is a kudos to the world seeing it, but I didn't get into this to say, 'I'm going to keep going until I do a Marvel film.'"
Carter, who has also been nominated for an Emmy for her work on the 2016 "Roots" miniseries remake, has a long list of film credits to her resume, and she reflects on each project with pride.
"I give every job that I have my best," she continued. "I feel sometimes I have equally, terrifically designed [costumes] in movies that don't do well … but those films were triumphs for me too."
"Black Panther" may be her first project in the Marvel universe, but it isn't her first superhero project either. She previously designed the costumes for Robert Townshend's 1993 film "Meteor Man."
Carter has a different take on the superhero stories she's worked on in her career. "I've said it before: I've been doing superheroes my whole career. Malcolm X was a superhero. Thurgood Marshall was a superhero. 'Selma' with Martin Luther King Jr., made him a superhero," she said.
During Black History Month, Carter was featured in Comcast Xfinity's "Groundbreakers: Heroes Behind The Mask" campaign, which aimed to spotlight pioneers behind some of the most popular superhero stories and designs while also chronicling the deep-rooted history and representation of the Black community. The campaign also included "Black Panther" book author Reginald Hudlin, voice actor Phil LaMarr, and "Luke Cage" showrunner Cheo Hodari Coker. Being included, Carter said, helped her feel seen.
"I feel like I'm grown now, that's what it feels like. 'Girl, you're grown. You have contributed to this medium and this art form. People are taking notice,'" she said.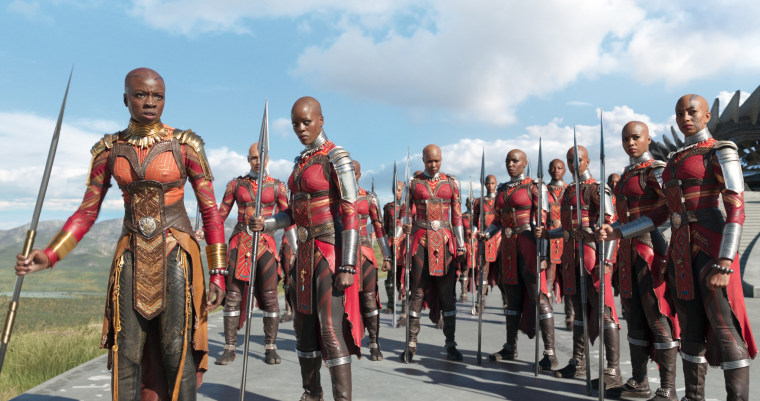 But none of that is stopping her from thinking big in the future. Carter said her ambitions include costumes for another "Moulin Rouge" film (nothing's been announced, but it's one of Carter's dream projects) or doing "something on Broadway" — a callback to her early days as a costume apprentice for the Santa Fe Opera.
And then there's the Academy Award that has eluded her twice before.
Some are already buzzing that "Black Panther" will be a contender in next year's Oscars race. And the third time may be the charm for Carter, who is looking forward to it.
"I feel like I want to claim that space right now, claim that for myself and just be ready for it," she said. "I feel like for once in my life I don't have to be humble. I can just say, you know what? I deserved it. Thirty years, I deserved it. I want it."