The phrase "black excellence" gets thrown around a lot, being attributed to a wide range of activities, accomplishments and accolades by black men and women in every walk of life, both professional and personal. At the "royal carpet" world premiere of "Black Panther" in Los Angeles and other premieres across the country, it is a phrase that dominates every interview about the excitement everyone has for what is ahead on-screen and continues in conversations on social media.
But when it comes to this movie, the phrase almost feels understated.
"Black Panther" tells the story of Wakanda, an African nation untouched by the outside world. Wakanda is un-colonized, thriving on its own natural resources and technologically advanced in ways the rest of the world can't fathom.
When King T'Challa, Black Panther (played by Chadwick Boseman), rises to power after his father's untimely death, the protection of Wakanda and its resources rests squarely on the young king's shoulders. With an army of highly-skilled, battle-ready and beautiful black women to aid him, the king takes on the challenge of an unexpected foe, threatening the safety of not only Wakanda, but the entire world.
The highly anticipated movie is expected to shatter its competitors at the box office, having already set a record for advance ticket sales in the Marvel cinematic universe and it currently has a 100% rating among top critics on Rotten Tomatoes.
The film is star-studded from the call sheet to the crew list, featuring some of the biggest names in the industry such as: Boseman, Michael B. Jordan, Lupita N'yongo, Angela Bassett and Forest Whitaker. It is written and directed by iconic filmmaker Ryan Coogler.
Speaking of her pride for the film, Bassett, who plays Queen Mother Ramonda, spoke of the importance of the women to "Black Panther."
"In African culture, they feel that there is no king without a queen, and I think in this story it highlights the queen," she said. "[It highlights] the warrior, the general, the young sister."
Danai Gurira, who plays Okoye, Panther's chief general, is as a fierce a fighter as Panther, serving as his protector. Also Letitia Wright, playing Panther's sister and Princess Shuri, is a key role to the story. She's the brains behind Wakanda's technological superiority, using her creativity and access to unique resources, she's one of the movies' gems.
"This film is called "Black Panther," but it could've been called 'The Badass Women of Wakanda,'" said Entertainment Tonight's Nischelle Turner, who moderated a press conference, following the world premiere.
Smart, fiercely loyal to the throne, stunningly bald and beautiful, Okoye's protection, support, and strength is unwavering. But Gurira said the role had unique challenges.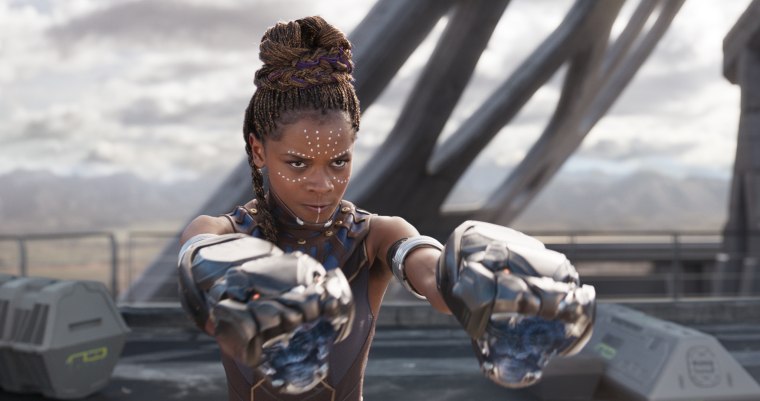 "I was the first one to get my head shaved," said Gurira during the premiere's press conference. "In theory, it sounded amazing and then the day came and I was saying, 'Is that today?' Then all of the girls started coming in bald one by one and everyone had their hats on. But then the pride started to grow, there was pride around it, this embracing of this symbol of power in these women and the beauty of how he wrote that she doesn't want [a] wig. She felt a joy in walking with a bald head with that tattoo on it."
The idea of Wakanda and the Wakandan people serve as pure inspiration. Wakanda, as a model of the growth of the natural brilliance of an African nation that was never interfered with by the outside world coming in to colonize, to strip of its resources, to change their way of life - is an African utopia.
The story of Black Panther is also brought to life by an incredible team of creatives, costumes, sets, hair and production design.
The costume design team, led by Ruth Carter, could also find the next award season showering their work with appreciation. The primary costume, the suit of the Black Panther, holds an interesting bit of seeming symbolism. Imagined and designed by Shuri, her brother's attire becomes more powerful every time it is hit, not only safeguarding the King of Wakanda from harm, but the blows to his body storing kinetic energy that he is able to later use as power to overcome his challenger.
Besides the stunning and 'wow' moments of the film, there's also a message: there are many ways to empower and advance a people, both individually and as a body. There's a clear distinction in thought processes among our star and his antagonist on how to seek justice and how to grow, but also how to preserve who we are and what we have.
South African actor John Kani, who plays King T'Chaka, told NBC News that this movie has a deeper meaning for non-Americans and people living in Africa.
"This movie will prove to the colonialists that if they had not interfered with Africa, we'd be so far advanced, may make them believe we built those pyramids in Egypt. No alien did them," Kani said. "The metaphor is, Africa has great potential. Africa no longer relates to the world with a bag and bone. We're looking for interaction and trade, not aid."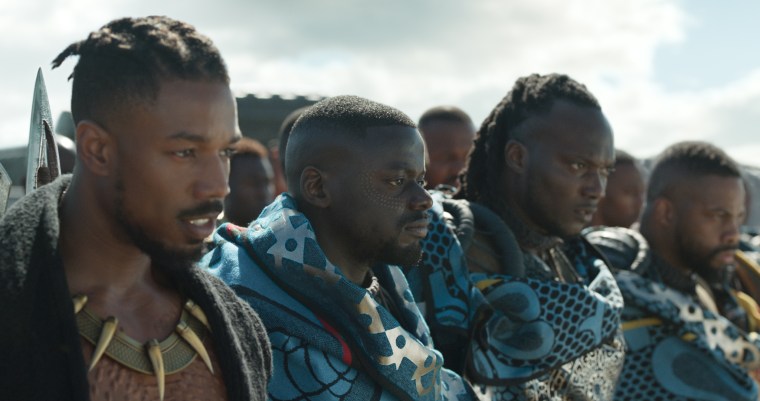 Bassett said she was proud to have her son and daughter see the film, "because in their spirit, they were feeling themselves and they stood taller after [the film]."
"Stan Lee and Jack Kirby and the whole Marvel bullpen created Wakanda and T'Challa, and Black Panther and made him smarter and more accomplished than any of the other white characters, in the mid-1960s," said Kevin Feige, producer of the film, answering a question about whether there was pushback on some of the themes in the story. "If they had the guts to do that in the mid-1960s the least we could do was live up to that and allow this story to be told the way it needed to be told, and not shy away from things that the Marvel founders didn't shy away from in the Civil Rights Era."
"Black Panther" premieres in theaters everywhere Feb. 16.