Throughout the black community, from Selma to Sacramento, funeral home directors are explaining to grieving families that social distancing means no public viewings, a small graveside service, no limos — and, as hard as it may be, no hugging, kissing and shaking hands.
Of course, controlling people at such an emotional time is difficult, which is why many black funeral directors prefer to hold the services in their chapels when possible.
The coronavirus outbreak is forcing funeral directors to rely more on technology than ever before. There are now more than 270,000 coronavirus cases in the U.S. and more than 7,100 deaths associated with the disease.
"We sanitize and police our own chapel," said Amari A. Adams, the fourth-generation funeral director and embalmer at Adams Funeral Services in Savannah, Georgia. "We also obtained livestreaming services for those who are unable to attend, are disabled or afraid. Families are disheartened but accepting it well. They are aware that this is for their safety."
When the number of people allowed in a group dropped to 10, Adams said cemetery staff began meeting the funeral home staff at the gate to count the number of people attending each service. Then national and veteran's cemeteries stopped all grave site services. "Bodies are dropped off and given direct burial," said Adams. "The government is not sending out teams for military honors either."
The way people socialize is shifting dramatically. Cultural rituals are evolving, whether they take place in barber and beauty shops, places of worship or funeral homes.
"We requested our members put up signs saying, 'Please refrain from hugging, kissing and shaking hands, and keep a distance from each other,'" said Carol Williams, executive director of the National Funeral Directors and Morticians Association, which represents 1,200 members, most of whom are African Americans.
At Wood Funeral Home in West Philadelphia, co-owner Cynthia Wood tells families "they can have a private viewing — and then the casket is shut."
"The next day, we meet at the cemetery for a brief service," she said.
But some cemeteries are now telling Wood that no services can be held at the grave site. "I'm asking that the cemetery not lower the casket until the last person has seen the casket," said Wood. "Some families are postponing the full service until we are out of the woods. We keep the body refrigerated until then."
Wood acknowledged that her conversations with families can be difficult. "You know, it is in our DNA to be hugging, loving, caring people, and people want to be together and comforting one another when they come to us."
Wood instructs her funeral home employees to stand "a casket apart," which means 6 feet from one another, and to use the "Wakanda hug," the salute used in the movie "Black Panther," made by crossing the arms across the chest.
She received a memo from the Pennsylvania Funeral Directors Association, whose members are predominantly white. The memo suggested that funeral homes hold bodies for two weeks before any services are held, allowing time for social distancing rules to change.
With information and rules changing daily, small businesses like beauty and barber shops, popular social networks in black communities, are trying to reassure clients that their spaces are safe while wondering how long they will be allowed to operate.
But some churches and funeral homes may never recover.
At Friendship Baptist Church in Baltimore, a mostly African American congregation of about 1,100, the Rev. Alvin Gwynn Sr. bucked the cancellation trend by holding services Sunday. But attendance was down by about 50 percent, and Gwynn said the day's offering netted about $5,000, compared to a normal intake of about $15,000.
"It cuts into our ministry," he said. "If this keeps up, we can't fund all our outreach to help other people."
Shanara McCorkle is a minister at the small A Second Chance Baptist Ministry in Gastonia, North Carolina, and she has a rare perspective on the coronavirus. She said her church, which has 30 regular congregants, has continued with regular worship services every Sunday and even hosted the pastor's three-day anniversary celebration with visiting churches last weekend.
No one, she said, practiced social distancing. But the church is doing more extensive cleaning, has hand sanitizer at the door now for everyone to use and has requested that people not shake hands and that folks who are sick stay home. Still, the services continue.
"For God hath not given us the spirit of fear," she said, quoting the Bible.
Changes made by a church during this pandemic may depend on theological interpretation, the age of the congregation and the size of the church budget. Some churches can afford live streaming and have already been using the technology, while smaller congregations may sit scattered throughout the sanctuary unless ordered to close by the local government.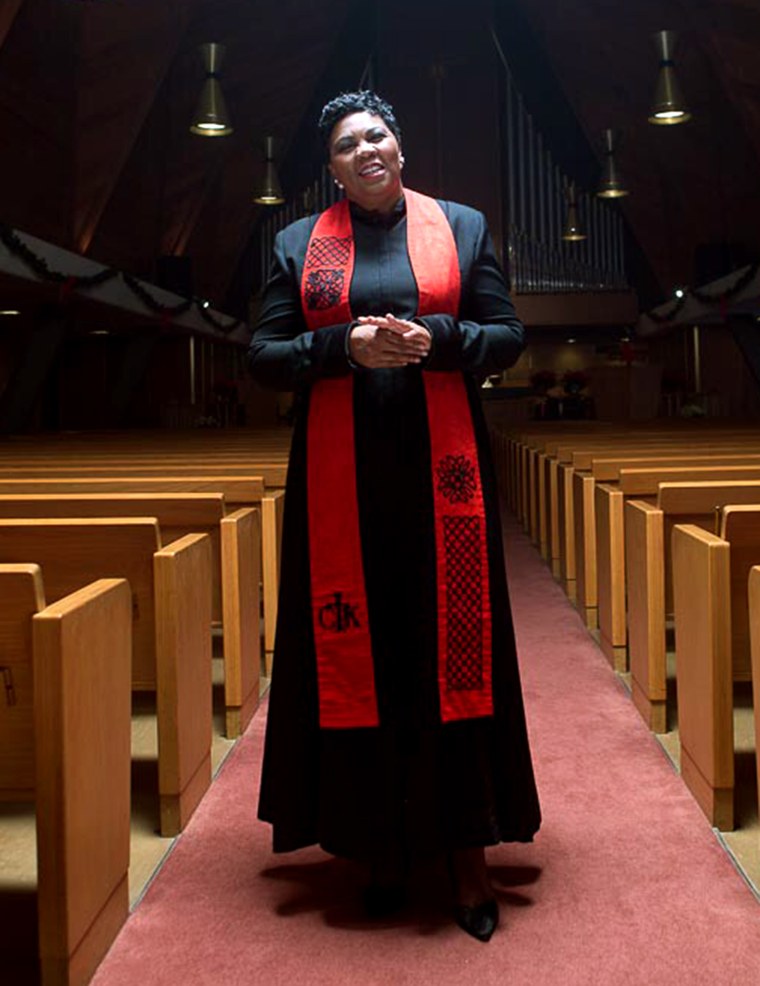 It's time to answer important questions, said the Rev. Traci Blackmon, senior pastor of Christ The King Church of Christ in Florissant, Missouri.
"How is church going to form community for people who are isolated?" Blackmon asked. "How will the church mobilize outside the building to make sure people's needs are met?"
Her church has asked deacons, who have particular members assigned to them, to call each person to make sure phone numbers are correct and to get email addresses.
"Sixty-five percent of our members are over 75, and they are not trying to learn to use Zoom right now. This past Sunday I did a conference call and played music and gave them a full message and asked for prayer. I went to the church for my other members (about 180 of them). Since the church seats 500, we were able to honor social isolation."
But rules have changed since then.
"We have to ask: How do we to take Bible study online? How to have prayer call to people once a week?" Blackmon said.
Her church hopes to provide assistance and food to people in the surrounding neighborhood, as well. "We won't be able to help everybody, but we need a plan," she said.
Memorial Presbyterian Church in Charlotte, North Carolina, which has 225 members, was already live streaming worship services.
"One of the things we're doing to stay in church is that the care group is sending out cards to members to let them know we are thinking about them," said the Rev. Dot Killian, interim pastor at the church. "I'm considering a midweek YouTube broadcast or something to keep people connected. There are lots of kids out of school, so we are looking to see if we can partner with some organization to help kids without compromising our health."
"Church is a way to connect with people, not just worship," said Killian, who knows some people are attached to the building.
"I am trying to let them know the building is not God."
The Associated Press contributed to this story.