While Monday marked Juneteenth, a commemoration of the day that word of the Emancipation Proclamation finally reached the enslaved in Galveston, Texas, letting them know they they were now free—the killing of Charleena Lyles, the Seattle woman shot by police on Sunday, has left many in the community feeling shackled with anguish.
Hundreds gathered in Magnuson Park, outside Lyles' apartment, to demand answers on Tuesday evening. In a peaceful rally, they carried signs that said "#SayHerName" and "Charleena's Life Matters."
Lyles was a stay-at-home mom to her four kids, one of whom has Down syndrome and requires constant care and vigilance. She had called the police to report a burglary. According to police, she was armed with a knife and two officers opened fire.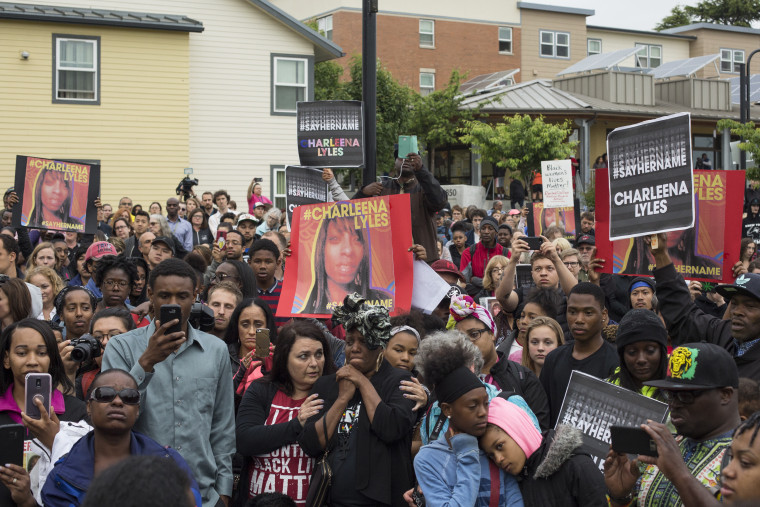 As she headed to a rally at the scene of her sister's death on Tuesday evening, Tiffany Rogers, 26, Lyles' sister, told NBC News that even though Lyles was a single mother, she never leaned too heavily on the rest of her family for help.
"My sister did a lot on her own," Rogers said. "She didn't need our help. She took good care of her kids. I know they are going to miss her."
The two sisters forged a good relationship despite a hard scrabble upbringing — their mother dying when Lyles was just 17-years-old and Rogers, 14.
Rogers found out her sister was dead on Sunday morning as news broke on local television. She drove the 15 minutes to Lyles house and was met by cops and her other siblings.
She didn't get to see Lyles: "I wanted to kiss her one more time but..."
Coping with a "recycled trauma"
Coming off the heels of the not guilty verdict of the Minnesota cop in the shooting death of Philando Castile on Friday, some residents were so upset they considered "calling in Black" to take a mental health day from work on Monday.
Omari Taylor, a resident of Seattle who works for a non-profit social services agency, says he regretted going into the office, because the incident left him "smoldering with resentment" all day.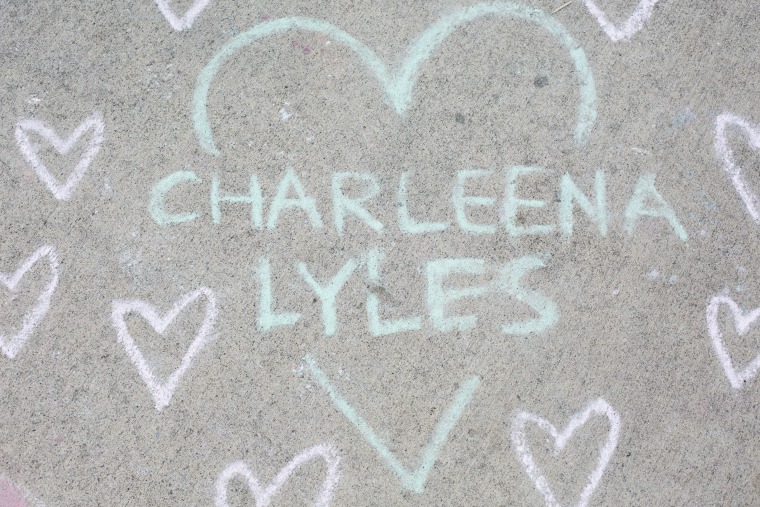 "I didn't wake up angry, but I've been getting angry very, very slowly. It makes me not want to do anything," Taylor said Monday. "They shot this woman to death, so I know they don't care."
Distracted and distraught, he spent part of his day navigating Facebook arguments about the incident. It was a familiar pattern.
The number of police shootings of unarmed Black men and women, the graphic dashcam footage and distressing audio releases that often follow, combined with not-guilty verdicts has many in the Black community feeling numb by what some view as a constant miscarriage of justice.
Dr. Shawn Utsey, psychology professor and interim chair of African American Studies at Virginia Commonwealth University, said people are trying to cope with a "recycled trauma."
"Even though these are new events the trauma is historical. And every time a new event happens we incorporate that new trauma into the old trauma," Utsey said.
With acts of violence toward people of color constantly being circulated on social media through live streams, movies and televisions shows, Utsey said more people are trying to regulate their exposure to trauma.
"We can manage but so much and at some point you begin to experience longer term psychological problems and so to protect yourself from that we have to sometimes prioritize which events we can even negotiate," Utsey said. "It's not that people aren't paying attention, that people aren't interested or that people are numbing themselves. This is sometimes necessary to remain in tact psychologically."
Tim Lennon, a Seattle resident, says the community is feeling "grim, but determined."
"It's a brutal blow to us. Not a big surprise but it still hurts on a profoundly deep level," Lennon said. "That said, we certainly haven't given up, a better way is possible and foreseeable. I think that we certainly plan to hold our elected officials accountable, but more critically to hold one another up during a difficult moment."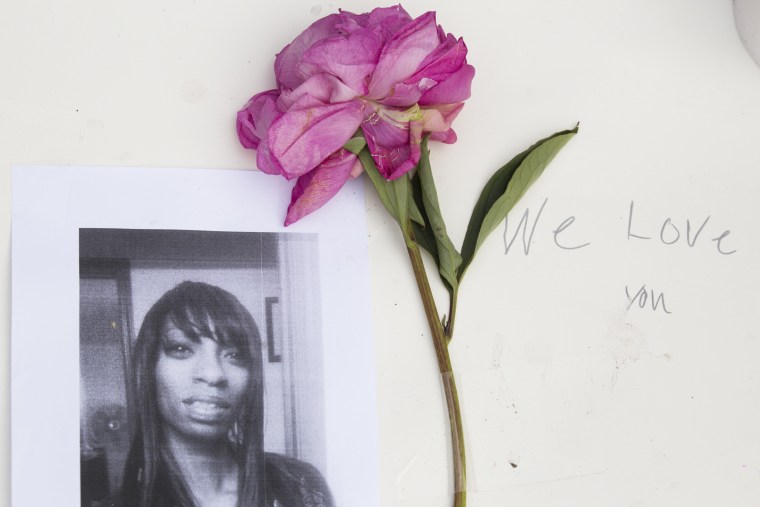 Nikkita Oliver, a Seattle mayoral candidate, called the death of Lyles "a human tragedy" that shows a broken system emblematic of the stressors and pain that communities of color and low-income families face.
"How can we as a city fully address our culture of unjust policing, lack of front-line training, and the history of its effects on our most vulnerable?" Oliver asked. "We believe failing to answer questions related to systemic violence will lead to more death at the hands of cops and officials who are supposed to protect us."
According to the Seattle Times, the Department of Justice found the department consistently used excessive force, often times against people with mental or substance abuse issues.
Related: Michael Brown's Parents, City of Ferguson Reach Settlement Deal in Lawsuit
This incident has deepened the rift between Seattle Police Department, who has been under federal consent decree since 2012, and communities of color.
Taylor fears that reliance on the police for help could cost one their life. "I know calling them for anything is basically like Russian roulette, I'm basically taking my life in my own hands should I ever do that," he said.
As the Trump administration continues to roll back Obama-era criminal justice reform policy, rules which largely impact communities of color, there is growing concern over where this "law and order" mantra will lead.
Utsey prefers to keep optimistic.
"Although we might perceive the country as being in a state of emergency now with our new leadership and the increase in hate crimes and rhetoric, this is when Black people operate the best. This is when we have the most progress — when our backs are against the wall."