The black student movement that gained traction in the fall of 2016 is, in many ways, beginning to see the fruits of its hard work.
In some instances there have been distractions from the accomplishments, but students say the distractions are only serving to strengthen the resolve and commitment of student leaders to continue their work.
This summer the Black Student Union secured a commitment from administrators at UC Berkeley for the Fannie Lou Hamer Resource Center.
Not long after that, officials at Georgetown University apologized for their link to slavery and promised admissions advantages to slaves descendants whom the school may have benefited from sale.
RELATED: Georgetown University to Offer Admissions Advantage to Slave Descendants
And most recently, California State – Los Angeles announced the Halisi Black Scholars Living Learning Community in response to the Black Student Union's demands for "safe housing" for African American students.
According to Robert Lopez, executive director for communications at Cal State-LA, students in the Halisi community are Pan-African history, culture and current affairs focused.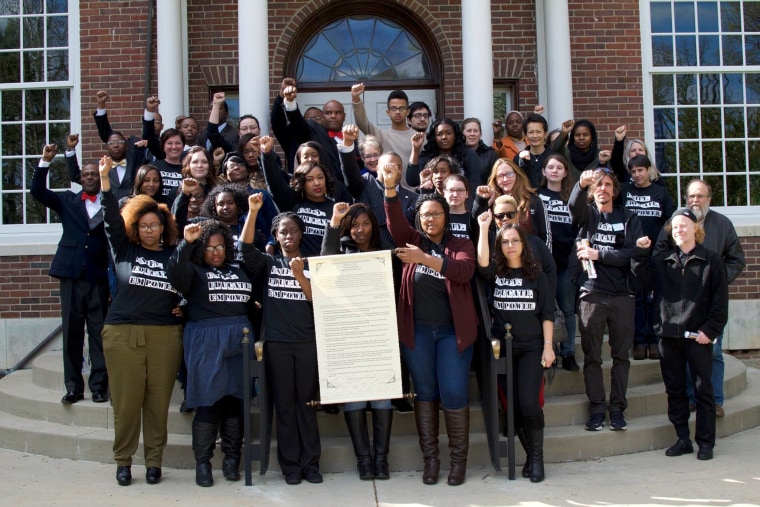 However, critics of the living community have labeled the housing arrangement as segregated housing for black students. Conservative websites have been blamed for the mislabeling of Cal State LA's Halisi community.
"Cal State LA does not offer, nor does the university sanction, segregated housing or segregation of any kind," Lopez told NBCBLK in a statement. "It is one of four themed living communities at Cal State LA. Race is not a factor in selecting members of the living learning community and students are not segregated."
RELATED: Cal State LA Opens Black Living-Learning Community
Sesley Lewis, former director of the Black Student Union at Cal State LA, points out that there are benefits to living communities that support students of color. It is part of the reason they fought for such when the BSU drafted their demands.
"Culturally relevant programming and spaces are essential to the overall academic success of Black students. Research that shows that students excel in identity affirming spaces," Lewis stated in a release to NBCBLK. "The research also indicates that students feel a stronger connection to their schools after graduating because there was a vested interest in their success. They felt cared for."
Lewis, who now serves as BSU's communications director, also points out that historically black colleges and universities (HBCUs) are so successful because of the manner in which HBCUs invest in the success of their students. Lewis also adds that it is important to make clear that African Americans exclusively living together is not segregation.
"To indicate that this space is segregated is not only disrespectful, but belittles what our ancestors experienced," states Lewis. "Segregation is the gentrification that is taking place in Los Angeles, Inglewood, etc. where the state is systematically removing Black people."
At the University of Kentucky, it seems as thought strides have been made but leaders from UKBGPSA and @ForBlackUK have labeled the institution's response as placation.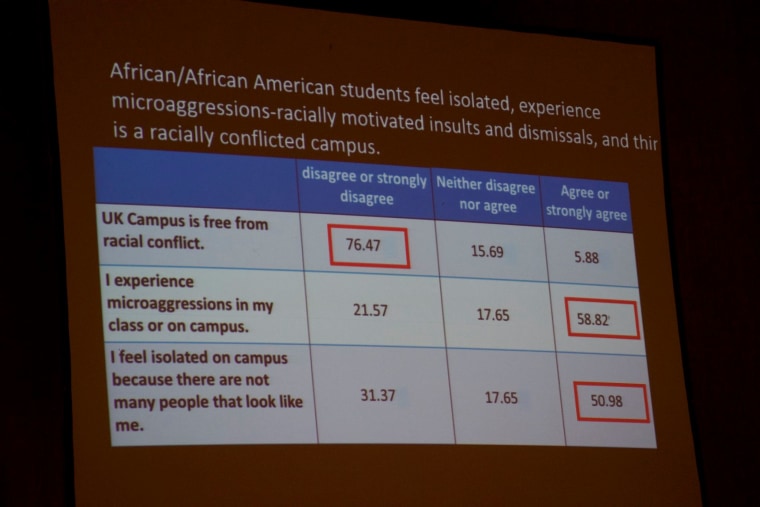 "And/or outright ignored many of our most important demands," according to a statement from UKBGPSA and @ForBlackUK to NBCBLK. "Our institution did address some of our demands and we have a mixed reaction to their responses. They placated us by never responding directly to the questions and demands raised related to our February 2016 #UKCallToAction Town Hall and have ignored or have not been transparent about some other demands."
Some of the things that have been done include:
Creation of a diversity office for graduate students,
A one-time increase in funds to the campus's multicultural center,
Adding a mentoring component to diversity fellowships for graduate students, and
Creation of a plan to increase faculty diversity
However, according to the statement, officials have:
Ignored changing the student code of conduct to reflect zero tolerance for racial discrimination, racial harassment, and racial hate speech,
Creation of a mandatory course on the development and state of identity, race, privilege, systemic racism and bias in the US, and
Creating a panel that advises the president on the needs of students and ensures accountability related to diversity initiatives.
In the wake of these advances, or lack thereof, the momentum of last school year has not waned. Black Liberation Collective, the umbrella empowerment group that has supported the localized student movements, has continued to organize.
Students are still organizing and creating platforms for healing as well as demanding action, the statement from UKBGPSA and @ForBlackUK states. And progress is being made.
"Allies from all races and backgrounds are becoming more engaged and demanding safety and belonging for their peers. Through this process, they seem to be learning about themselves and the ways systemic oppression works and ultimately has consequences that impact the lives of their fellow students and on themselves."