The parents of four black students in New York are planning to file a $12 million lawsuit against a school district after a teacher wrote the caption "Monkey do" above an image of their children, and then showed it to the class during a slideshow.
In November, students at Longwood High School on Long Island took a class trip to the Bronx Zoo. During the outing, a teacher snapped a photo of four students standing behind each other with their arms on the shoulders of the person in front of them.
The image was included in a slideshow played during class the following month and was accompanied by the caption "Monkey do."
In a notice of claim — the first step in a possible lawsuit — a lawyer for the families said the image was altered to compare the students to monkeys or gorillas. It says the district violated the group's civil rights.
According to the claim, the picture of the students was placed between two images on separate slides; one of a monkey with the caption "Monkey See" and another image of a gorilla.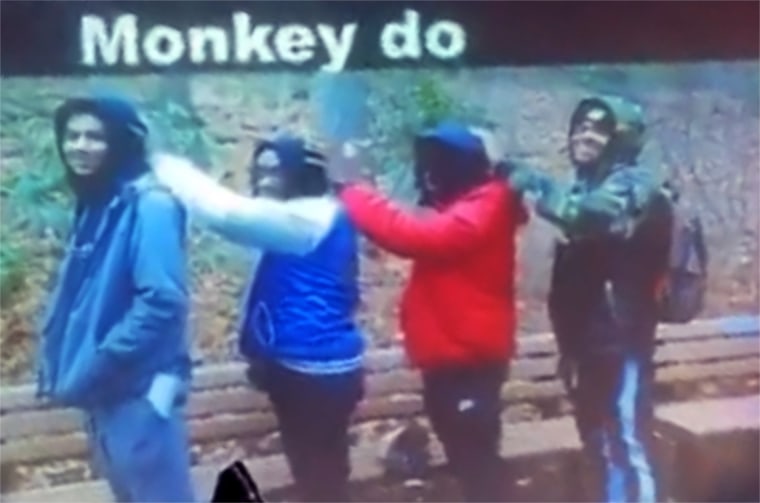 The photo was taken next to the gorilla exhibit at the zoo and the students were "deliberately persuaded, tricked and cajoled" by the teacher into taking the picture, the claim states.
The teenagers were embarrassed when the image was shown to the class and experienced shame, anxiety, fear and emotional harm. One of the students recorded the slideshow on his cellphone and was told to destroy it or face school suspension, the claim alleges.
Michael Lonergan, superintendent of the Longwood Central School District, called the image "culturally insensitive" and said it was an "unfortunate lapse of judgment."
"Without the intent of doing so, the photo was taken without fully understanding the sensitivity or the hurt it may have caused and reminds us that we must be more aware of the feelings of our multicultural population," he said in a statement Wednesday.
Lonergan said the school district will continue to provide sensitivity training to students and staff.