A new report released by the Georgetown University Center on Education and the Workforce on Tuesday reveals that although college access for African Americans has increased, Black students are still highly concentrated in low-paying majors.
The report, African Americans: College Majors and Earnings, discovered that African-Americans, who represent 12 percent of the population, are underrepresented in majors associated with the fastest growing and highest paying occupations, such as STEM, health, and business. They are highly represented, however, in majors that tend to be much lower earning but that serve the community, such as social work or psychology.
"The low-paying majors that African Americans are concentrated in are of high social value but low economic value," said Anthony P. Carnevale, director of the Georgetown Center and co-author of the report. "Meaningful career planning before college can provide transparency about major choice and potentially prevent onerous debt and underemployment down the road."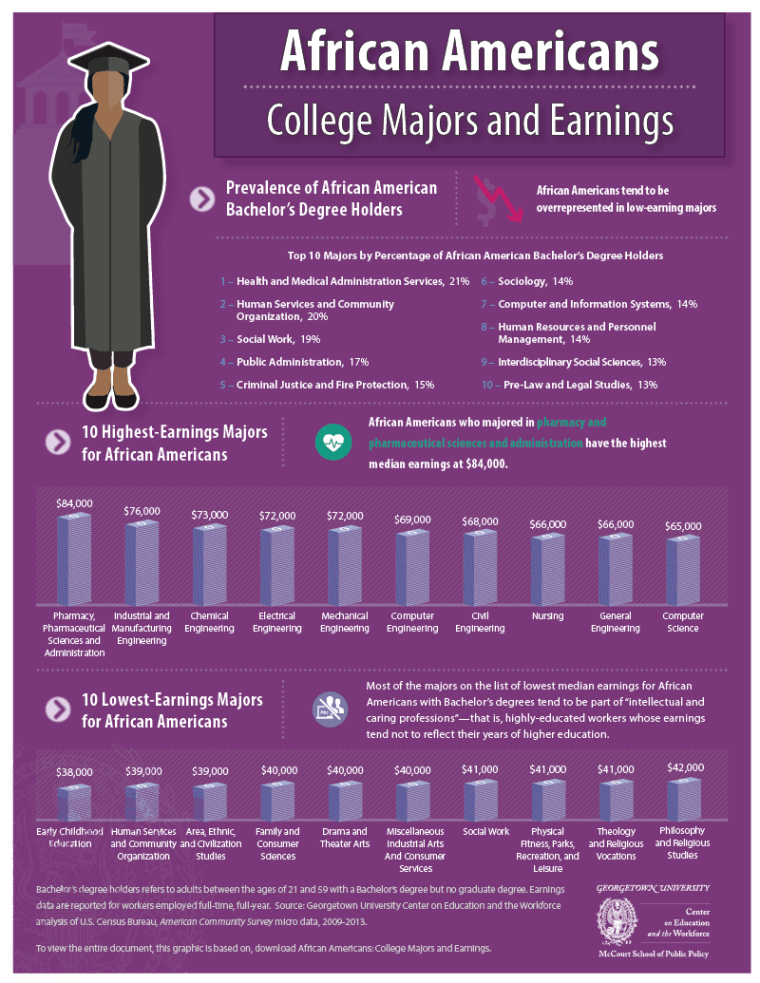 Black students who major in STEM-related majors, such as engineering or architecture, can earn more than 50 percent more than those who major in social sciences like psychology or human services.
Black students, however, only account for 8 percent of general engineering majors, 7 percent of mathematics majors, and 5 percent of computer majors. They are similarly underrepresented in business, where only 7 percent of finance and marketing majors are African American.
Some of the lowest earning majors for African Americans, according to the report, include Early Childhood Education, Social Work, Family and Consumer Sciences, Human Services and Community Organization, Drama and Theater Arts, and Theology and Religious Vocations.
Some of the highest earning included: Industrial and Manufacturing Engineering, Chemical Engineering, Nursing, and Computer Science.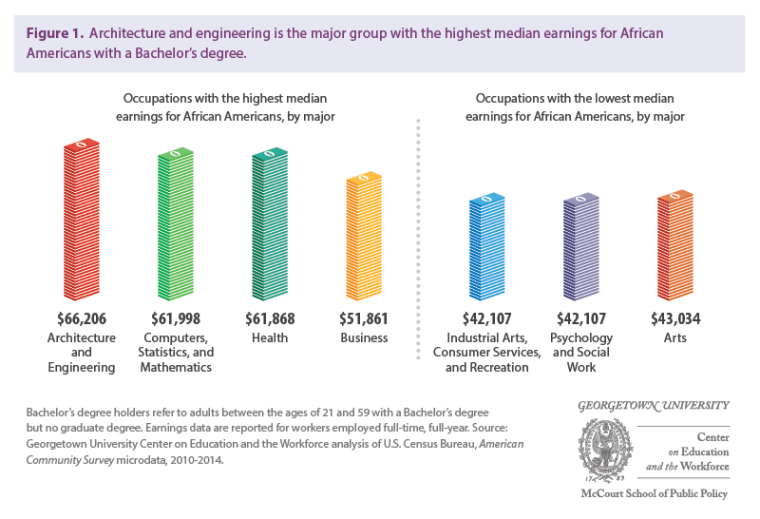 African-Americans who majored in Pharmaceutical sciences and administration have the highest median income at $84,000, but their representation in that field is only six percent. On the other hand, the median income from Human Services and Community Organization is $39,000 and African-Americans represent 20 percent of that major population.
"Fewer African Americans in high-paying jobs can translate to fewer positive role models of how to be financially successful for younger generations and fewer opportunities to contribute economically to their family and community," the study concluded.