WASHINGTON — When Shariece Wright immigrated to the United States from the Bahamas in 1985 she was just 4-years-old. Her mother put her on a plane to Florida and told her that she would be going to live with an aunt in Miami.
She says she will never forget that day because it saddened her to leave her five siblings and mother behind. However, even at that young age Wright understood what her mother meant when she referred to the United States as "the place of endless opportunities."
"This is the place where if you work hard, go to school and carry yourself respectfully then you can achieve all of your dreams, or at least that is what I have always thought," she says.
"We, as undocumented people living in this country, feel jailed." — Shariece Wright
Now 35, Wright has discovered that access to the opportunities she has dreamed of have actually been "painfully" limited because after 17 years of trying to get a green card — the first step on the path to citizenship — she remains undocumented.
It is April 18 and she stands on the steps of the U.S. Supreme Court to share her story before thousands at a rally for undocumented immigrants organized by Fight for Families, the coalition that advocates for DACA and DAPA.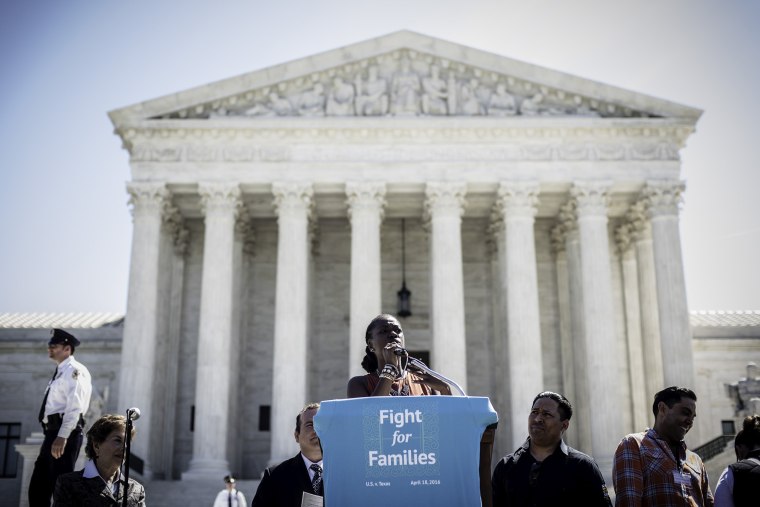 Just before taking the stage, Wright tears up as she listened to the Howard University Gospel Choir. "This land is your land, this land is my land, from California to the New York island, ..." she repeats the lines over and over.
"We, as undocumented people living in this country, feel jailed," she tells NBCBLK. "We live in bubbles, like individual cells. However, we are expected to live and do everything as the rest of society. But how?"
Wright graduated from the prestigious Design and Architecture Senior High School (DASH) in Miami. She had plans to study architecture and the arts in college. However, owing to her undocumented status she was not permitted to enroll. She has faced severe financial hardships because she cannot find a stable job without work authorization and a social security number.
When the Deferred Action for Childhood Arrivals (DACA) program was first introduced by the administration of President Barack Obama in 2012, Wright was hopeful. DACA would spare millions of undocumented young people like her from deportation and make it possible for them to get work permits. But Wright had aged out. Under the law, only people under 30 who came to the United States before age 16 could qualify.
In 2014, Obama issued two executive orders. One would expand DACA to include people over 30 who came to the United States before the age of 16. The second introduced the Deferred Action for Parental Accountability (DAPA) program. It would shield the parents of U.S. citizens or permanent residents from deportation and qualify them to acquire work permits.
However, Texas along with 25 other states — including Wright's home state of Florida — filed a lawsuit to block the implementation of these deferred action programs, calling them unconstitutional.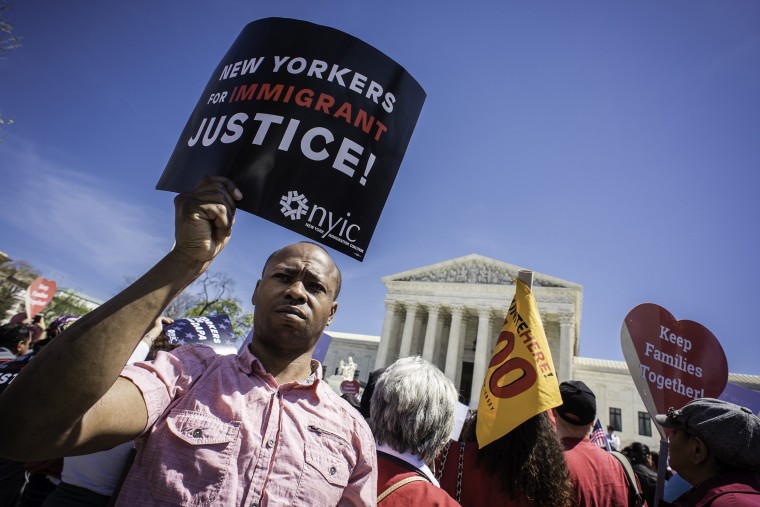 Wright's story was among those included in the amicus brief sent to the Supreme Court to illustrate how the expansion of DACA and implementation of DAPA would benefit millions of people.
Wright discloses that she feels very emotional because it is hard for her to accept that some people "don't deem me worthy of an identity in this country."
"Let's acknowledge people, no matter where they were born, that are willing to actually stand up on their own, educate themselves, put the hard work in and are law abiding," she exclaims.
RELATED: State Anti-Immigration Laws Discourage All Latinos from Moving In
"I am here representing everyone who looks like me; every person from Africa; every person that is Afro-Latino; every person that is Afro-Caribbean; every person with kinky or curly hair. This affects us too," she says. "I just want a chance to fulfill my dreams in the country that I love, but I need a fair chance."
The immigration debate in the United States has largely coalesced around Latino immigrants, a focus that some immigrant advocates say fails to grasp the complexities as well as the diversity of the issue.
"The black immigrant experience in the U.S. must be understood, not in contrast to the African-American experience, but as an integral part of it." — Opal Tometi
There are 3.8 million black immigrants in the United States from countries in the Caribbean, Africa, Europe and Latin America. They make up 10 percent of America's foreign-born population. Nearly 600,000 are undocumented, according to a recent report on black immigrants by the New York University School of Law and Black Alliance for Just Immigration (BAJI).
Many of their stories have gone untold, but there are several groups like BAJI and the UndocuBlack Network that are working to change that.
The recently formed UndocuBlack Network held a three-day convening in Miami this past January specifically for undocumented black immigrants. It was described as a "first of its kind space for black undocumented folks to heal, organize and be empowered by each other."
It was the first place Wright says she really felt comfortable enough to share her daily struggles as a black immigrant in America.
"We want to 'blackify' the undocumented immigrant narratives in this country." — Jonathan Jayes-Green
Two major mandates emerged from that gathering, according to UndocuBlack co-creators Jonathan Jayes-Green and Jamie Richards. "We want to 'blackify' the undocumented immigrant narratives in this country and we want to facilitate access to resources for our community," Jayes-Green says.
As an Afro-Latino immigrant from Panama, he believes that the global black community must work together across borders to address the issues faced by black immigrants and African-Americans alike.
RELATED: SCOTUS to Hear Immigration Case, Asian-American Leaders Respond
"We know that it's traumatic to be black and traumatic to be undocumented. We know that anti-blackness is a global phenomenon … so right now we need to build and uplift the black and undocumented community," he said.
The Black Alliance For Just Immigration works (BAJI) with members of both black immigrant and African-American communities who advocate for racial, social and economic justice.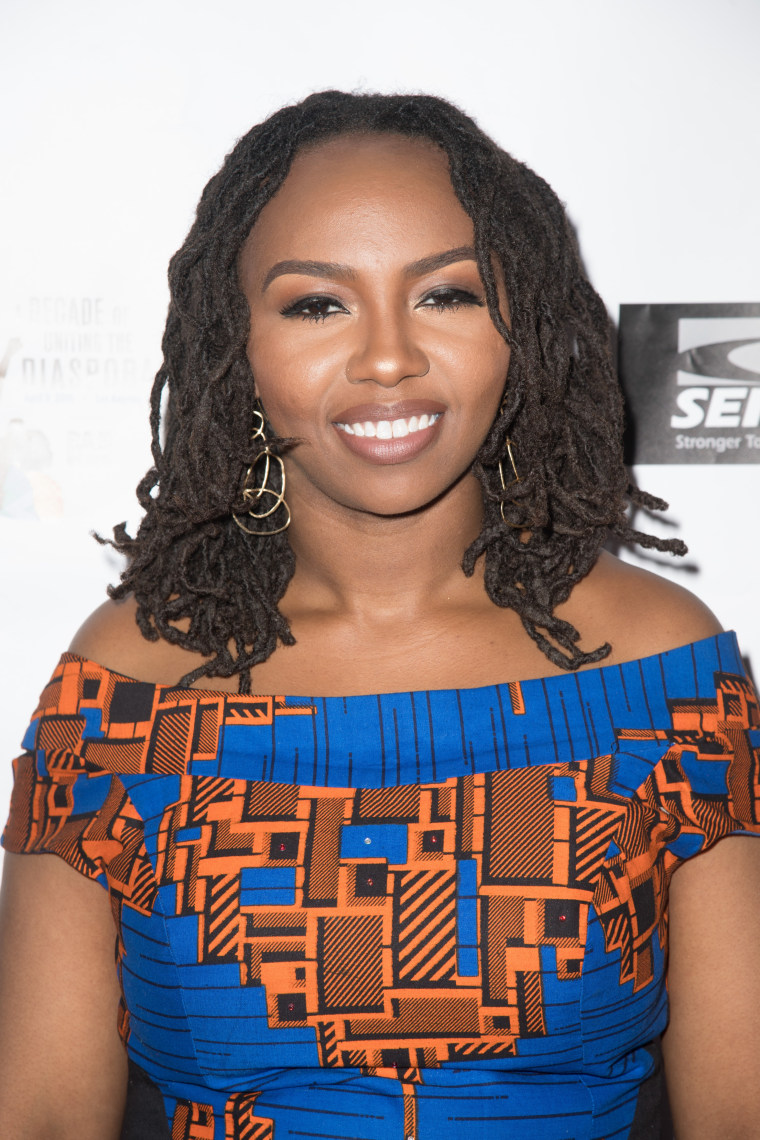 "Remember that the black immigrant experience in the U.S. must be understood not in contrast to the African-American experience, but as an integral part of it," BAJI Executive Director and Black Lives Matter co-founder, Opal Tometi said at the fifth annual Black Immigration Network (BIN) Kinship Assembly held in Los Angeles earlier this month.
Understanding how interconnected the realities of black people from around the world are, is what Tometi says led BAJI to form the BIN network—a national alliance of individuals and close to 40 organizations that represent both black immigrant and African-American communities.
"We've built this network because black communities are among the most marginalized in this movement for immigrant justice," she says.
Its annual " Kinship Assembly" attracts members of BIN organizations as well as individuals who organize, advocate for and work to empower African, Afro-Caribbean, Afro-Latino, as well as African-American communities in the United States.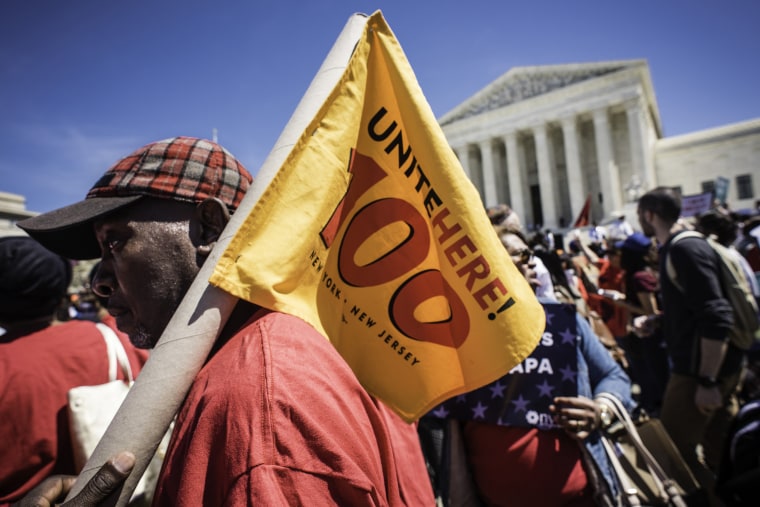 Wright's experience at the Undocublack Convening is what she says gave her the confidence to travel to Los Angeles for the BIN Kinship Assembly and continue sharing her story.
"I was aware that I was not the only black undocumented person in America but I wasn't aware of the movement here to help us," Wright says.
Although a decision on United States v. Texas isn't expected until June, advocates hope that the more people like Wright who share their stories will change attitudes about immigration reform in the United States.
"I hope that it is the beginning of a culture shift. That is part of our goal," says Richards. "I hope that people who see her [Wright] and may not have paid attention to what DACA and DAPA is before, realize that it is a diverse community and an issue that needs everyone's attention."
The expansion of DACA would completely change Wright's life, she says. "I can finally go from simply existing to finally living."
NBCBLK will be continuing to share the stories of black immigrants and the unique set of issues they face. This is the first installment of Black & Undocumented.