The Wednesday night episode of the ABC show "Black-ish" addressed the issue of police brutality with questions, a little humor, and some hope.
The episode titled, "Hope" centers around the Johnson family trying to decide how to explain to their tween twins, Jack and Diane, what police brutality is.
The episode is set with the Johnsons sitting in their living room watching CNN coverage of a case involving police brutality against an unarmed teenager in Los Angeles and waiting for a grand jury indictment. While everyone in the family seems to have a strong opinion on what's happening, Dre (Anthony Anderson) and Rainbow (Tracee Ellis Ross) can't seem to agree on how to address the issue with their youngest children.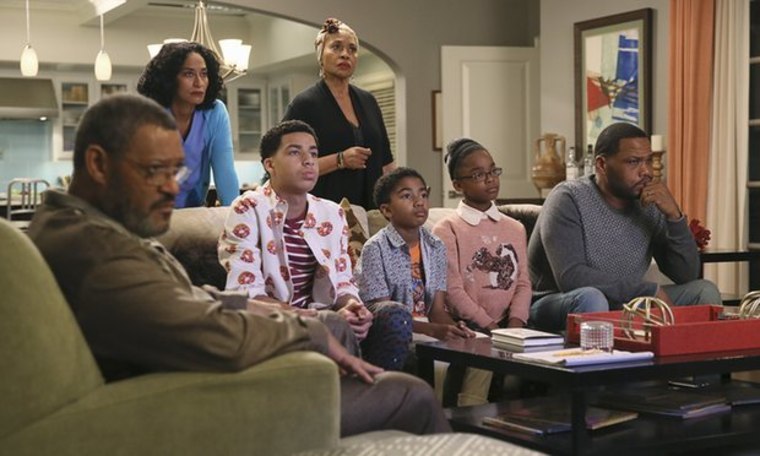 While Rainbow (who goes by the nickname 'Bow), would rather shield the twins and let them continue to "hold on to their innocence and be kids a little while longer," Dre says,"They are not just children, they are black children and they need to know the world they are living in."
While that dilemma is definitely the crux of the episode, the family also embraces different facets of the issue at large. The family's discussion touches on everything from Sandra Bland and Freddie Gray, to the Ta-Nahesi Coates book "Between the World and Me" (which Andre Jr. is reading), to the O.J. Simpson trial.
The episode also makes sure to break up some of the heaviness with humor, like Jack (Miles Brown) thinking that "unarmed" means having no arms or Grandma Ruby (Jenifer Lewis) skipping out on getting Chipotle for the family in favor of food that "Sticks in your stomach" so that the food in the fridge can be used as weapons (because there is a protest after all).
One of the most poignant moments of the episode, however, is when Dre gives a monologue about the Obama inauguration after Bow says she wants her children to still have hope:
"Oh, so you wanna talk about hope, 'Bow? Obama ran on hope. Remember when he got elected? And we felt like maybe, just maybe, we got out of that bad place and made it to a good place," he started off. "...And we saw him, get out of that limo, and walk alongside of it, and wave to that crowd. Tell me you weren't terrified when you saw that. Tell me you weren't worried that someone was gonna snatch that hope away from us like they always do. That is the real world, 'Bow. And our children need to know that that's the world they live in."
It definitely hit home with many viewers.
Zoey (Yara Shahidi) who seems checked out from the issues for most of the episode eventually makes a statement I think many can relate to, and not just the teenage generation. She admits to being confused and lost: "Everyone I love has been talking about it all night, and I don't know what the answer is."
In the end, the family ends up going to the protest together. "I don't think the world is as broken as you do, Dre, but something's got to change," Bow says. "It's scary, but I think we should go down there."
Ruby stays home with the twins and of course she's prepared.