Black Lives Matter may have started in the U.S. in response to police violence against black people, but its message has now gone global.
Mass protests have recently taken place not only across the U.S. but also in countries including France, England, Senegal, Canada, South Africa and Germany.
Just last month, nearly 2,000 people inspired by the movement marched through Beaumont-sur-Oise, a small town just outside of Paris in response to the death of 24-year old Adama Traoré, a young black man, who was in police custody.
Related: Black Lives Matter Has Shifted National Debate, Despite Controversial Reputation
While a Black Lives Matter protest was already scheduled to take place in Paris in solidarity with the movement, it took a more personal turn with protestors in Beaumont-sur-Oise chanting "Justice for Adama" after the case received national attention, according to the Global Post.
"This happened close to home," protestor Fati Cissé told the GlobalPost. "We were already affected by the events in the U.S. and now it touches us even more."
The march in France occurred less than a month after two lethal police shootings of black men Philando Castile in Minnesota and Alton Sterling in Louisiana.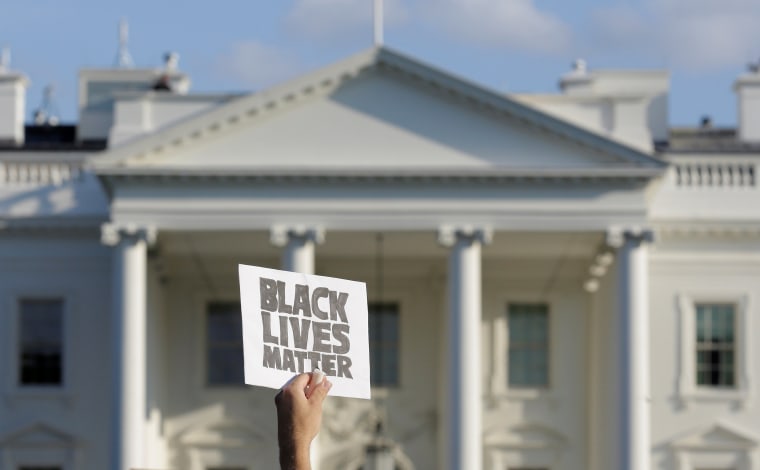 'From the US to the World'
Across the Atlantic Ocean, 24-year-old German-American Olive Duran organized a protest in Berlin late July.
Hundreds marched down the streets of Germany's capital in a show of solidarity with the Black Lives Matter movement. During the demonstration last month, protesters read out the names of black individuals killed by police in the U.S.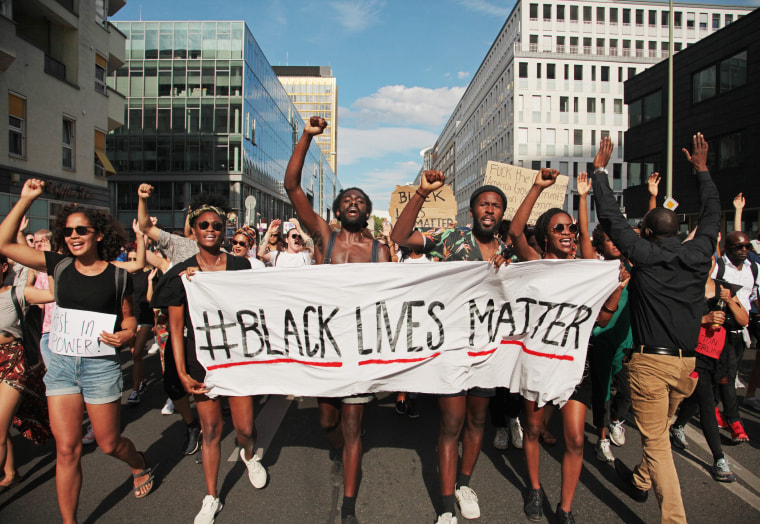 Duran, who lives in Germany, but was raised in Washington, D.C., said racism is not an issue unique to the U.S.
"I've seen racial profiling happen in Amsterdam, Berlin and London and there's no doubt it's happening in other places," she said. "I'm not only fighting for America here, I'm fighting for racial injustice around the world."
Related: How 'Black Lives Matter' Activists Are Shaping the 2016 Campaign
Meanwhile, in London, hundreds more protested in response to the killings of Sterling and Castile. Demonstrators carried signs that read "How many more?" and chanted "No justice, No peace" as they marched toward the U.S. embassy.
'Not Just Civil Rights'
Since Black Lives Matter started three years ago, the movement's message has extended beyond the U.S. as other communities of color identify with similar human rights themes, said Frank Leon Roberts, an African-American literature professor at New York University.
"Black Lives Matter is not necessarily about civil liberties," Roberts said. "It's about recognizing the humanity of black people, as people."
'Black Lives Matter Toronto'
The #BlackLivesMatter chapter has also found a home abroad in Toronto, Canada, the only international chapter recognized on the official Black Lives Matter website.
The chapter emerged in 2014 in response to the killing of Jermaine Carby, a young black man, during a police stop in the outskirts of Toronto. When a grand jury chose not to indict Darren Wilson, the white police officer who shot and killed unarmed, 18-year-old Michael Brown in Ferguson, Missouri, the Black Lives Matter Toronto chapter protested in solidarity.
The Canadian offshoot has distinguished itself by challenging policing in the Greater Toronto Area and bringing attention to the systemic racism within the country.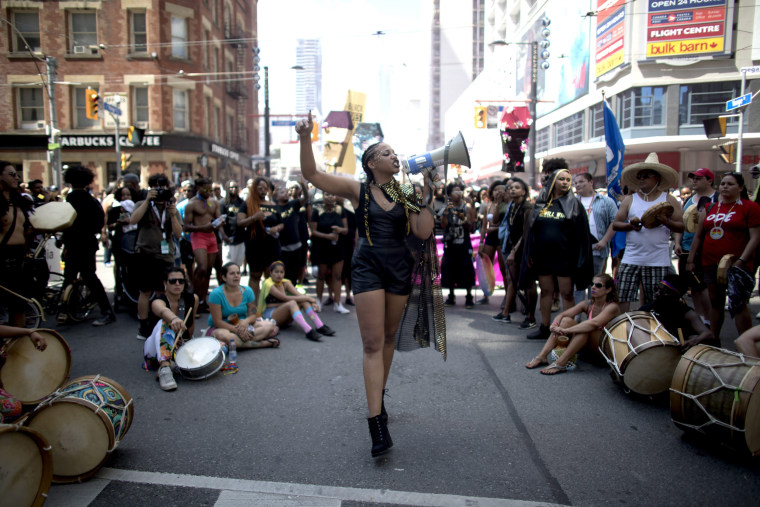 Recently, at an annual Pride parade in Toronto, Black Lives Matter-Toronto was recognized as the "2016 honored group". Its members staged a controversial sit-in and brought the parade to a complete stand-still for nearly 30 minutes as they issued a set of demands to organizers, including banning police floats from future events.
The group is pushing for a more inclusive and safe space for black members of the LGBT community. Janaya Khan, a co-founder of Black lives Matter Toronto and a social-justice educator, defended the group's actions after it was criticized for the protest.
Khan told NBC News that the backlash is to be expected because change makes people fearful. She said that the belief that Canada is a racial haven is a myth.
"The majority of us in the Toronto chapter grew up in the city," Khan said. "We recognized anti-black racism existed because we lived within it, in our communities that were over-policed, the inaccessibility, and the unemployment that would often be a direct result of being black."