In a hotel room in July 2013, community organizer Patrisse Cullors logged on to Facebook, full of rage.
She had traveled from Los Angeles to Susanville, California, to visit a young man she was mentoring who was in prison. But her focus that evening snapped to the case of Trayvon Martin, the unarmed black teen in Florida shot to death by George Zimmerman.
Zimmerman had just been found not guilty of second-degree murder.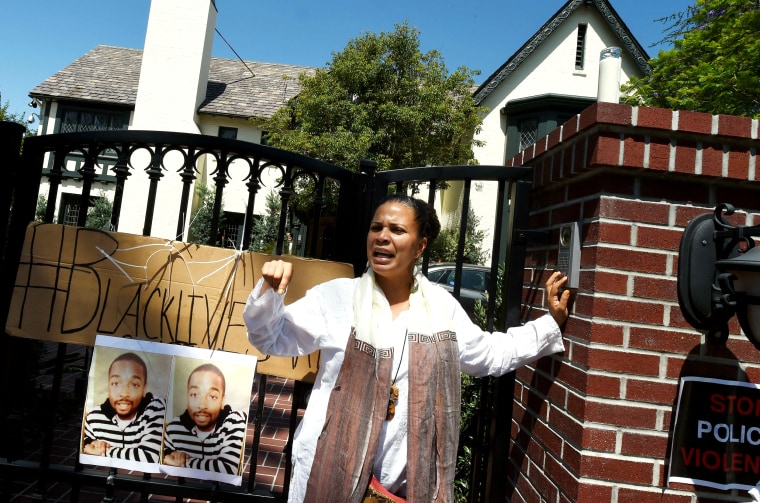 "I was just desperately trying to figure out how to deal with my grief and my anger," she told NBC News.
Scrolling through reactions online, she came across a post from her friend Alicia Garza.
"Black lives matter," Garza had written.
The phrase stuck out to Cullors, now 32. She put a hashtag in front of it and put it on social media. She says she suggested to Garza that they make it an organized movement, online and off.
Along with a third woman, Opal Tometi, they helped turn #BlackLivesMatter into a digital anthem — and, eventually, real-life activism.
But it wasn't until a year ago, after the Aug. 9, 2014, shooting of another unarmed black teenager, Michael Brown, that the hashtag proliferated. As the country focused on the treatment of African-Americans by law enforcement, those three words became a critical way for protesters to spread the word.
"It became this incredible tool for them to be able to organize," said Mark Anthony Neal, a professor of African and African-American studies at Duke University. "And then it also gave the movement a certain kind of credibility. This is a generation that has been impacted by branding. Essentially what Black Lives Matter did was to attach a brand to black social protests."
RELATED: Darren Wilson, Ex-Cop Who Killed Michael Brown, Says Ferguson Isn't a Racist City
Black Lives Matter shares the goals of traditional civil rights groups such as the NAACP: It aims to end racial inequality and reform law enforcement practices.
The hashtag has been used again and again to capture furor over the deaths of African-Americans: Tamir Rice, Eric Garner, Walter Scott, Freddie Gray, the Charleston church shooting victims and, more recently, Sandra Bland.
RELATED: Sandra Bland Death: Family Files Wrongful-Death Suit Naming Trooper and Other Officials
Twitter did not provide data to NBC News on how many times #BlackLivesMatter has been tweeted over the past year, but said it peaked on Nov. 24, 2014 — the day a prosecutor announced that a grand jury had declined to indict Officer Darren Wilson in Brown's death.
Regardless of the numbers, experts say #BlackLivesMatter generated a national discussion about race that arguably would not have happened, at least not with the same force, had it not been for the power of social media.
"This movement is a fight for all black lives."
"We know about almost every one of these killings now in ways that we never would have," Neal said.
That awareness was reflected in a Pew Research Center poll released last week that found that half of Americans say racism is a big problem in society — up from 26 percent six years ago.
"Before the hashtag, you knew these things were occurring, but you thought it was just an isolated event," said Travis Gosa, an assistant professor of Africana studies at Cornell University and author of the upcoming book "The Hip Hop & Obama Reader," which examines politics, activism, and social change.
"It's really showed people that there is a continued pattern of segregation and racism all around the country," he said.
RELATED: How 'Black Lives Matter' Activists Are Shaping the 2016 Campaign
He added: "This could be the most important slogan we have heard since 'We Shall Overcome.'"
Cullors said that the phrase resonates because "it's so many things wrapped up into those three words. It's more than just black lives matter. It speaks volumes."
As a rallying cry, it draws on the legacies of the civil rights and Black Power movements, she said, and is a way for people of any race to express solidarity with the cause.
"This movement is a fight for all black lives," she said. "I wanted it to be something that would go global. I didn't know it was going to."