THE COOKING GENE
By Michael W. Twitty
464 pp. HarperCollins/Amistad, $29
Michael Twitty, writer, Judaic studies teacher, culinary historian and historical interpreter is a new kind of voice on the food scene.
Twitty meshes cooking, food and history in a straight, no chaser kind of way. His first book, The Cooking Gene: A Journey Through African American Culinary History in the Old South, out on August 1, shares his journey to trace the food steps of his ancestors in the old South.
Twitty spoke recently with NBC News about the impact of ancestry, culture and cuisine; the interview has been edited and condensed.
Tweet us your summer reads with #BLKBookClub and we will share a roundup of reader's picks at the end of the summer.
My work has always emphasized that Black lives matter. It is never just been about food and making it pretty.
NBCBLK: How long have you been exploring the intersection between food, history and culture?
Michael Twitty: My whole life. If nothing else I hope this book shows that the tradition of the Black autodidact is strong. That we grow up curious, passionate learners that to paraphrase George Washington's father, love things until they give up their secrets.
The kitchen, from books on the table to food on the stove was my laboratory.
Because what you explore has ties to slavery and race, have you had challenges being accepted in the "Food World?"
I think acceptance of my work has been ok. Some places and people have been better than others. It is just that my work has always emphasized that Black lives matter. It is never just been about food and making it pretty.
Our food tells our story in an extraordinary way. It is about the people who made and make it, the impact it has on our ability to sell our culture and cuisine and it's impact on our health is central rather than a grab bag of neat tips and techniques and food porn.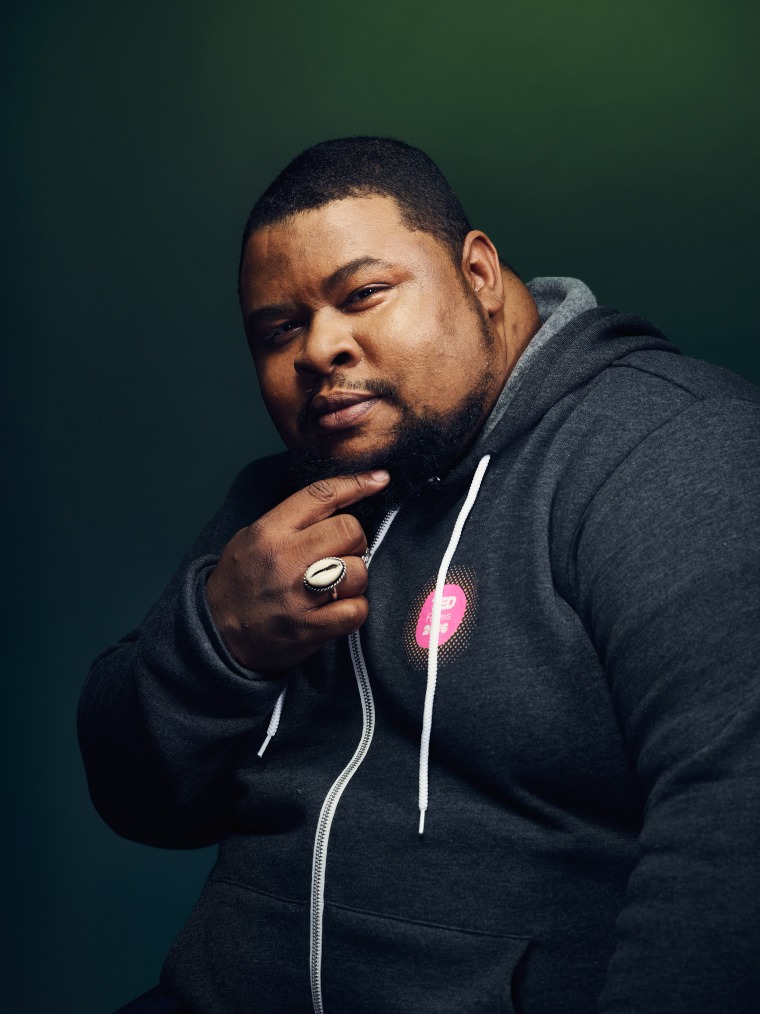 When you were researching the Cooking Gene what was the most surprising thing to you?
I loved tracing my African roots. I would identify an ethnic group through my DNA results and research their cuisine.
You'd see things you knew your people did, and it was very emotional. I've traced my ancestry accurately back to about ten West and Central African peoples.
Then came dealing with slavery. I had an ancestor who was sold as a child, so I had to work through what it was like be him alone, at age 8-9 on an auction block. Pot liquor was used to grease the faces of enslaved children so they looked well fed.
Related: Reading Room: Introducing the NBCBLK Summer Book Club
My great-great grandmother Rose murdered her overseer in a fight in a cellar and drowned him in a barrel of cane syrup. I liked re-telling the story on special order from my late Mother, because as she put it, "tell the world our family didn't take their s---. We fought every day."
Your talks about the book and even before the book sometimes have you "in costume." When did you decide to do this and why?
I want people to see the soot smudges and smell the lingering wood smoke. I want them to understand the irony of doing something so incredibly skilled, but still not being seen as a person, a human being. And yet, these men and women cooked day-in and day-out for both fellow enslaved and their enslavers. I want people to see part of that in living color.
How do your audiences take to this?
They appreciate it. Its provocative and evocative, especially for audiences of color. I get lots of props for keeping it real and not sugarcoating slavery.
What advice do you give to young people who want to explore their culture in food as you have done? Where do you want them to start?
Talk and cook with your elders. Don't play anthropologist on the first go. Let the recording be subtle, focus on their hands. Do the dishes, sweep the floor, fetch things, ease your way into their lives and eat up everything they have to tell you. Then go read about where they are from. Talk to your parents, aunts, uncles, collect the memories and by and by you will know your tradition.
Are you seeing the interest in the culture of cooking/Black folks waning among young Blacks?
Not at all, African-Americans are passionate foodies. We are exuberant. We know we come from some of the world's greatest cooks, or at least we should. We like playing with new ingredients and making them our own and learning about other cultures through food. We know that culinary literacy is key to our liberation.
What do you want readers to walk away with when they read Cooking Gene?
I want readers to mine what they need from this book. If you're a culinary historian, food writer, living history professional or museum professional, re-enactor, this book will professionally speak to you.
If you're African-American, African, Afro-Caribbean it will hit you in your heart. I want people of African descent to realize that food has made us a family and has given us a vehicle to tell profound truths about our journeys.
I want them to understand I wanted this book to be a blueprint for their own search for tradition and meaning in the narratives they carry. I want this book to be an heirloom.
Tweet us your summer reads with #BLKBookClub and we will share a roundup of reader's picks at the end of the summer.
---
Below is an excerpt from 'The Cooking Gene' by Michael W. Twitty. Copyright HarperCollins 2017, reprinted by permission.
---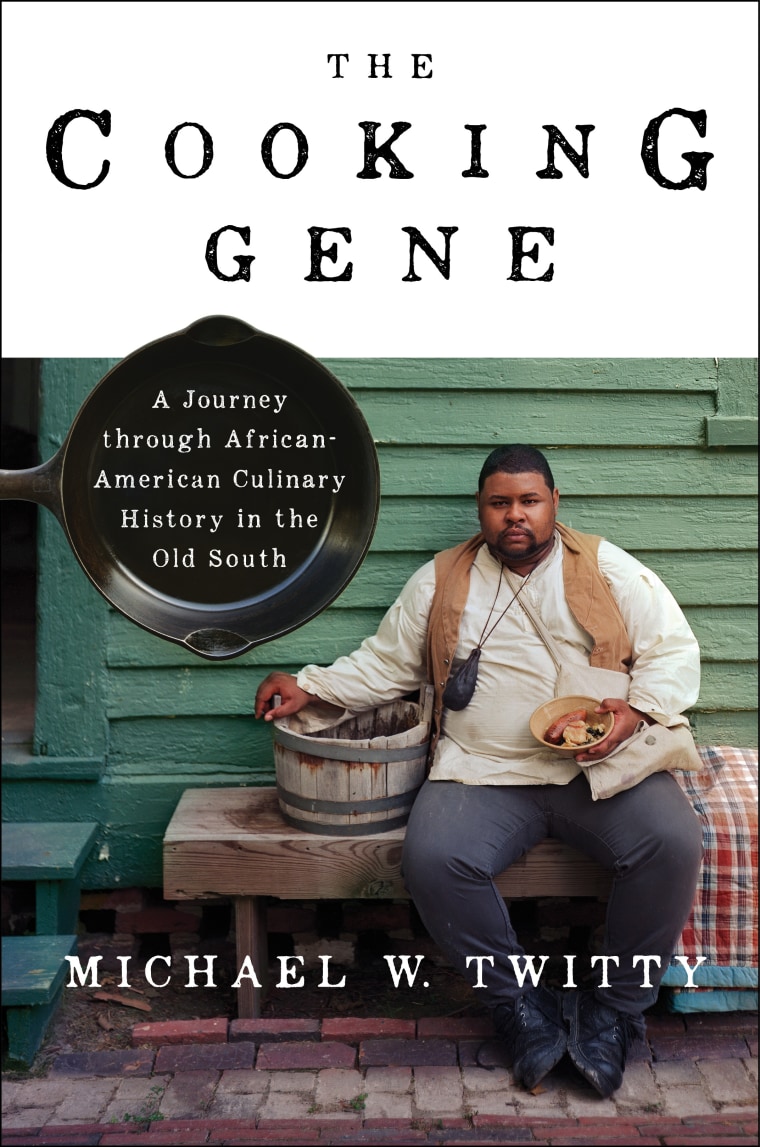 The Old South is a place where people use food to tell themselves who they are, to tell others who they are and to tell stories about where they've been. The Old South is a place of groaning tables across the tracks from want. It's a place where arguments over how barbecue is prepared or chicken is served or whether sugar is used to sweeten cornbread can function as culinary shibboleths. It is a place in the mind where we dare not talk about which came first, the African cook or the European mistress, the Native American woman or the white woodsman. We just know that somehow the table aches from the weight of so much…..that we prop it up with our knees and excuses to keep it from falling.
The Old South is where people are far more likely to be related to one another than not. It is where everybody has a Cherokee, a Creek, a Chickasaw, a Seminole or a Choctaw lurking in their maternal bloodlines but nobody knows where the broad noses or big asses come from. It is a place where dark gums and curly hair get chalked up to lost Turks and meandering mystics but Nigeria and Gambia are long forgotten, unlike everything else that is perpetually and unremittingly remembered. Proud bloodlines of Normandy and Westphalia and County Armagh and Kent endure here, and like it or not, it is often in the bodies who bear no resemblance to those in whom those genes first arrived, bodies like mine.
The Old South is where I had to return.
In 2011, I remembered that I had started to forget where I came from. I became aware of my own apathy and amnesia. I had a responsibility to study the generations before me and use that to move forward. So I worked with my then partner to craft a crowdfunding campaign called "The Southern Discomfort Tour." My goal was for us to travel the South looking for sites of cultural and culinary memory while researching my family history and seeing the food culture of the region as it stood in the early 21st century.
There are giant peaches on top of towers and statues of boll weevils, giant mammies and country stores that sell pig parts a plenty and have coolers that can keep a deer carcass or a mess of largemouth bass cold for three days. Nothing can prepare you for the sea of green cane or rice or tobacco or the way cotton looks when it's young and bushy and putting out mallow-like blossoms. The road signs are clear—three crosses on a hill, "Get Right with God," signs for cans of field peas and succotash, buffet style halls and meat and threes off the highway and nondescript adult entertainment centers. Old plantations lend their name to actual historical sites on the brown landmark signs as well as apartment complexes and resorts and battlefields are everywhere. In some town centers the auction blocks are remembered. From the town I live in in Maryland to Oxford, Mississippi the Confederate soldier stands guard near the old courthouse, and people will point out to you where the hanging tree stood—or stands.
There is a lot of beautiful and a lot of ugly mashed together. Pecan trees are my favorite thing and they stand guard ovemy Grandfather's home in South Carolina. Nothing matches light filtering through Spanish moss in the latest part of the day. The elders talked about how beautiful this place was, and if you are lucky, you will learn why they left it and what that first taste of Northern cold was like and the realization some things were no better no matter where you lived. In the words of my maternal grandmother, "The day I learned up North wasn't streets paved with gold and that white people there could be just as bad was the way I learned that sometimes the grass is greener because there's more shit to deal with." But she missed the crepe myrtles and my grandfather missed the taste of ripe cane nabbed from a neighbor's yard; I had come to see it all for myself.
The Old South was introduced to me in movies and magazines as the bizarre place we Black Americans owed our identity. Untanned ageless white ladies in pastel crinolines...Carolina blue, pale jessamine yellow, dogwood blossom pink, mint julep Green...bedazzled with stars and bars and frills a plenty. Parasols and fat Black crones called mammies and crusting, crooning, near senile ex-bucks fondly called Uncles. Everybody and everything was satisfactual, and in their right place. White men and white columns and bow ties on white suits, the kind you'd never dream of getting chicken gravy or whip blood on. Blemish-less and benign, a patriarchy overlooking a peaceable racial hierarchy ordained by a Creator with a permanent beef with Cain and Ham and then Joshua butted in:
"Now therefore ye are cursed, and there shall none of you be freed from being bondmen, and hewers of wood and drawers of water for the house of my God." (9:23)
"Hewers of wood and drawers of water." The Oprah Winfrey Show, 1987. Oprah goes to Forsyth, Georgia where no Black person had "been allowed to live" in 75 years. She had been on air five months. Confederate battle flags were on display, a people un-reconstructed came out in force to show America's future richest Black person where she stood. What seemed like the entire town showed up to justify their whiteopia.
No racial description whatsoever appears in the Scripture for Cain or Canaan, son of Ham and the verse from the Book of Joshua has nothing to do with anyone living in America, and yet a man had his Bible open, ready in 1987 to justify a permanent and seemingly ancient division that did not exist in the British mind before the late 16th to mid17th centuries. My Alabama born and raised Grandmother, a refugee of Bomb-ing-ham, is folding clothes, under her breath is a constant stream of "God damn them." Her breath slowed to a seethe and her eyes became fixed into what seemed like a cut from which she would never return. I was 10 and I was barely taught that in school that my own area---the Washington metropolex---slavery and racism had defined the economy, politics and social order; seeing this made me dread my own country, and presumably, my own ancestral homeland—the Old South.
"The lazy, laughing South/with blood on its mouth/…And I am who Black, would love her," wrote Langston Hughes, a refugee of Joplin, Missouri, the poet laureate of Black America. The poems I was bid to remember frequently referenced a place that was caught up in a weird braid of nostalgia, lament, romance, horror and fear. Forsyth, Georgia, is no longer the same place it was nearly 30 years ago and Black people have long since moved in. And yet across the region, flashpoints continue, the shootings, the draggings, the overreach of police authority, the obstruction of the vote, inequalities and inequities and silent and sturdy boundaries between white and Black. For some, "we" are the South, but "they" are Dixie, and yet we and they all know the old hanging trees and the strange fruit they once bore.
I dare to believe all Southerners are a family. We are not merely Native, European and African. We are Middle Eastern and South Asian and East Asian and Latin American, now. We are a dysfunctional family, but we are a family. We are unwitting inheritors of a story with many sins that bears the fruit of the possibility of ten times the redemption. One way is through reconnection with the culinary culture of the enslaved, our common ancestors, and restoring their names on the roots of the Southern tree and the table those roots support.
The Old South is where I cook. The Old South is a place where food tells me where I am. The Old South is a place where food tells me who I am. The Old South is where food tells me where we have been. The Old South is where the story of our food might just tell America where it's going.
The Old South/with soul food in its mouth/and I who am African American/must know her.