With the Super Bowl this coming Sunday, 'Shondaland' returning after a long winter slumber and the first female African American Attorney General nominee Loretta Lynch beginning confirmation hearings, it's been a busy week. Let's get to the highs, lows and LMAOs of the week.
About Last Night: Shonda Rhimes took us for a ride last night and my heart almost stopped...twice. First, who knew that Olivia Pope was a mini Macgyver? She seems more determined and focused with curly hair than that "laid-to-the-Gods-do." Curly hair Olivia can win an Emmy for her underwire bra key. She may still be in need of a rescue, but at least she's not just sitting around waiting for one of her men to storm in. Scandal lesson of the night? Even in tough times remember who you are and what you stand for. "I'm Olivia Pope--I'm going to save us".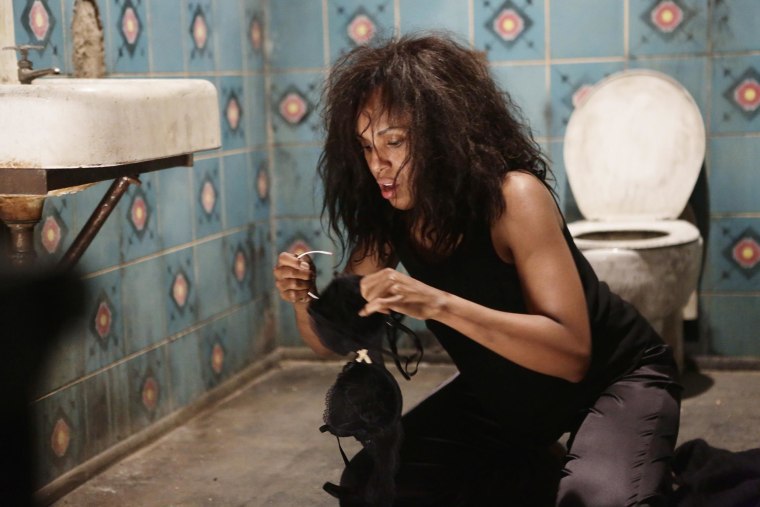 Pop Off of the Week: What exactly is a "blaccent"? Well, according to rapper/actress Eve, singer Jill Scott and anyone with ears, it's the accent Iggy Azalea tries on when she "raps" to seem more "black". Iggy gets a lot of heat for her seamless rise to musical fame by way of cultural appropriation and Eve and Scott are just the latest on the already crowded bandwagon to air their grievances. While, stopping by Sway in the Morning to promote their latest Lifetime movie "With this Ring," the entertainers were asked about Iggy and they didn't hold back.
"She's from a different place and I've said this before, it would be dope to hear her with her swag," said Eve. "Who are you, what are you, what is that?" [scroll 8:15 into the show]
Trend of the Week: #Empire. The Hip Hop breakout dramedy, Empire, is continuing to do the unthinkable—increase viewership ever week. In it's 4th week, the Lee Daniel's helmed show, starring Academy award nominees Taraji Henson and Terrence Howard, is breaking all the rules, by garnering a staggering 11.3 million viewers up from 10.9 million last week and 9.9 million on it's premiere earlier this month. Henson's character Cookie is a Twitter sensation, with countless meme's and tweets fired off in honor of her sassy one-liners and leopard print fetish.
Poliwood Round-Up:
Top Five Trending Topics in the #BlackTwitterverse This Week
FIVE: "I Ain't Sayin' She a Gold Digger"
The BET Honors taped their annual awards show this week and bestowed their Visionary Award on Kanye West. Now, we all know to hold our breath when Kanye is on a stage at an awards show and this time was no different. In his acceptance speech, West started talking about his wife Kim Kardashian and how she can't be a gold digger because she's dated "broke black dudes." According to Kanye, actors, NFL players, NBA players and music producers are broke. Um, ok.
FOUR: Hair, Handbags and Racism?
QVC host Sandra Bennett and a spokesperson from the company Dooney and Burke were discussing purses when the conversation turned to "bad hair" right at the exact moment a black model with natural hair began modeling a purse. Bennett said, "You might look back and think, 'Why'd I wear my hair like that?' but you'll still like your bag still." The spokeswoman said, "That's right. You won't look at your hair in the picture; you'll look at your handbag." Was it racism or really poor timing? You be the judge.
Sandra Bennett has apologized on Facebook saying, "I want to be clear that I was in no way talking about her. It was just terrible timing."
THREE: No More "Disturbing Tha Peace"
In what's becoming the new normal in celebrity child custody battles, another father has been awarded full custody. Rapper Chris 'Ludacris' Bridges has won custody of his 13 month-old daughter, Cai Bella Bridges. It has been reported that Ludacris was paying a whopping $35,000 in monthly child support to his child's mother, Tamika Fuller. In court Fuller claimed that Ludacris didn't want the child and offered her $10K to end the pregnancy. Ludacris has stated to People magazine that he is "gratified that the judge found me to be the most fit and proper parent to have primary physical custody of our beautiful daughter."
TWO: Veil-Gate
First Lady Michelle Obama caused an uproar on social media in Saudi Arabia Tuesday when she visited the country alongside President Obama to pay their respects to the late King Abdullah. Saudi Arabia is one of several countries that require women to wear headscarves or a niqab. However, exceptions are made for foreigners who are part of an official delegation. Michelle Obama is not the only First Lady to forgo wearing a headscarf, but her attire did cause a stir on Twitter in Saudi Arabia with the #Michelle_Obama_Unveiled.
ONE: Will We Have a New Attorney General?
"I will be Loretta Lynch", this was the response Lynch gave when asked if she will be like AG Eric Holder if nominated to replace him. Republicans were working overtime in their 8-hour confirmation hearing with US Attorney Loretta Lynch, quizzing her on her thoughts regarding the President's Executive Order on immigrations, same-sex marriage and other hot button issues. Lynch stayed cool and collected avoiding confirmation flubs we've seen in the past from other nominees. It's becoming increasingly likely that barring the fact that she is an Obama nomination there is nothing in her history that is a cause for concern. If nominated she will be the first African American woman to hold the position.