In a surprise move this week the WNBA's New York Liberty hired former NBA player and former NBA coach Isiah Thomas as their new president. As part of the deal Thomas will also take part ownership stake in the team. The shock and frustration wasn't about gender—but because of his past.
In 2007 before Thomas was fired from the Knicks, sexual harassment charges were brought against him by former team employee Anuche Brown Sanders. When Brown reported the harassment she was fired. She then sued and was awarded $11.6 million in damages.
Why would a woman's sports team hire someone with this kind of permanent record—proven in court to be guilty? No one has any idea. Seems like a back court violation to me.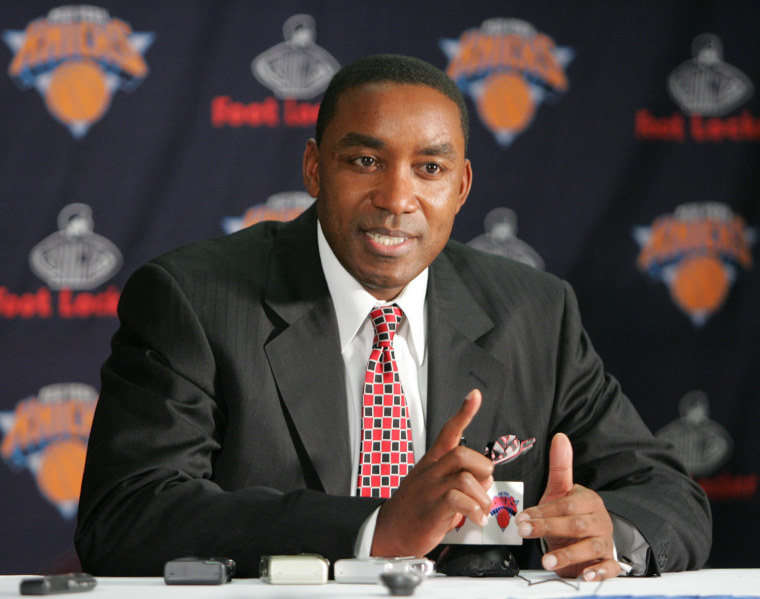 Pop Off of the Week: The Power of Prince
Prince will be performing at the "Rally 4 Peace" benefit concert for the city of Baltimore this Sunday. Live Nation, the concert promoter, released this statement:
"In a spirit of healing, the event is meant to be a catalyst for pause and reflection following the outpouring of violence that has gripped Baltimore and areas throughout the U.S.," Live Nation, the concert promoter, said in a statement. "As a symbolic message of our shared humanity and love for one another, attendees are invited to wear something gray in tribute to all those recently lost in the violence."
According to Rolling Stone, Jay-Z's music streaming service Tidal will provide free live audio of the concert and match funds in donations to Baltimore charities made via Tidal's official site.
For once something positive is popping off and who better than Prince to lead it. Do you remember his statement at this year's Grammy's? Watch it below.
Poliwood Round-Up: Trending Topics in the #BlackTwitterverse This Week
Trend of the Week: #MetGala2015: The Oscars of fashion took place this week at the Metropolitan Museum's star-studded gala. Known for their fantastical themes, this year's was no different—"China Through the Looking Glass"—and boy, did we see some things. The best looks however, weren't the styles themselves but the memes and jokes that followed:
Not to be outdone by Twitter, some of the best jokes came from Jimmy Kimmel who created an entire infomercial around Rihanna's dress as a sort of haute couture Snuggie.
THREE: James Bond Behavior: There has been chatter on the internet for quite some time with folks hoping, praying and wishing that the tall drink of hot chocolate, aka Idris Elba, will be named the next James Bond. He decided to up the ante this week by breaking records and taking names.
Idris broke a 90-year old United Kingdom "flying mile" speed record. Driving a Bentley Continental GT on the beach in Wales Idris clocked in at 180.4 MPH for the full mile and hit a top speed of 186.4 MPH. Not bad for a little Sunday drive.
TWO: Super Soul "Ahas": On Sunday author, MSNBC Shift host and transgender advocate, Janet Mock, made an appearance on 'Super Soul Sunday' to chat with Oprah about her book Redefining Realness. In the episode, Janet talked about her journey to living her authentic truth and gave Oprah a few "aha moments" about the complexity of being transgender and how difficult it is at times showing up as who you are in a world that doesn't always accept your truth.
ONE: Solidifying a Legacy: This week President Obama announced the creation of My Brother's Keeper Alliance. In an attempt to secure the work that his My Brother's Keeper Initiative has done within the White House, the President has taken the steps to establish a stand-alone organization to ensure that an incoming Administration wouldn't undo the work to help black and Latino boys excel.
$80 million has already been committed by an esteemed list of corporate sponsors. The organization will focus on improving early childhood education, keeping black and Latino boys out of the criminal justice system, and on preparing young men to be more successful when entering the workforce.