JOHANNESBURG, South Africa — Boko Haram had attacked Baga before. But this time, insurgents armed with assault rifles and grenade launchers beat back the military and burned the town to the ground.
Nigeria's military has called last week's attack on Baga, a fishing community on the shores of Lake Chad, the deadliest yet by Boko Haram in their five-year war to establish an Islamic caliphate. Death toll estimates from the most recent assault range from hundreds to as many as 2,000 people killed, and thousands more displaced.
The Nigerian government, gearing up for a general election next month, has made no official comment on the Baga attacks.
The extreme brutality is believed to be a reprisal for the local civilian vigilante group's support of the military in fighting Boko Haram. The area around Baga, in northeastern Nigeria, is said to still be strewn with bodies.
Survivors arriving in the state capital Maiduguri are now telling their stories of the massacre.
The horror began Jan. 3 when Boko Haram fighters laid siege to a key military base in Baga, home to a multinational task force. Insurgents overran the base after a fierce gun battle, and the soldiers fled.
Next Boko Haram turned to the town itself, in an attack that would continue for days.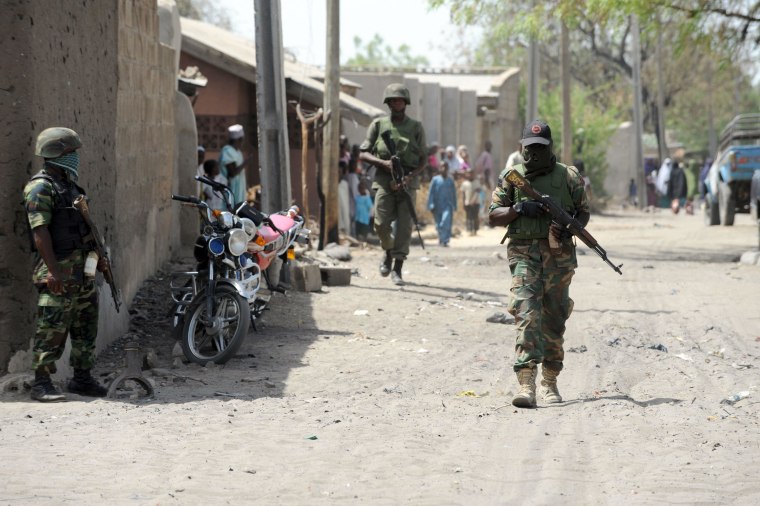 'Killing at will'
Ibrahim Gambo, a 25-year-old truck driver, told Nigeria's Premium Times that the insurgents "stormed into Baga almost from all directions; shooting, killing at will. We had no choice than to join others to run."
The Boko Haram fighters arrived in the town on pickup trucks and motorbikes, and chased down and killed those who fled into the bush, many of them women and children who couldn't run fast enough. People who hid in their homes were burned alive, according to reports.
Some residents of Baga fled by canoe into neighboring Chad, while others swam, some drowning in the attempt. One group of about 1,000 people were stranded on an island in the middle of Lake Chad, hungry and cold, according to the UN's refugee agency.
"We came across many dead bodies, some in groups and others by themselves in the bush. I saw dead children and women — and even a pregnant woman with her stomach slit open," Gambo told the newspaper, speaking from a displaced persons camp in Maiduguri.
Yahaya Takakumi, a 55-year-old farmer, told the Premium Times the insurgents "would lay in ambush on the water path," and when a boat came by with fleeing residents, "they attack and shoot them all."
"The killings were not done in a day, but that of the first day was massive, both soldiers and our local people were killed," he said. "Even after they had taking over Baga they kept on attacking other neighboring villages in the following days."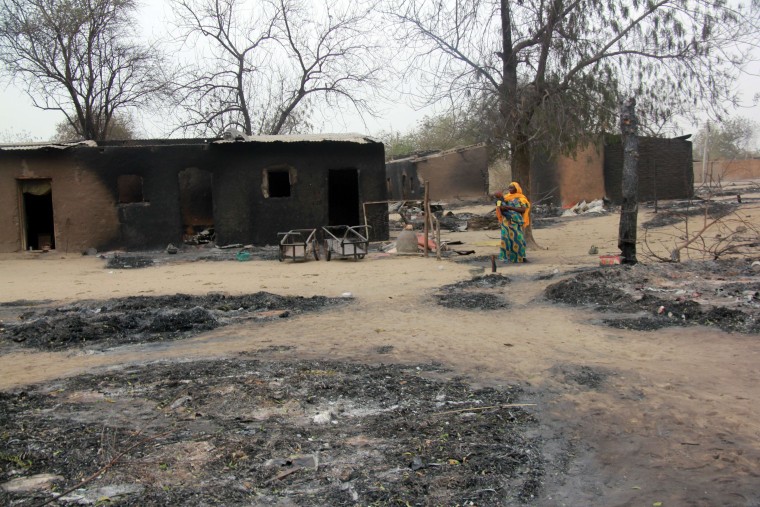 'Ceaseless gunshots'
Yanaye Grema, 38, a fisherman, told Agence France-Presse that he hid for three days between a wall and his neighbors' house as Boko Haram fighters ransacked Baga. Upon fleeing the town under the cover of darkness, he realized the full extent of the violence.
"The gunmen pursued fleeing residents into the bush, shooting them dead," he told AFP. "For five kilometers [three miles], I kept stepping on dead bodies until I reached Malam Karanti village, which was also deserted and burnt."
"All I could hear were ceaseless gunshots, explosions, screams from people and chants of 'Allahu Akbar' (God is great) from the Boko Haram gunmen," he said.
Boko Haram has attacked Baga several times in the past two years, including in November when dozens of fishermen were ambushed and killed, according to local media reports.
The Nigerian military, responding to reports that last week's attack was the deadliest by Boko Haram to date, said in a statement that "this interpretation of the recent terrorists attack on Baga is quite valid."
"The attack on the town by the bloodhounds, and their activities since January 3, 2015, should convince well-meaning people all over the world that Boko Haram is the evil all must collaborate to end rather than vilifying those working to check them," the statement said.
This story originally appeared on GlobalPost.
More From GlobalPost: