The city of Boston announced Wednesday the appointment of 10 members to its newly formed Reparations Task Force.
"For 400 years, the brutal practice of enslavement and recent policies like redlining, the busing crisis and exclusion from city contracting have denied Black Americans pathways to build generational wealth, secure stable housing and live freely," Boston Mayor Michelle Wu said during a ceremony at the African Meeting House, the oldest Black church building remaining in the country.
"Our administration remains committed to tackling long-standing racial inequities and this task force is the next step in our commitment as a city to advance racial justice and build a Boston for everyone," Wu added.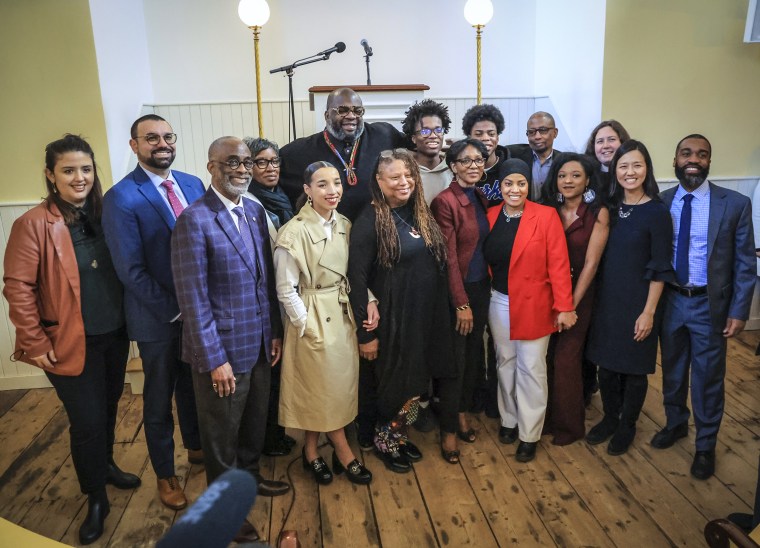 The announcement follows a formal apology, issued in June 2022, for Boston's role in the trans-Atlantic slave trade and a unanimous City Council decision to create a commission to work on reparations recommendations.
The task force will be chaired by attorney Joseph Feaster, Jr., the former president of the Boston chapter of the NAACP.
"The mandate is to make people understand historically, what brought about the need for this discussion of reparations," Feaster told NBC News.
The task force's job is not to detail the logistics or timelines for reparation payment, Feaster said, but is instead focused on discovering what the "amount of debt is" — the extent of harm done to Boston's communities of color, he noted.
The task force is made up of community activists, artists, scholars and students.
Reparations has been a nationwide topic with cities, towns and municipalities reckoning collectively with how to redress historical wrongs. The implementation of reparations for the enslavement of African people in America, however, has varied from suggestions of direct cash payment, homeownership assistance, repatriation of property or historical artifacts, and more.
Local advocates of reparations reference Boston's standing as a busy port city that profited greatly from goods produced by enslaved people.
"It's only right that our government plays a role in reversing the harm that our government enabled," Ricardo Arroyo, a Boston councilman, said.
A 2015 study found that the median net worth of Black households in Boston was $8, in comparison to nearly $250,000 for white households, owing to discriminatory city policies and practices that erected barriers to wealth-building opportunities such as homeownership for nonwhite communities.
"Today marks a moment in time where the city of Boston can serve to be a national model where we turn our resilience into resolution, our pain into power, and our past into a pathway to heal the future," said Carrie Mays, an activist and University of Massachusetts-Boston student appointed to the task force.