On a Thursday night in New York City, eight strangers anxiously gathered around the dinner table of a Brooklyn home. The conversation quickly went from pleasantries to deeply personal, over a potluck meal of shakshuka (poached eggs cooked over a savory tomato and onion sauce), Chinese dumplings, roasted vegetables and apple crumble pie.
"Please describe a time, it could be recent or a long time ago, when you felt unwelcome, unworthy, unsafe or threatened?"
This question, posed by one of the evening's hosts, Emily May was met with a bit of awkward silence followed by a few deep sighs and additional sips of wine, before each person began to share.
For Medina Fredericks, who is of Afghan, Mexican and Filipino heritage, a moment she felt unwelcome was when, following the terrorist attacks on September 11, she was asked by someone she considered a friend, "What did your people do?"
Another question centered on the meaning of citizenship and when the concept of it was first experienced or understood by everyone. That question evoked the memory of what dinner co-host Gabe Back-Gaal recalled as "the politics of having two moms" who did not have the right to be legally married.
Related: Frederick Douglass Was the Most Photographed American of the 19th Century
This group of eight people — which also included two African-American pastors and a U.S. veteran among others — were there to consciously listen to the stories of others who don't look like them or necessarily agree with their personal or political ideologies.
The dinner guests were together to find answers to one question, where do we go from here?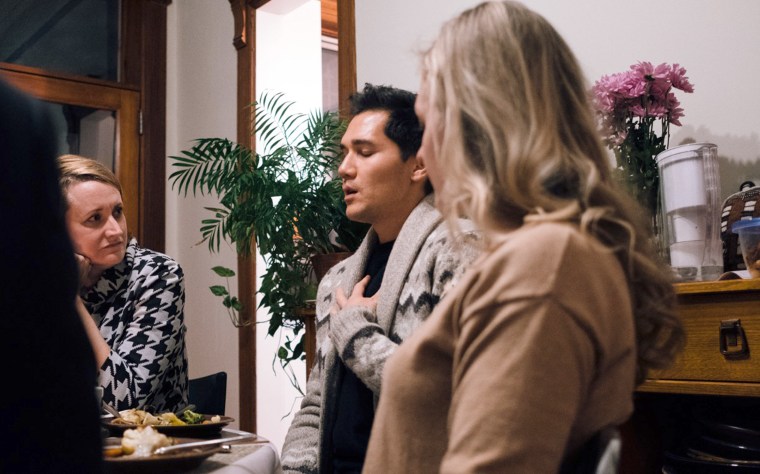 The "here" refers to the divide that currently exists in America, following the contentious 2016 election season and the inauguration of Donald Trump as the 45th President of the United States. In just the first two weeks of his presidency, Trump signed more than 20 executive orders including a travel ban on people from seven Muslim majority countries, efforts to repeal the Affordable Care Act and plans build a wall at the Southern border of the U.S. to curb illegal immigration.
This divide is why Kaydee Mooney says she intentionally did not share her political beliefs or support for President Trump during the election season. "You are blanketed as someone of hate or someone who is not accepting of others, for no other reason than I might be more conservative than Democrat," she told NBC News.
"I thought that if there's one thing that changes people, it's the ability to hear each other's stories and if there's one thing that people can unite over, it's food." — Emily May
Mooney said she's been unfriended and verbally attacked online after posting pictures of herself and friends in Washington D.C. during one of the president's inaugural balls in January.
"I have opinions and beliefs that somewhat align with Trump and some that do not align with Trump. And, it's unfair to paint any one person with just a blanket statement of you support Trump, so then you support everything that he stands for," she said.
According to May, sharing their experiences is a way to bridge the divide — having conversations with other people that might not otherwise meet or speak to each other.
May, who is co-founder of the global anti-harassment organization Hollaback!, says these sentiments were at the core of the discussions that she had with Lennon Flowers, co-founder of The Dinner Party and Rev. Jennifer Bailey, executive director of the Faith Matters Network.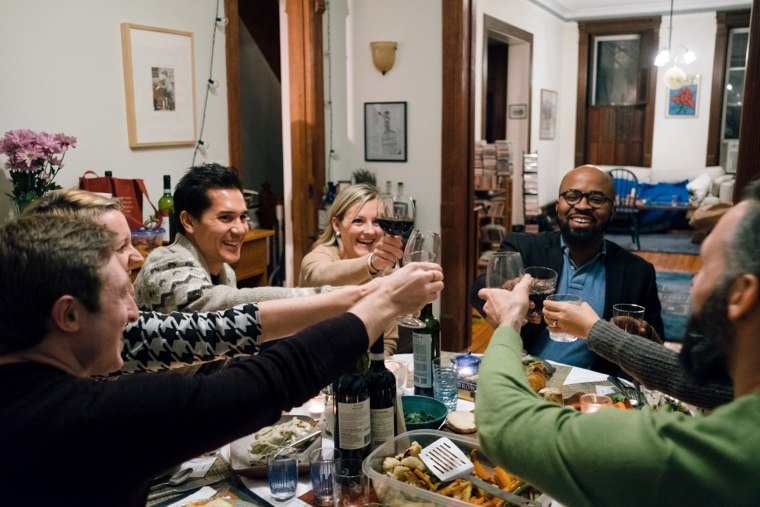 In their conversations, which took place about two months before Election Day, they wondered how they could bring together many Americans of many races, religions, party affiliations, sexual orientations and social classes.
"I thought that if there's one thing that changes people, it's the ability to hear each other's stories and if there's one thing that people can unite over, it's food," said May.
What resulted was the collaborative creation of #100Days100Dinners — an initiative to have one group dinner of strangers, every night throughout the first 100 days of the new presidential administration. #100Days100Dinners is a way of asking Americans nationwide to have a meal together.
"There's a level of solidarity that's created when you take the chance to do the difficult labor of listening well," explained Rev. Andrew Wilkes who attended the dinner with his wife Gabby Cudjoe Wilkes.
Guests don't talk politics or debate their varying stances on issues like immigration, healthcare and abortion. Instead, they share life experiences and find commonality with others across the dinner table, where each individual voice deserves to be heard.
"There's a level of solidarity that's created when you take the chance to do the difficult labor of listening well" — Rev. Andrew Wilkes
Each person hosting a dinner receives training on how to facilitate a community agreement based on mutual respect during conversations, and is provided with suggested questions and tips on how to end each dinner on a positive note.
So far, dinners have taken place in cities across the country including Chicago, Baltimore, Nashville and San Francisco. In just over two weeks, 110 people signed up to host dinners and 300 people have signed up to attend them.
In Brooklyn, by the time the apple crumble pie was passed, the group had established a few things they could do to create more moments where others — no matter what their background — feel seen and heard.
"We agree that we can focus on our commonalities, show up with radical openness, focus on what our purpose is and share our stories, not opinions," Back-Gaal said as he closed the dinner.