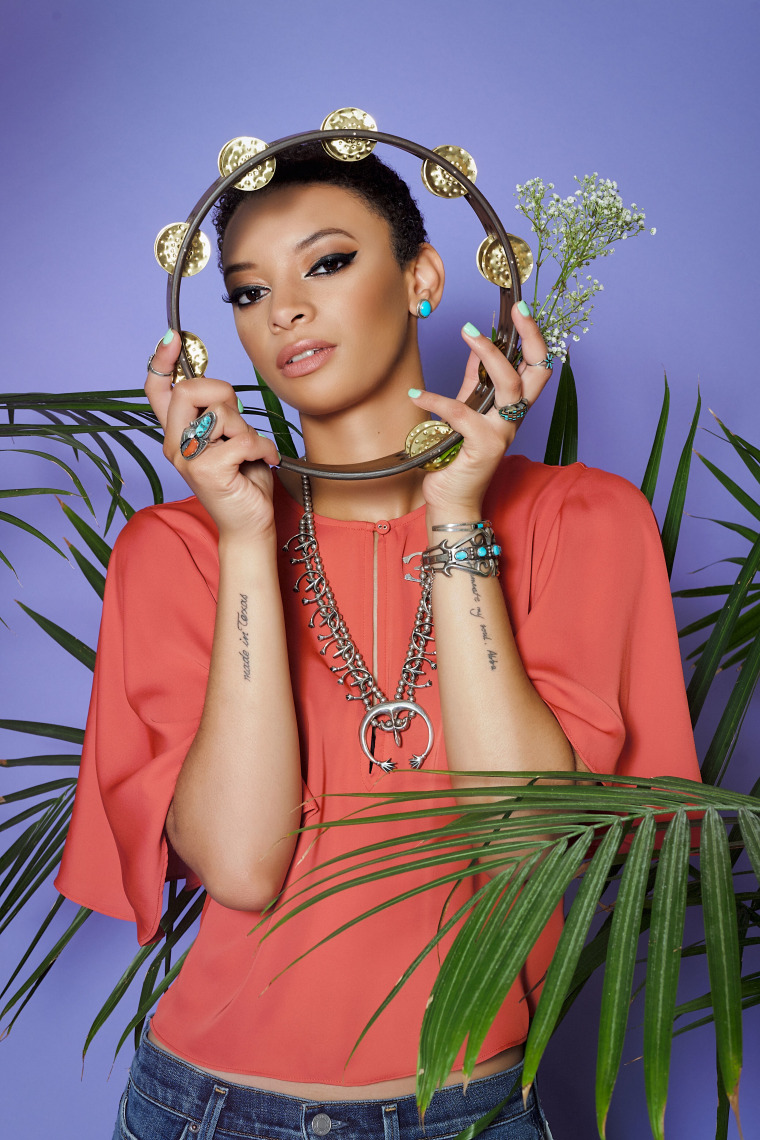 It's been over two years since Brittni Jessie received the call asking to record a couple songs with Leon Bridges. Both Texas natives, Jessie and Bridges met seven years prior — long before Bridges had adopted his vintage style or shared with anyone the fact that he could really sing.
"I showed up the first day and was like, 'What are you wearing dude?' Jessie joked to NBC News. "He was telling me he had been playing guitar and singing for the past four years and if I didn't mind, if I would sing backup. I was like cool, just have tacos every day, you don't even have to pay me."
Growing up, there were two things Jessie knew she wanted to be: a famous singer and a mom. Mostly self-taught, Jessie didn't decide to give music a real shot until high school when she auditioned for the school's choir — a hobby she juggled alongside volleyball, basketball, track and ROTC.
With Natalie Cole as her idol, Jessie developed a musical style that was a mix of soul, gospel, and alternative, and while writing her own singles, she began experimenting with beats as well. While her talent as a musician was clearly visible, Jessie remained passionate about joining the Marines following graduation. "I had a bootcamp place picked out and where I wanted to station. Of course, my mom didn't go for that so I tried to find another plan," Jessie stated.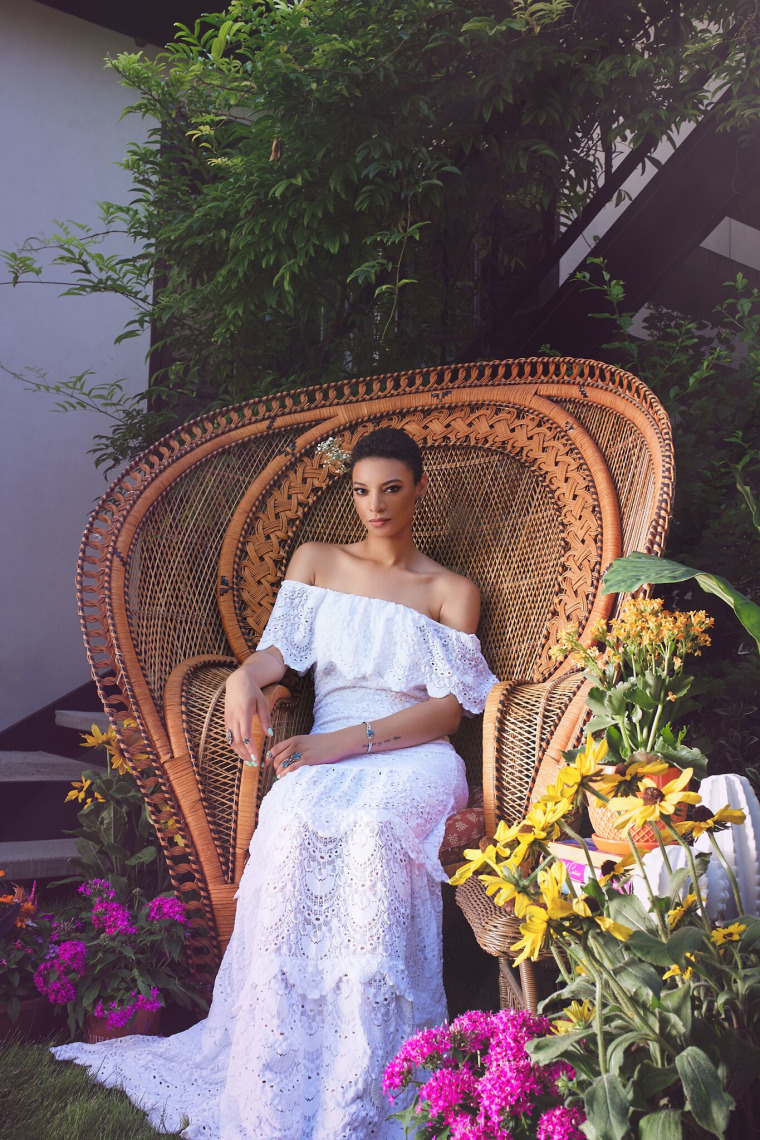 And find another plan she did. A year after Jessie recorded "Coming Home" with Bridges, the album was met with critical acclaim launching Bridges and his band to international fame. The album received a 2015 Grammy nomination for Best R&B Album of the Year and best described by Pitchfork as "deftly recalling the all the well-bronzed giants of soul — your Aretha, your Otis, and especially, Sam Cooke."
"Brittni is the most selfless and kind person I know," Leon Bridges told NBC News. "She is the only girl in the band and handles that very well. She could easily overdo her parts as a singer but she sings tastefully and delivers her vocals with grace."
RELATED: Meet Grammy Nominated Band, The Internet
Jessie made her on-screen debut in the album's song "River" as she and Bridges sing an acoustic duet about trying, and sometimes falling short, of living a spiritual life.
"The fact that people are saying we're celebrities, I'm like, 'We're regular people!" Jessie shared. "To be recognized even here at home or at the airport is so crazy. I can't really wrap my mind around it. As a band, we're all like that, we still think of us as pretty chill people who don't really do much. We think that we're really boring."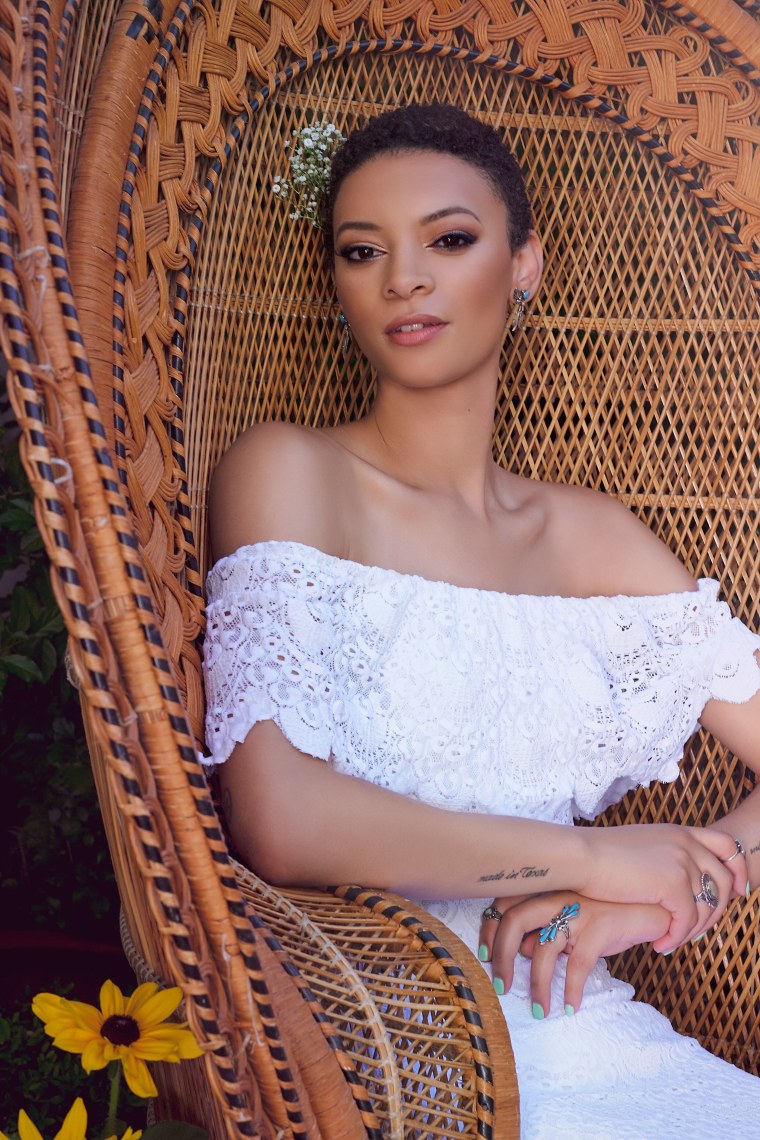 But when President Obama and Oprah Winfrey are among your fan base, it's hard to deny your celebrity status. Jessie has put her solo projects on hold to tour with Bridges, a friend she describes as "super shy, humble, generous, and beloved by his band."
Slim with short, blonde cropped hair, Jessie's vintage style is a compliment to Bridges and if possible, she would never change out of her two favorite pairs of denim overalls.
"Being in this industry, you see that everyone is trying to have the best body, the best butt, but nobody is really accepting themselves as women," Jessie stated. "I like my big nose and lanky arms and I'm okay with that. I remember I got a message from a girl and she was like, 'I've never really accepting of who I was as a young black girl' and I was like, 'Be proud of who you are! We're amazing strong women and I love who I am!'"
The band began their next national tour in September and despite playing 24 shows in less than a month, Jessie still remains grateful for every moment.
"Leon gives each person a moment of their own on stage," Jessie said. "We're all just grateful for that one moment. We don't ask for anything more. We're just here for him and I think that's the big thing — we're all Texan so we're pretty open and very welcoming. We're just one big family."