Thirty-five years ago, on any given night, two-time Grammy-award-winning recording artist Jennifer Holliday would bring sold-out audiences of enthusiastic Broadway patrons to their feet when she'd close out Act One of the smash hit 'Dreamgirls'.
Before 'American Idol'-bred Jennifer Hudson took home an Academy Award for playing the big screen version of Effie White, the role was created for the Broadway stage — and standing ovations — by Holliday who belted out the last line of her signature, guttural ballad "And I Am Telling You I'm Not Going" with a line no one has been able to mimic quite the same way since.
Just this past summer, Holliday performed the 'Apollo Amateur Night'-staple on ABC talk show 'The View' as she joined moderator Whoopi Goldberg's lip sync of the classic karaoke selection. Her live and bombastic vocals made many think it was still December 20, 1981 when 'Dreamgirls' opened on The Great White Way.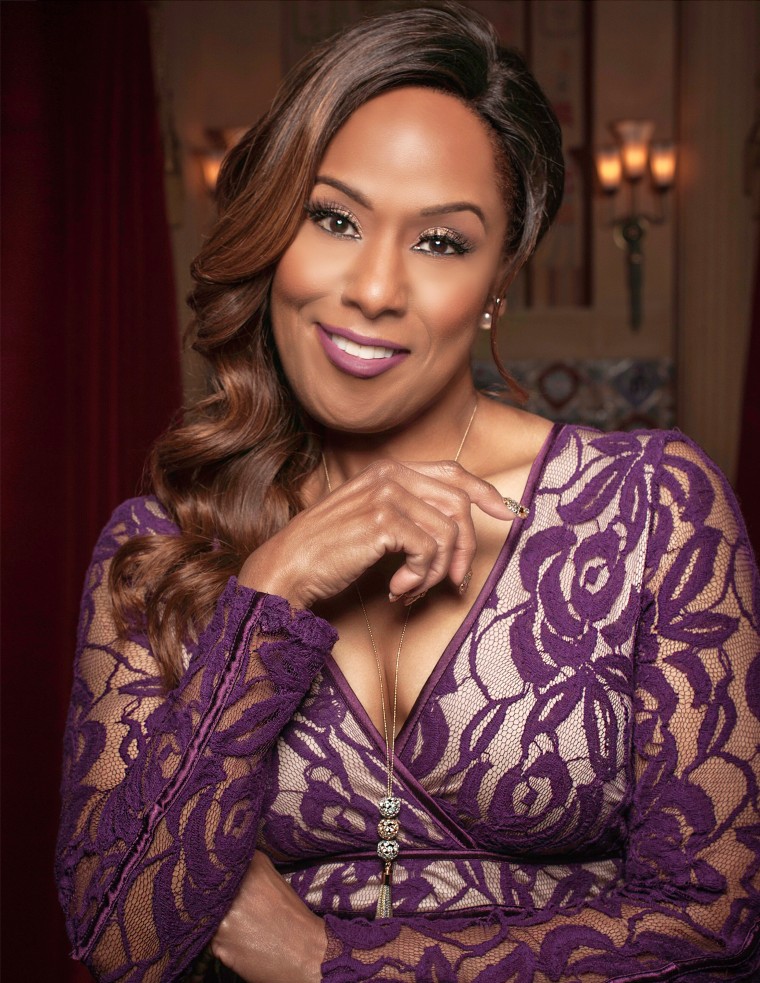 Not Holliday - nor her voice - have been been resting on her laurels since leaving 'Dreamgirls' in 1985. She's enjoyed a stellar career of recording hits - from torch ballads to dance chart-toppers to an array of gospel (including a 1985 recording of Duke Ellington's 'Come Sunday' that garnered her a Grammy for Best Inspirational Performance).
RELATED: Broadway for Black Lives Matter' Concert Rallies Artists, Actors
Holliday has attracted global bookings that spotlight her special brand of performance (including back-to-back Democratic National Conventions in 1984 and 1988). Primarily known for her stage work, Holliday was also cast regular Lisa Knowles on Fox TV hit show, 'Ally BcBeal', in 2000.
Through all of those years, she'd also do select Broadway fare: Big Mama Morton in 'Chicago,' Teen Angel in 'Grease', and her Broadway debut in 1980s 'Your Arms Too Short to Box With God'.
Jennifer Holliday is back in the Tony-award-winning Broadway revival of 'The Color Purple' at the Bernard B. Jacobs Theatre. In a 14-week limited engagement, the premiere vocalist has assumed the role of the sexy cabaret singer Shug Avery – a role originated in the revival by Grammy winner Hudson and most recently vacated by fellow Tony and Grammy winner Heather Headley.
A few days into her much-buzzed-about engagement, Holliday spoke with NBCBLK Contributor Patrick L. Riley about a range of topics: 'Dreamgirls' former cast-mates Sheryl Lee Ralph and Loretta Devine; memories of the legendary Earth, Wind, & Fire's leader Maurice White who produced her first album in 1983; and the way faithful theatergoers in the audience at 'The Color Purple' just won't sit down when she's on the stage singing.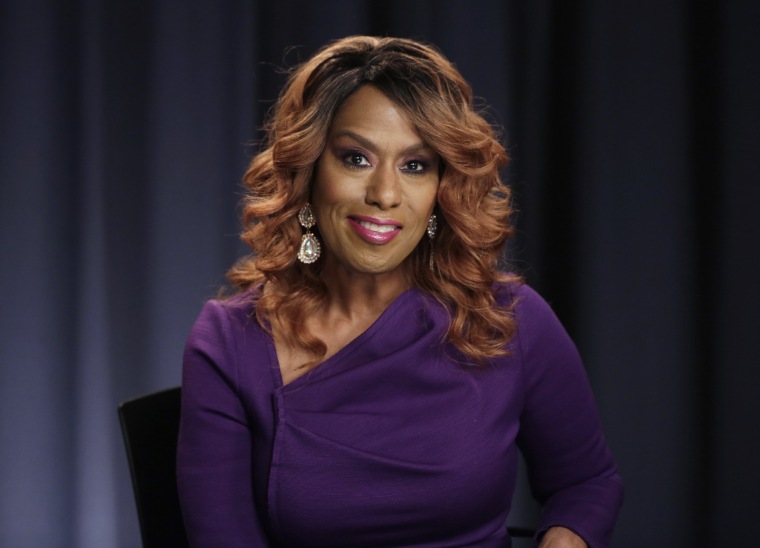 NBCBLK: I'm so excited that you are back on Broadway. Tell me how did this 'The Color Purple' Broadway revival find you?
Jennifer Holliday: Well, believe it or not, when Heather Headley let them know that she was wanting to leave the show, the casting director just wanted to have a shot at me, asking the producers "What about Jennifer Holliday?" The Director [Tony-award-winning John Doyle] didn't know what I had done in terms of being an actress, so I had to audition...
They wanted a BROADWAY LEGEND to AUDITION!!!?? Is that the question?
Yes, but it was okay. John Doyle didn't know what I could do as an actress, but I'd already seen his work and what he'd done with this revival of 'The Color Purple'. So I thought he was worthy of me auditioning. I thought the piece 'The Color Purple' was worthy of me auditioning. And I didn't know if I'd get it or not, but I decided to do it. I came up to New York to audition for John Doyle, the producers, and some of the other creative people. Then, later that night they said 'If Miss Holliday wants the role, we'd love to have her join us.'
I love that. It's worth noting for our readers that you have a history with "The Color Purple" on stage. In 2014, you appeared in a "mini-tour" of the show, playing Sofia. What was that experience like – especially given you were playing someone different out there than you're currently playing on Broadway?
I've had almost a three year love affair with 'The Color Purple'. A promoter called me a couple of years ago and told me that he had the rights to do 'The Color Purple' on the road. Would love if you would come out and I can find something for you to do in the show. They were thinking Sofia for me to play [the part that was Oprah Winfrey's Academy-Awards-nominated film debut]. I didn't know I had the comic timing of Sofia but they asked me to try it out in one city, Houston, my hometown. We had sold-out shows. The audience loved it. Everyone thought I was so funny. So, that was the original version of "The Color Purple" that we took out on the road, which is different from the current revival I'm in as Shug Avery on Broadway. Never did I even think I would play another character or be a part of such a raw and honest version of 'The Color Purple', meaning this version is more vulnerable than the first. I'm so proud to be here.
You are SHUG AVERY! You have acted for many years and you know how to BECOME your character. How did you connect to SHUG AVERY…and how are you becoming SHUG AVERY for eight shows a week?
I cheated. I watched the movie. [SHE LAUGHS] So, I patterned my Shug Avery after the actress who played her Margaret Avery (also an Academy Awards nominee). I really loved what she did with Shug Avery in the movie. I watched the movie several times before I started working with the Director. So, I could have at least an idea of what I'd like to do. I didn't know what he would want. But if he asked me, I could tell him my reference or place we could start.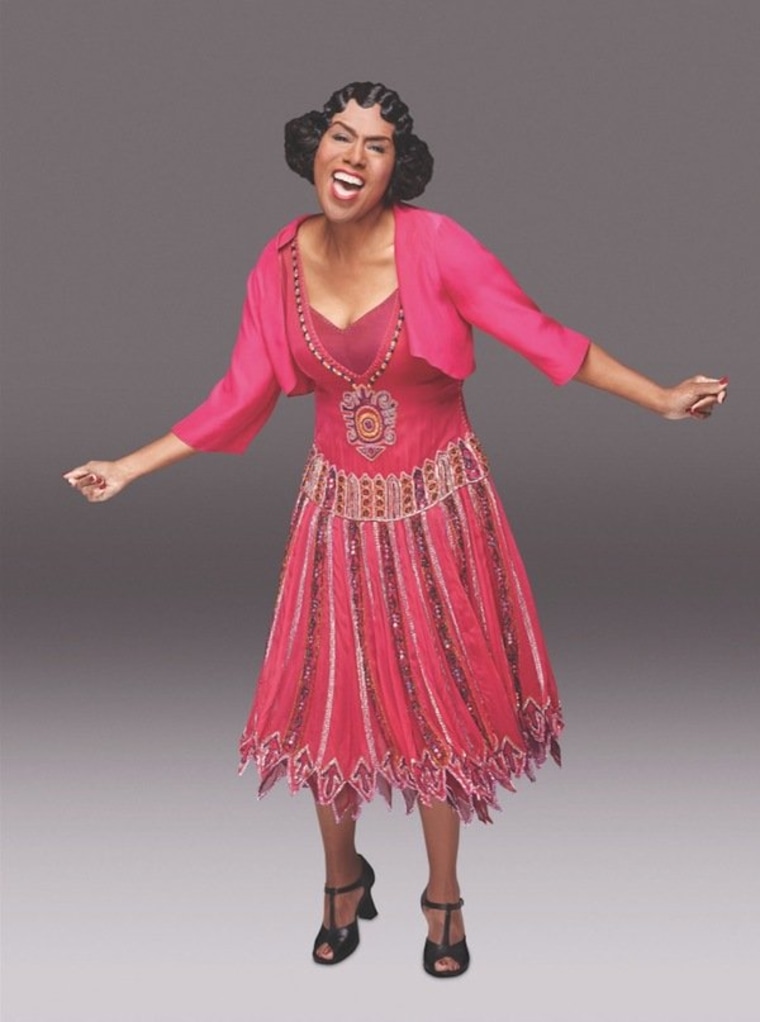 Can we talk about your singing voice on those beautiful songs from 'The Color Purple' – including "More Beautiful Than Words" and "What About Love?" - written and produced by Tony and Grammy winning songwriters Alee Willis, Siedah Garrett, and Brenda Russell, all of whom came to see you Opening Night...and continue to be celebrated for the show's music. Their work speaks for itself but now Jennifer Holliday's voice is on these songs. Wow!
If anyone came to see me, I don't think anything is left out. I don't feel like I would have had to forsake my own creativity or artistry. I think they'll get to see a more well-rounded Jennifer during the few times that I'm singing on stage. So, I think people will hear me sing like they haven't heard me before. I think they'll go "Wow! I didn't know Jennifer had such a delicate part of her voice that sings quietly and can lullaby someone." One thing about this version of the production: It's more of a play with music now. So, what the Director has done is simplified the piece by stripping things down and he's taught me to go to another place.
Can you describe what it is like to collaborate with Cynthia Erivo who won the Tony for her portrayal of Celie?
Cynthia and I have just the one duet "What About Love?" which is actually my favorite song. The lyrics, the way the melody goes, and just thinking about taking flight in love, and trusting. Moving forward with something new, you have to have courage to love, you know?
I do. Then, how much fun is "Push Da Button" to perform. Your uptempo romper?
"Push Da Button" is my very own. So, the Director has allowed me do a gutzy, bluesier Shug Avery like Bessie Smith. It's very down home juke joint! I've been able to show several different sides of my singing showcase with 'The Color Purple', so I'm beyond pleased.
You've survived so much. You have triumphed through so much and been vocal about it - from morbid obesity to clinical depression to multiple sclerosis. And now, you're on Broadway again in an amazing engagement: Eight shows a week?
Eight shows a week!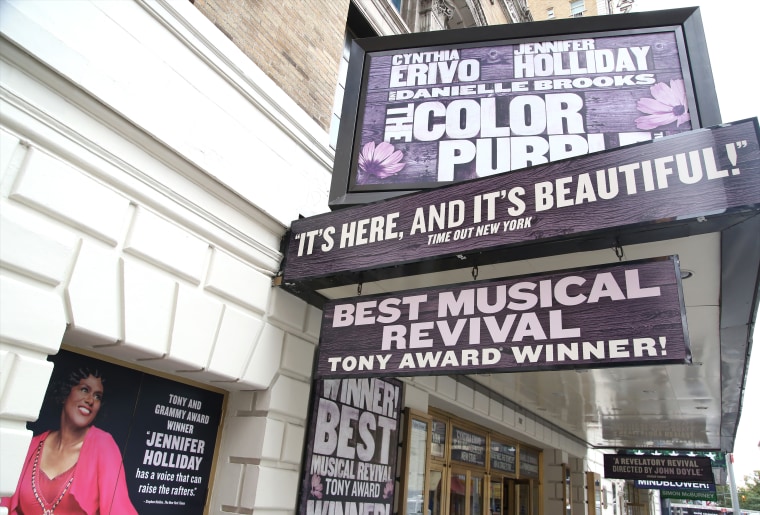 Are you doing anything differently this go around to ensure you can give that "Jennifer Holliday Experience" every time or the Shug Avery experience, in this case? Any special regimens to keep your energy up?
I'm a Broadway baby! So, therefore I started in the theater. 'Dreamgirls' was 35 years ago. Before that, I did 'Your Arms Too Short To Box With God', so we were taught discipline and I carried those things with me. So, the best way I can give someone the "Jennifer Holliday Experience" is not to be drunk. You can't drink. You can't do drugs. You can't do a whole lot of crazy things. And I always carried that discipline with me in terms of recreating magic and having to make it new every night. Those things are expected of me and those things I don't mind delivering because that's what I was taught. It's in my spirit.
You mention 1980s "Your Arms Too Short to Box with God" as your Broadway debut. Would you school the readers on how significant that staged piece is to the history of theater and African American Theater?
Yes. African Americans used to have a lot of repertory theaters or professional theater companies where you worked productions year-round to prepare them for the road and Broadway. Unfortunately we don't have a lot of them anymore. And a lot of great things came out of it. Back then, "Your Arms Too Short to Box with God" Director Vinette Carroll and people like Alex Bradford wrote plays like "Don't Bother Me, I Can't Cope" and a lot of things that came out of the African American experience and was brought to the theater. And "Your Arms Too Short to Box with God" did very well. Deloris Hall won a Tony award for the role that I stepped in for and that was my Broadway debut. I think if we could get more pieces written by us, we will have an incredible future in the theater.
Can you give us a memory or two of playing Teen Angel in 1994's 'Grease'?
SHE LAUGHS. That was hilarious with the big hair and everything like that! I think that was the first time I started guest visiting in Broadway shows years after doing "Dreamgirls" in the early '80s.
In fact, you've done 'Chicago' too!
Yes, my last appearance was as Matron "Mama" Morton in 2001. So, to be able to step into some of these theater pieces for a limited time has been fun.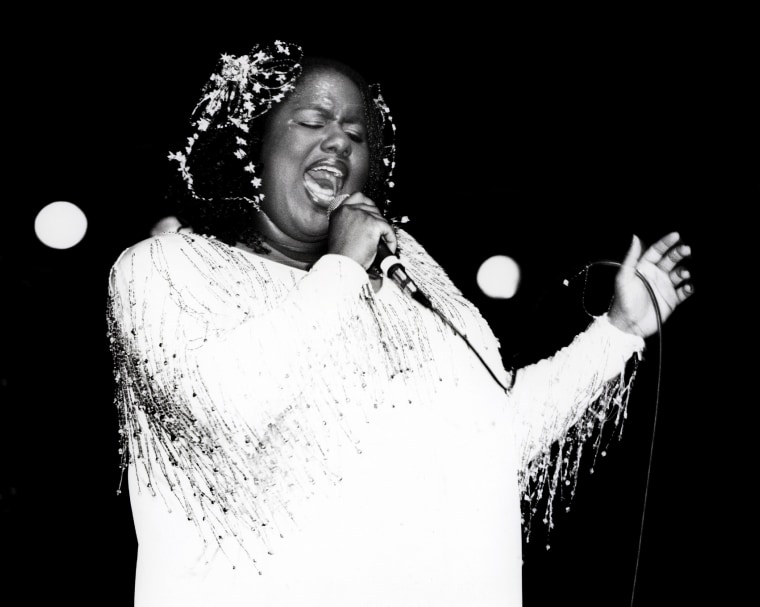 I absolutely adore your music catalog – starting with your 'Dreamgirls' hits and including your 1983 debut project "Feel My Soul" which included your debut song "I Am Love"...
...Back then, they did writing music different. They wrote it on the spot. And guess how things come full circle? Alee Willis (Grammy and Tony-award-winning co-writer of 'The Color Purple') wrote my hit "I am Love"!
Talk about full circle!
Isn't that amazing?
Absolutely! And Earth, Wind, & Fire's Maurice White produced that project – still a favorite of mine. So, he was steering all of that. Wow! By the way, we lost Maurice White this year. Any special memories of him you can share?
While getting ready to record "I Am Love", Maurice White and I were at the studio that night with Grammy legend David Foster at the piano. David was stuck for lyrics and calls up Alee who was at her home eating dinner. She came over to the studio to help David out. He had the title "I Am Love" but needed lyrics for the verses. So, I was right there while they were creating. The studio producers and writers don't often do that sort of thing anymore.
Rest in Peace, Maurice White!
Yes, I miss Maurice, of course. He taught me so much. And I'm so grateful that he would do my very first album - seeing that I could do other songs than 'Dreamgirls'. Before we met, he saw me on "Saturday Night Live" and called my record company, asking if they were going to do a project on me. He then told them 'I'd like to write for Jennifer Holliday."
RELATED: Tony Nominations Put #OscarsSoWhite to Shame
...and VOILA!?
VOILA!
Your last project, the critically acclaimed "The Song Is You", was welcomed by your fans last year. I got to see a couple of those wonderful live shows which let us all know that you "ain't been licked".
[LAUGHS] Thank you!
Anymore music that we can expect from you?
I'm hoping so. I'd love to record again. And I would love for people to write for me. I know that the music industry has changed, but I'd love it if Adele and John Legend would write me songs. I have a wish list! So, I'm hoping the future will have more recordings for me.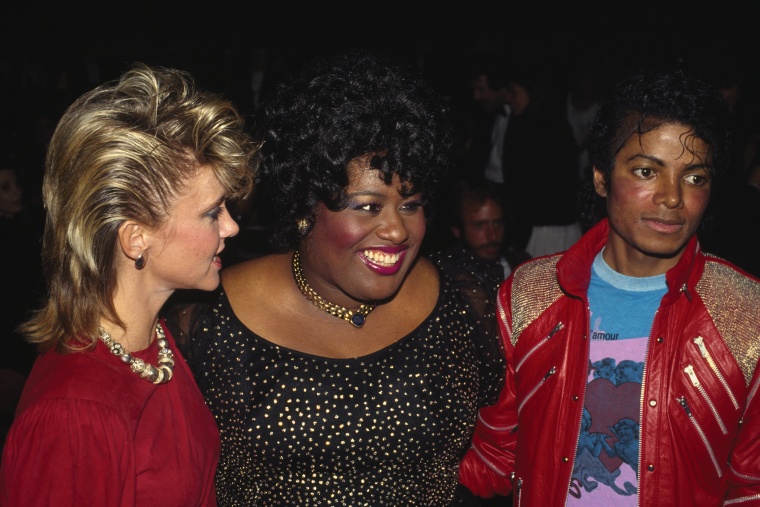 This "The Color Purple" stint is strictly limited. Any chance you'll extend and/or come back to Broadway?
I don't know. Anything is open. I had been working on a theatrical project with Kristin Chenoweth. I don't know where that is in development right now, but maybe that will be something in terms of the theater. In terms of "The Color Purple", I'm up until January 8th. But if people buy lots of tickets and bring their families and friends, maybe I'd extend. Come on, folks! Spend your holiday with Jennifer Holliday!
That's a tag line! [LAUGHTER]
Yes! "Put a little Holliday in your HOLIDAY!" [LAUGHTER]
Social media shows us that you're receiving lots of famous visitors - including "The Color Purple" composers. I see Broadway legend Tommy Tune was in the house recently. Is it exciting to be back in the mix like that and do you have to be mindful of your voice with after- show chatter?
Either you can sing or you can't. Or you're gonna have a voice or you're not. If the visitors are going to come, it's not like I'm going to a party with them. I say "Hello" and take a picture. So, that won't bother me.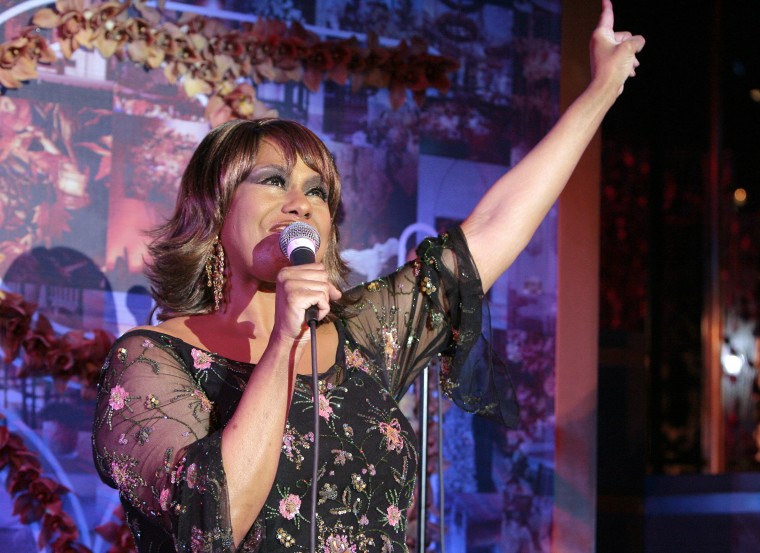 When you and your fellow 'Dreamgirls' Sheryl Lee Ralph (also nominated for a Tony award in the same category the year you won in 1982) and Loretta Devine reconnected in Los Angeles for a 35 year tribute performance to "Dreamgirls", the fans were too excited. Are you, Sheryl, and Loretta as excited?
We were very excited to do this because we don't get along! [LAUGHTER) But the people really love us - so we thought maybe we can hold it together for three hours and not fight...
...or ONE NIGHT ONLY! [LAUGHTER]
...ONE NIGHT ONLY! Yes, can we do this and not fight for ONE NIGHT ONLY! So, it was fine. Sheryl Lee and Loretta ARE friends. Sheryl and I have our issues and stuff, but we really do love each other in our own way. To put that 35 year 'Dreamgirls' tribute together, Sheryl Lee will tell you: if we can get ourselves together and reunite, the rest of the world can do it too! That's all I can say! [LAUGHTER] Now keep in mind, I'm not a girlfriend kind of person anyway. So, it's not like a major issue that Sheryl, Loretta, and I don't all "do tea" together. We really do respect and care for each other and the love we have is one of its own in terms of its uniqueness.
Will the ODGs (Original Dreamgirls) come to see you in "The Color Purple", you think?
I don't know. I heard from Sheryl Lee so I'm hoping she'll come. She's a Broadway veteran as well and loves and still does theater. She's just across the river over there in Philadelphia, so hopefully she'll come by.