On November 6, 2012 Colorado voters approved controversial and groundbreaking legislation making the rocky mountain state – fittingly home to the "Mile High City" of Denver – the first in the nation to allow adults over the age of 21 to use and grow small amounts of marijuana at home for both medical and recreational purposes. The first recreational marijuana stores, known as dispensaries, officially opened on January 1, 2014, marking what supporters call a long overdue end to "marijuana prohibition."
In its first year alone, the industry proved lucrative with $700 million of medical and recreational marijuana sold, totaling 75 tons of cannabis flower and 50 million units of pot edibles, according to the Marijuana Enforcement Division's annual report. The upward trend has continued in year two, with Colorado Department of Revenue data showing an estimated $36.4 million of recreational marijuana sold in January of this year alone, a record compared to the $14.69 million sold in the same month in 2014.
Although exorbitant start-up costs, intensive government regulation and ongoing stigma remain barriers to entry, industry observers say some African Americans are managing to cash in on the high profits that abound.
In Part II of "Black & Green," the NBCBLK series exploring African American presence in the marijuana industry, NBCBLK contributor Chandra Thomas Whitfield introduces some of Colorado's black 'potrepreneurs.' Read the rest of the series here:
Part I: Six Reasons African Americans Aren't Breaking Into Cannabis Industry
Part III: Black & Green: African American Investment in the Marijuana Marketplace
Part IV: Despite Legalization, Blacks 'Just Saying No' to Marijuana Industry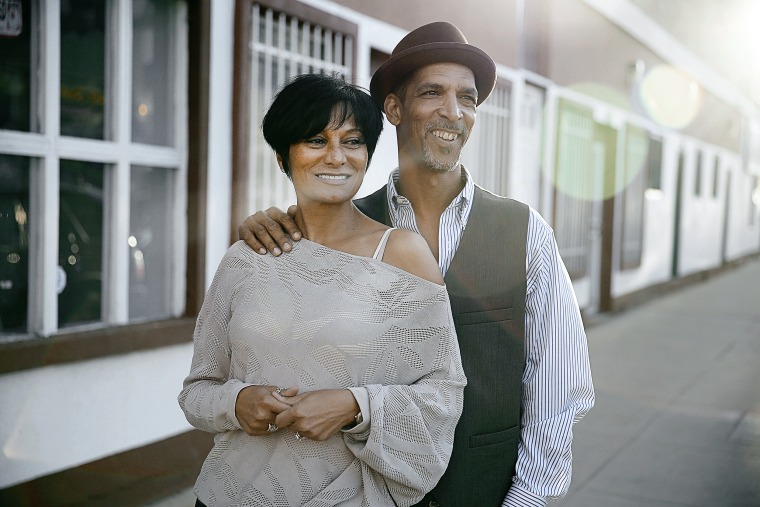 The Pioneers: Wanda James & Scott Durrah, Co-Owners of the Simply Pure Medicated Edibles, Simply Pure School of Gourmet Cooking and Simply Pure Dispensary
When you mention Colorado's cannabis industry, invariably two names will come up—Wanda James and Scott Durrah. The power couple and veteran entrepreneurs have managed to turn the green cannabis market into wads of green dollars in their pockets.
In 2008 they became the first African American dispensary owners in the rocky mountain state. Their Apothecary of Colorado medical marijuana dispensary was widely considered a thriving business until they sold it two years later. They admit the industry has its share of hurdles. For example since marijuana remains illegal on the federal level, even in the handful of states where it is legal, cannabis companies cannot legally have bank accounts.
Follow NBCBLK on Facebook and Twitter
"As an industry, we employ thousands of people and bring the state millions in taxes and fees — we are a legal business — but the only way to have a bank account is to lie?" asks James, a former U.S. Navy officer and Fortune 500 executive. She worked with the regulatory process to bring medical marijuana to fruition and was selected to work on the Amendment 64 Campaign Committee. Those duties led to her appointment to the Colorado Governor's Amendment 64 Task Force Work Group, the committee charged with figuring the implementation of recreational marijuana legalization.
A former appointee to President Obama's National Finance Committee, James and Durrah were named 2010 Marijuana Advocate of the Year by Denver's Westword Magazine. "The Daily Show with Jon Stewart" correspondent Jason Jones once famously licked James' hand during a satirical segment on the pot business in 2010.
I want the African-American community to see this for what it is, which is an amazing opportunity with a plant that is not a fatal plant.
The five-time restaurant owners have expanded their enterprise into a well-known gourmet edibles business. "We're so far from pot brownies and gummy bears," notes Durrah, of their Simply Pure Medicated Edibles line, which he proudly boasts has taken culinary cannabis to well, new highs, with its premium marijuana infused products—including apple butter, peanut butter, strawberry jam, mango salsa and granola bars. "All of our products are organic, vegan and gluten-free; we're all about high end, gourmet foods and products."
It's a fitting niche for Durrah, the executive chef for their southern food restaurant, Jezebel's Southern Bistro and Bar, in Denver's trendy LoHi neighborhood. The Marine veteran has also served as a personal chef for many current and former professional athletes, including Denver Nuggets and Broncos players.
Like her husband, James has also channeled her passion for the industry into her work as founder and president of the Cannabis Global Initiative, a marketing and consulting firm she shares with partner Tracy Williams. The company specializes in business, political and strategic positioning for cannabis businesses worldwide. "We saw a great need and we seized it," says Williams.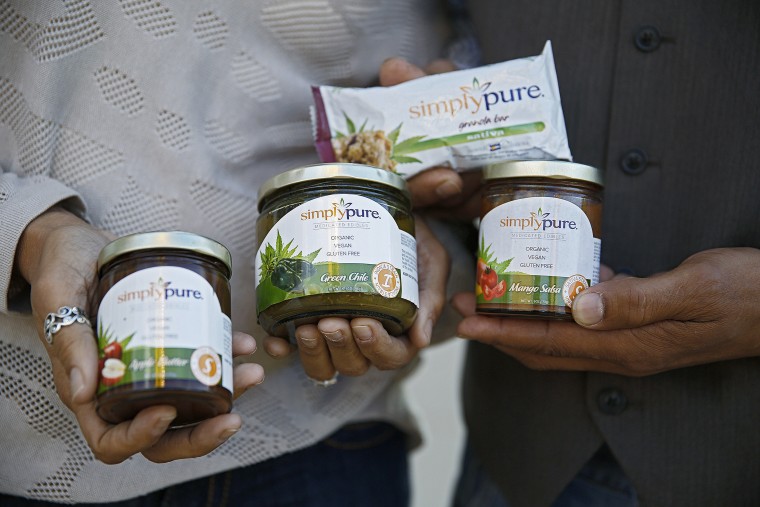 James also works with the NAACP and the Colorado office of the Drug Policy Alliance, on efforts aimed at decriminalizing marijuana nationwide. For James the fight is personal, as her brother spent time in a federal prison after being caught with what she claims is a smaller amount of marijuana than she was regularly exposed to as an undergrad at the University of Colorado.
"I never saw anybody arrested; White kids would be getting high in front of cops, getting high on campus, having large quantities of cannabis on campus in their dorm rooms and nothing was ever done," she says. "Yet, a poor black boy [like my brother] was given 10 years and picked cotton for free for 4.5 years. I keep saying that because I really want that to be impactful that he picked cotton [at a federal prison] in Texas for free."
I want to see politicians speak positively about this industry and the fact that we are saving lives and the lives of our people who are being incarcerated.
James is convinced the drive for prison profits and cheap labor contributes to the disproportionate numbers of black and brown people targeted for marijuana arrests nationwide. Her brother was eventually released early for good behavior. He now manages their restaurant.
In July, James and Durrah plan to open Simply Pure, a medical and recreational marijuana dispensary, down the street from their restaurant. It will share space with Durrah's Simply Pure School of Gourmet Cooking, what they say will be the first cannabis cooking school in the nation.
Adds James: "I want the African American community to see this for what it is, which is an amazing opportunity with a plant that is not a fatal plant. I want to see politicians speak positively about this industry and the fact that we are saving lives and the lives of our people who are being incarcerated."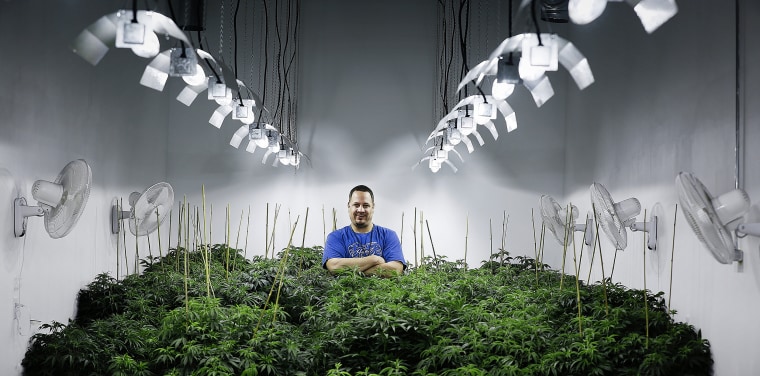 The Hustler: Dan Pettigrew, Owner, Viola Extracts
Dan Pettigrew's name is fitting, considering his start in the cannabis industry began with him growing his own plants in Michigan in 2010. He learned quickly, however, that horticulture was not his forte. "What I grew just wasn't good," he candidly admits.
He stayed the course when he relocated to Colorado in 2011 in search of "opportunity" and a place in the industry that could best utilize his passion and dedication. Over time he realized that he had a knack for cultivating high quality hash oil — a concentrated, waxy form of cannabis known for its potent medicinal properties. He opened Viola Extracts, a Denver-based premium hash extract company that specializes in medical marijuana extracts, in 2014.
The one thing that I associate with marijuana is diversity; everybody smokes. I mean, the spectrum of people that use the product is across the board; age, race, everything.
The business is named after a 75-year-old woman who tried marijuana for the first time while visiting family in Colorado. "The effect it had on her was unbelievable," he says. "This is a woman that had never smoked, never had a drink in her life, a God-fearing Christian woman. She could read her Bible for the first time in five years…. [just from using] a vape (vaporizer) pen. She had eye issues… The notion that what she did is wrong, I strongly disagree with, but the notion that it's criminal is, a little bit ridiculous."
Pettigrew says it's unfortunate that thousands of people with chronic conditions like cancer, diabetes and asthma, shun the medicinal benefits of cannabis due to stigma and misinformation, particularly African Americans.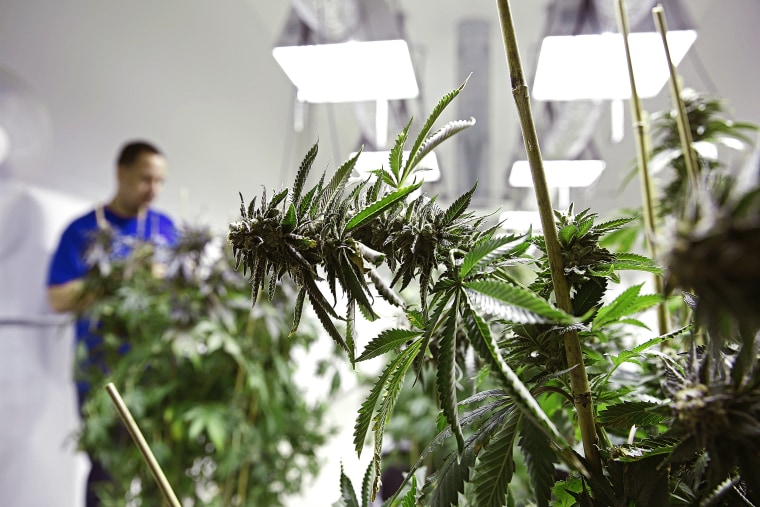 A lifelong lover of all things entrepreneurial, Pettigrew says leading his own cannabis company has allowed him to build upon the skills he developed over the years working various jobs, including managing health clubs, nightclubs, small businesses and a few smaller entrepreneurial endeavors, like concert promotion.
Though he describes the business as "stressful" and, at times, "emotional," with constant "highs and lows," he says his love for the plant—particularly how it helps so many—keeps him motivated. "The one thing that I associate with marijuana is diversity; everybody smokes. I mean, the spectrum of people that use the product is across the board, age, race, everything. So with that, I felt the opportunity [to own my own business] would be incredible."
He remains convinced that he's made the right career choice, "I think Colorado has set a great example for the rest of the country," he says. "I wake up every day working. I go to bed every day with this industry on my mind. This is my focus. This is what pays my bills. This is what pays the bills of my employees and we take it very seriously." Adds Pettigrew: "It's a great opportunity, but it's a grind and it's a legitimate business."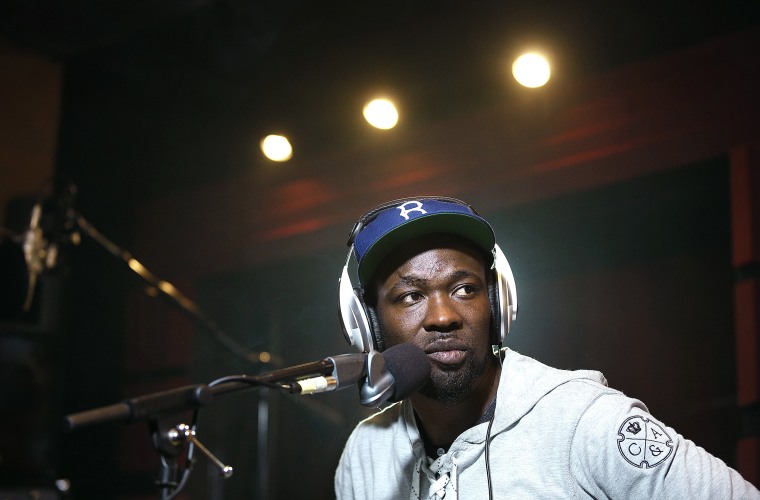 The New Wave: Oren Lomena, Host "The Graux" Talk Show
Like many of his fellow "potrepreneurs," when Amendment 64 passed, Oren Lomena saw dollar signs everywhere. Still it would take him some time to figure out just where he could cash in on the industry.
After a gig as the producer and co-host of an internet sports show sponsored by The Denver Post newspaper abruptly ended in January, the 42-year-old self-described "talk radio junkie" got to thinking about the countless cannabis advertisement dollars going unclaimed due to federal regulation.
Then came the proverbial, ah-ha moment. "Due to FCC regulation [marijuana businesses] can only advertise in print; not on television or radio and the social media companies won't touch it. That means the internet is wide open," he says.
We're hoping to normalize the subject matter of cannabis.
Lomena has set his sights on capitalizing on those advertising dollars, with the launch of his own cannabis-themed talk show. The aptly-named "The Graux" (a play on the word faux), will be a topical "radio on TV" style show (think Howard Stern) that will explore cannabis culture from lifestyles and trends, to politics and business.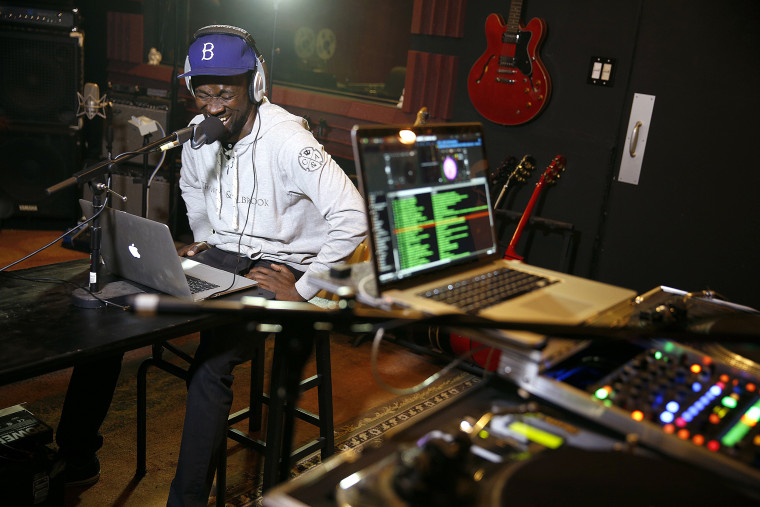 "I have partnered with my friend and mentor, former University of Colorado national championship winning quarterback Charles Johnson and his production company Genx7, to bring this product to fruition.
Along with sharing his perspective, Lomena also has plenty of sidekicks lined up to keep the show interesting and edgy. "We'll cover cooking, the news of the day, sports, politics; it's going to be a hodgepodge," he says. "We're hoping to normalize the subject matter of cannabis."
In many ways the show is a lifelong dream fulfilled for Lomena, a Denver native whom, like his sister MSNBC correspondent Joy-Ann Reid, shares a passion for news and information. He hopes the show will take off and eventually expand to mornings. Adds Lomena with a laugh: "My goal is to make this the best midday show ever."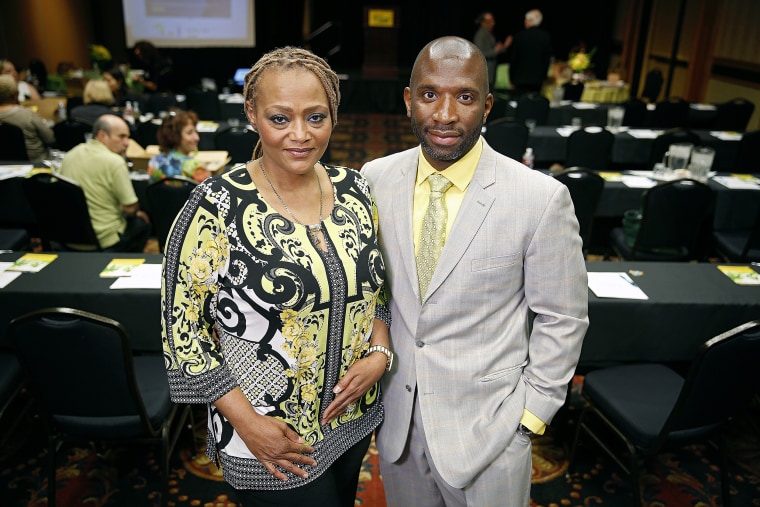 The Green Rushers: Charles & Khadijah Adams, Marijuana Stock Investors, Senior Managing Partner, Marijuana Investment & Private Retreat
Like the pioneers of the past packed up and headed west in search of opportunity in the nation's gold rush, similarly Khadijah and Charles Adams sold their computer store, packed up their belongings and pointed their Mercedes Benz C300 toward Colorado a year ago.
The couple relocated from Sugar Land, Texas to Aurora, just outside Denver, in March 2014, with high hopes of capitalizing on cannabis. "When we heard that Colorado had legalized cannabis for recreational use, my husband and I looked at one another and immediately said, 'we're moving!'''
Their naïveté was met with a harsh dose of reality. "We arrived in Aurora on a Monday and I promise you we wanted to open a dispensary as early as Friday, but we were sadly mistaken and pleasantly surprised," recalls Khadijah, with a giggle. "There was a heck of a lot more to it than merely finding a location and getting a license. We needed more education and even more information."
We were happy to learn that even with [a criminal record] my husband is still able to capitalize on the cannabis industry.
The couple was inundated with advice from industry veterans. "We realized we needed to get immersed into the cannabis community and meet the pioneers of the industry and the patients who counted on its medicinal properties to relieve them from pain and other chronic conditions."
Complicating their conquest further was the fact that before they were married, Charles had spent years in federal prison on felony drug distribution charges. Convicted felons are prohibited from working in Colorado's cannabis industry. That realization only inspired the resilient and resourceful Charles to work harder at figuring his way into the industry. Not surprising considering that his back story reads like a quirky adaptation of the Will Smith flick, "Pursuit of Happyness."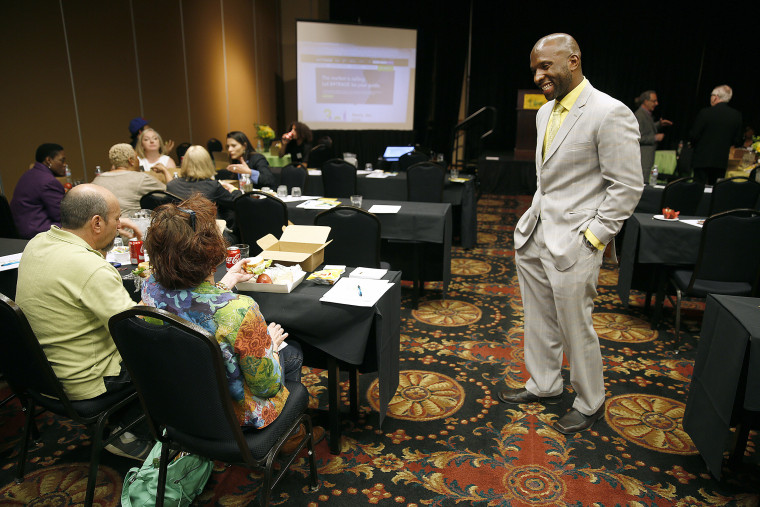 The financial phenom actually began trading stocks while incarcerated in a federal prison in 1998. Then married to another woman, he would direct his former spouse to purchase stocks he'd choose through their joint investment account. Over time he was able to amass a nice nest egg, one that was still growing once he and Khadijah married in 2008.
In 2013, he finally told Khadijah that he'd begun adding marijuana stocks to their investment portfolio. "We were happy to learn that even with [a criminal record] my husband is still able to capitalize on the cannabis industry," she says. "Unless you have committed a crime against the Securities and Exchange Commission (SEC), you can open a trade account and start trading any publicly traded stocks, including cannabis stocks."
The Adams', who have five adult children between them, have amassed more than 1.5 million shares of marijuana stocks since moving to metro Denver. Khadijah has opted to monetize their knowledge of the industry with her best friend, Betty Perrodin, through the creation of the Marijuana Investment & Private Retreat (MIPR).
I believe that it is my responsibility — and other African American and minorities' responsibility in this industry — to go out and educate our people and let them know that it's okay.
Last month they hosted the first of what they hope will become a series of weekend conferences aimed at educating "the average Jane and Joe Doe" and others interested in learning about how to go about investing in marijuana stocks. "We want to take away the fear of investing and provide the most reliable investment advice in the country to those who would like to expand their portfolios without the high risk."
Adams says privacy is premium at her events because "marijuana is still a controversial subject and one that many do not feel comfortable discussing in public regardless of their income levels." The first MIPR held last month at an Aurora hotel drew about two-dozen attendees, including some African Americans.
"There's a very strong lack of representation of African Americans and minorities in the cannabis industry and I believe that it is my responsibility — and other African-American and minorities' responsibility in this industry — to go out and educate our people and let them know that it's okay."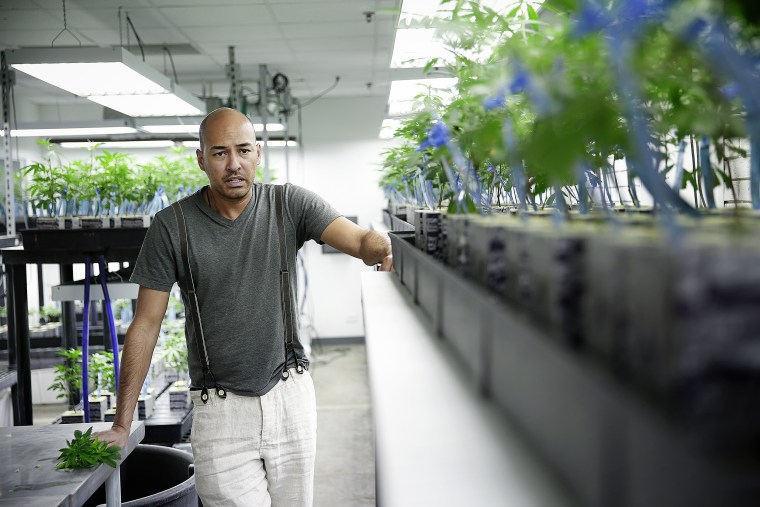 The Green Thumb: Duncan Cameron, Chief Production Officer, Good Chemistry Dispensary
Duncan Cameron is 42 years old, married and a successful businessman — but his mother doesn't know what he does for a living. He'd like to keep it that way. The former music teacher and commercial photography prop stylist, says it's best that his mom, a native of Trinidad, be kept in the dark.
"Cannabis is very taboo in the Caribbean; it's very much shunned there," he says. "She just wouldn't understand so I choose not to tell her about it." The stigma, which Cameron, who is biracial, speaks of, remains a major hurdle for many cannabis industry connoisseurs, especially in communities of color.
Like many of his cohorts, he got into the industry through his love of horticulture. Armed with a botany degree from Florida Atlantic University, Cameron started off as a gardener at the company's 10,000-square-foot grow facility in 2009. "I was always that kid who always had a garden," he says. "My grandfather had a farm and my mom was always an avid gardener."
You only get so many opportunities to get in on the ground floor of a market like this.
A colleague introduced him to the owner of the company and he was offered an opportunity to tend cannabis plants in Denver for three months out the year. When his counterpart quit unexpectedly, Cameron and his wife, a fashion stylist, moved from Fort Lauderdale to the Mile High City so he could take it on full time.
He worked his way up the management ranks to his current position as chief production officer, often trading in his pruning shears and gardening gear for business suits and a laptop. His days are busy donning the many "hats" his job requires. A typical day has included sitting alongside city and state officials in a contentious industry meeting and leading lawmakers and visiting dignitaries on a dispensary tour ("ours is the closest to the state capitol," Cameron confides).
He's also charged with overseeing data analysis, overseeing grow facilities and meeting with the media. It makes for a busy life, but the money is good and his longstanding affinity for the cannabis plant makes the work, worthwhile.
Still Cameron says he has no plans on filling in dear old mom on the details of his lucrative career. All business-minded African Americans should be lined up trying to search for ways to break in, Cameron insists. "You only get so many opportunities to get in on the ground floor of a market like this," he says. "Anybody with any interest and ambition should be trying to get into this industry. The opportunities truly are endless."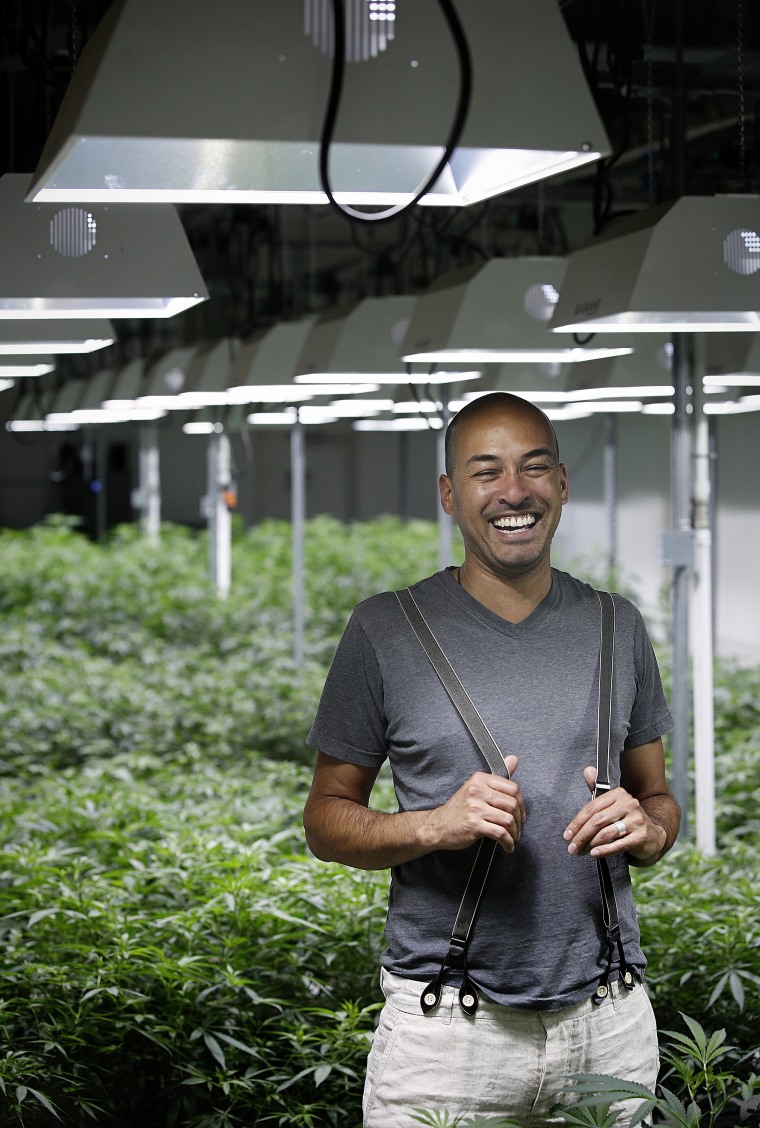 [Editors Note: The story previously stated that Oren Lomena's "The Graux Show" would stream on The Denver Post's 'Cannabist' section, however the placement of the program is still under negotiation.]
Follow NBCBLK on Facebook and Twitter