When Bronny James, the 18-year-old son of LeBron James, collapsed Monday from cardiac arrest while working out at the University of Southern California, the incident was reminiscent of a similarly shocking collapse by Buffalo Bills safety Damar Hamlin. 
In January, Hamlin, then 24 years old, collapsed on the field from cardiac arrest during a game against the Cincinnati Bengals. He spent days in intensive care, and the scramble to save him shocked players on the field and fans watching "Monday Night Football." 
Hamlin's and James' experiences are part of a larger pattern: Black male athletes face a higher risk of cardiac arrest, and cardiologists say the medical community is still trying to uncover the reasons why.
Sudden cardiac arrest is the leading cause of sport-related deaths among competitive athletes in the U.S. A 2020 study published in the British Journal of Sports Medicine found that Black male NCAA Division I basketball players had the highest incidence rate of sudden cardiac arrest and death among athletes 11 to 29 years old. The study results also showed that the Black male college basketball players had an incidence rate of cardiac arrest and death 21 times higher than the average among high school male athletes of all races. The authors suggested that more intensive screening programs should become standard for Black male college basketball players.
Possible factors that put Black male athletes at higher risk may include a combination of lifestyle, genetics and which sports they play, according to Richard Kovacs, a sports cardiologist and the chief medical officer at the American College of Cardiology. One particular genetic cardiac disease commonly seen in Black men is hypertrophic cardiomyopathy, a condition in which the heart muscle is thickened and can reduce the amount of blood pumped to the body, Kovacs added.
In the U.S., basketball is the "riskiest sport that we know of" for cardiac arrest, Kovacs said, perhaps because of players' high level of activity. 
"We look at sports as having a static and dynamic component," Kovacs said. "We look at sports as having long-term endurance efforts versus short-term bursts — and basketball is a combination of all of the above."
Indeed, a 2015 study published in the journal Circulation showed that Black athletes, males and basketball players all faced a substantially elevated risk of sudden cardiac death. The reason for this phenomenon among basketball players is unclear, it said.
James, who plans to begin college at USC this fall, is in stable condition and no longer in the ICU, his family said in a statement. They did not provide further details.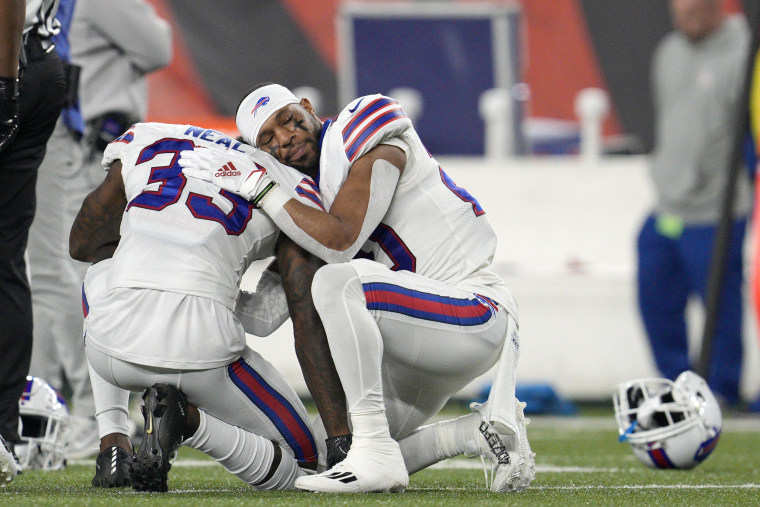 Warning signs of cardiac arrest include shortness of breath, chest pain and dizziness, which Kovacs said are feelings athletes commonly experience. Identifying whether the warning signs are unusual in an individual athlete is difficult, he said, because "sometimes there are warning signs, but most times there are not."
Hamlin and James both received immediate care, and quickly attending to a cardiac arrest patient increases the chance of a quick recovery, Kovacs said — which is why having an emergency action plan is "so, so important." Aside from the emergency action plan, Kovacs added, direct access to trained medical staff and a defibrillator also likely saved Hamlin's and James' lives.
Aside from genetics and performance, age is also a factor in one's risk of cardiac arrest. For middle and high school athletes, Kovacs said, coronary artery anomalies, or heart defects, are a more common cause of cardiac arrest. For young adults, the cause is more likely to be cardiomyopathy. Players over 35 face a higher risk of atherosclerosis, or hardening of the arteries.
According to American Heart Association data, the rates of Black people dying from cardiac arrest among the general population declined from 1999 to 2012 but then increased by 35% for Black people under age 35 from 2012 to 2018. Identifying and treating high blood pressure can reduce the risk of various conditions, including cardiac arrest, in Black individuals, Kovacs said. It's also important for people to know their family history.
"If there was a sudden unexpected death in your family, whatever the circumstances — during competition or an unexplained drowning accident — can be a hint there's a familial tendency towards sudden cardiac arrest," Kovacs said. 
Can athletes return to their sport after experiencing cardiac arrest? It depends, Kovacs said. For Hamlin, who was medically cleared to resume playing football in April, Hamlin and his doctors said experienced cardiac arrest from commotio cordis, which happens when a blow to the chest disrupts the heart. While the condition is often fatal, Kovacs said it would be "very, very unusual to have that happen again."
"The prognosis and what happens next, and can they return to play, depends on a very, very clear-cut diagnosis of what's wrong, and why did this happen in the first place?" Kovacs said.