The Congressional Black Caucus rejected an invitation for a second meeting with President Trump on Wednesday.
Citing frustration with the administration's lack of action on the objectives presented at their March meeting, CBC Chairman Rep. Cedric Richmond, D-LA, wrote a letter to the president stating that another meeting "would not be entirely productive."
"Through an objective assessment, we have seen no evidence that your Administration acted on our calls for action, and we have in fact witnessed steps that will affirmatively hurt Black communities," Rep. Richmond wrote. While we agreed to explore possible future discussions when we first met, it has become abundantly clear that a conversation with the entire CBC would not be entirely productive, given the actions taken by your Administration since our first meeting."
Earlier this month, the 49-member caucus was invited by Omarosa Manigault, an assistant to the president and director of communications for the Office of Public Liaison, for a follow-up meeting.
The lawmakers have been proactive in engaging with the president on key concerns of their constituents. In March, CBC leadership presented Trump and cabinet members with their 130-page policy dossier, We Have A Lot To Lose: Solutions to Advance Black Families in the 21st Century. The report included notes on African American history and proposed solutions to issues affecting minority communities including funding for HBCU's, voting rights, and medicaid expansion.
In April, the caucus released a list with 100 racially problematic actions and remarks by the Trump administration during its' first 100 days, calling upon the country to "stay woke" and branding the administration as "dangerous to America."
Related: Congressional Black Caucus to Highlight Trump Admin's Racial Problems With #StayWoke Campaign
The caucus is also refusing to meet with Trump because of the "lack of response" to at least eight letters of concern written to Attorney General Jeff Sessions, Education Secretary Betsy DeVos, and other officials.
"Based on the actions taken by you and your Administration since that meeting, it appears that our concerns, and your stated receptiveness to them, fell on deaf ears," the letter said.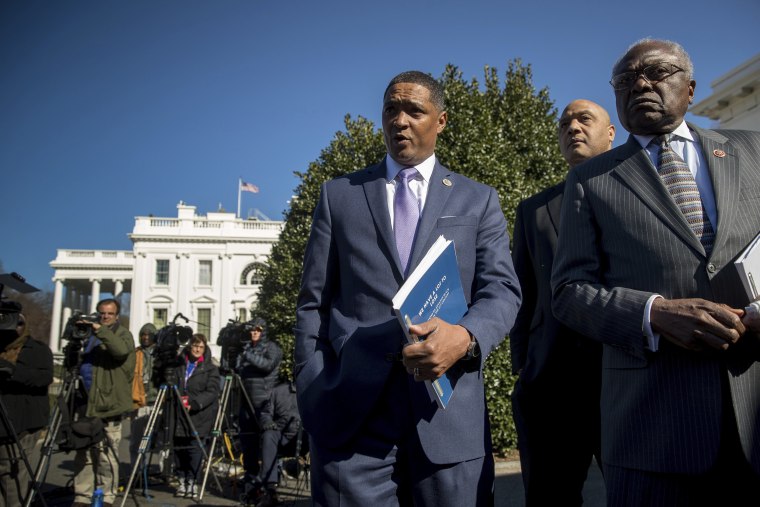 Richmond cited concern that the proposed 2018 fiscal year — which cuts roughly $9 billion of the Education Department's funding — would eliminate after school programs for low-income students. He included the caucuses' grave concern over Attorney General Jeff Sessions' review of criminal justice policies such as consent decrees, and noted ways in which the elimination of the Affordable Care Act would "devastate black communities."
"The CBC, and the millions of people we represent, have a lot to lose under your administration," Richmond wrote, buttoning the letter with a reference to Trump's campaign rally cry to the Black community. "I fail to see how a social gathering would benefit the policies we advocate for."
White House Press Secretary Sean Spicer said the president, "enjoyed meeting with CBC leadership and looked forward to a follow up meeting with the entire membership."
Spicer noted there are issues such as, "lowering prescription drug costs, education and work force development," that were addressed in their first meeting that the president "hopes to continue to work with the CBC members on."