In the aftermath of the successive police-involved shootings of Alton Sterling and Philando Castile, and the deadly attack that left five police officers dead in Dallas, protesters have flooded the streets and citizens have flooded our social media timelines with grief, anger, and calls for unity.
Many celebrities used their platforms to express disdain for lives lost. Beyoncé displayed the names of police brutality victims during her Formation world tour and revamped her website to encourage a call to action.
"It is up to us to take a stand and demand that they 'stop killing us,'" Beyoncé wrote.
However other celebrities like Columbus Short, Fetty Wap, and Prince Jackson (Michael Jackson's son), issued statements instead for "All Lives Matter," a proclamation some feel to be a counteractive to the Black Lives Matter movement. Others, like Janet Jackson used #BlackLivesMatter hashtag in addition to the #AllLivesMatter mantra.
Some of the celebrities have since deleted their tweets, some of which have been salvaged in screenshots below.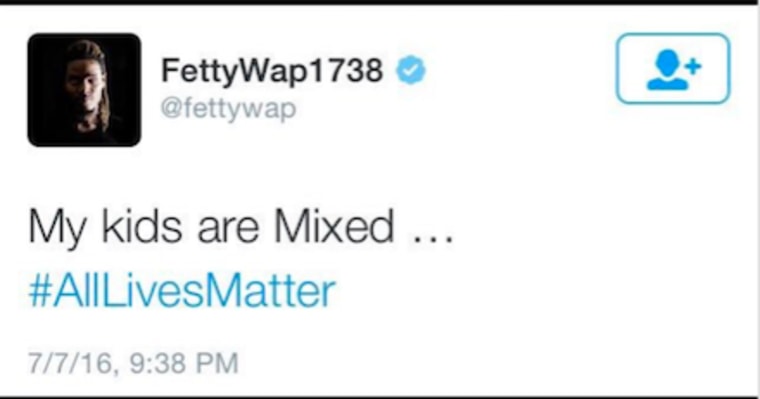 Fetty Wap did follow up with an apology after being lambasted on Twitter.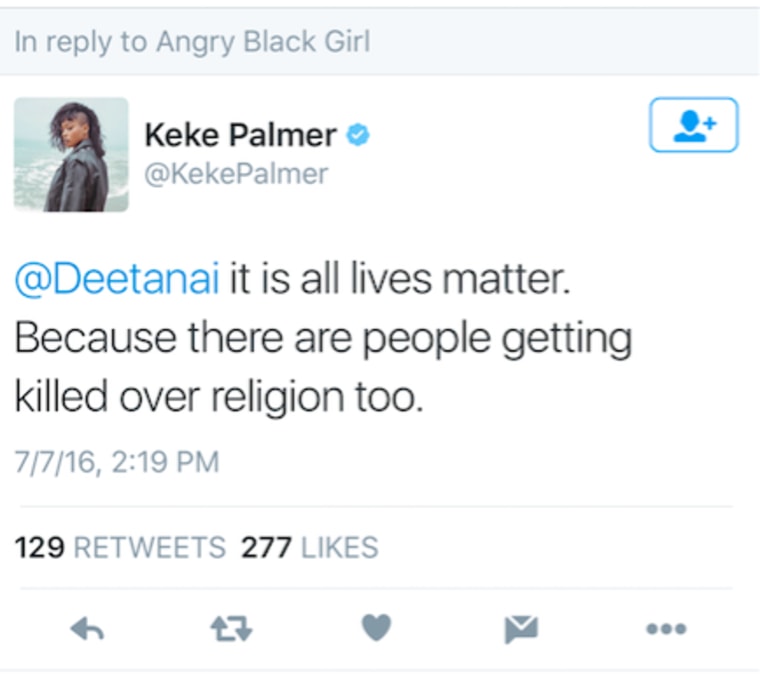 While some have professed that they come from a place of unity, comments such as the ones above yielded responses from people who maintain that responding to crimes with "All Lives Matter" insults people working to achieve true equality.
It was enough to make Kara Brown, a staff writer for Jezebel, make the point on Twitter: "Maybe these black celebs think if they tweet "all lives matter," local police will see it and be more hesitant to shoot them one day."
"I meant it to be a bit tongue in cheek," Kara Brown told us in an email. "The larger point is that as long as you're a black person in America walking around with black skin, you're in danger. Being rich or being famous is not a shield nor is slinging that 'all lives matter' nonsense."
Brown feels that it's problematic for "any sensible person" to back "All Lives Matter" because it's "nothing more than a knee-jerk reaction to black people asking to be treated like human beings."
"I find the sentiment, at best, disingenuous and at worst, racist," she wrote.
Brown is not alone in her desire for celebrities to cease supporting the "All Lives Matter" counter sentiment.
With that amplification, Brown believes those who have the public's attention should do more than just tweet. Being a celebrity doesn't make your opinion or thought more rational—it just makes it more amplified, she said.
"More important than that, they should put their money where their mouths are and donate some of the immense amounts of money they've earned to causes that fight for social justice."