On a balmy afternoon in West Baltimore, Van Brooks and an exuberant gaggle of adolescents have gathered outside on a city sidewalk, preparing to race a soap box derby car.
The youngsters worked together to design, assemble and decorate the mini vehicle while learning about engineering at the SAFE Center, a community haven for youth that Brooks opened in 2015 in the neighborhood that he's long called home.
"Are you ready?" he hollered to the kids, before deftly navigating his motorized wheelchair down the street towards a makeshift finish line. Amid shrieking and laughter from the children, the compact car—driven by a slender, brown boy who appeared ready for speed—lurched forward tentatively on its practice run. Everyone cheered.
Afterwards, Brooks—with gleeful young people running alongside and behind him— plus two staffers carefully monitoring traffic—made his way towards the center, skillfully traversing a ramp that led up to the front door. He smiled, clearly grateful that his young charges had enjoyed a fun afternoon and were back inside, safe and sound.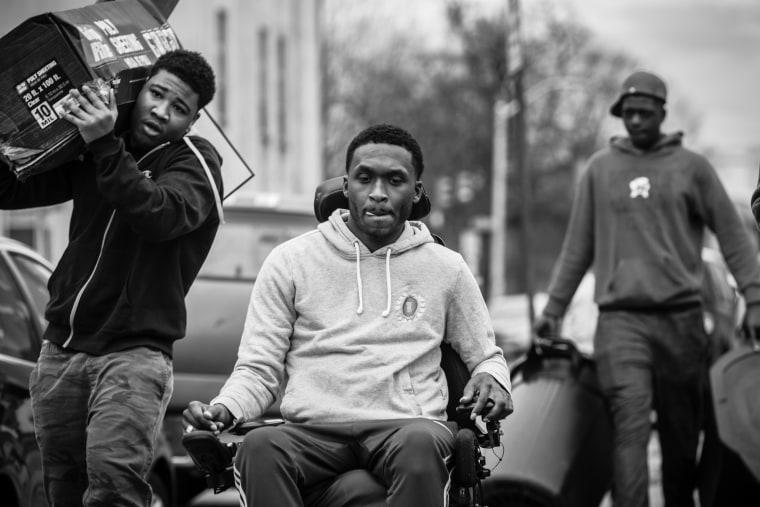 An unexpected journey
The SAFE Center is housed in a renovated building situated in the shadow of an elementary/middle school and public housing. As the name suggests, it offers a sanctuary of hope. The visionary young man behind it grew up in a loving family who lived in a struggling neighborhood. He witnessed crime, drugs and social perils that plague many urban communities nationwide.
Education provided a new perspective. Thanks to scholarships and hardworking parents who sacrificed to pay tuition, Brooks landed in parochial schools. The environment was one in which academic expectations were high, and young men wore blazers and ties to class.
"I didn't want to be there. It was culture shock at first," said Brooks, 29, in an interview with NBC News. "But I saw a whole different side of life."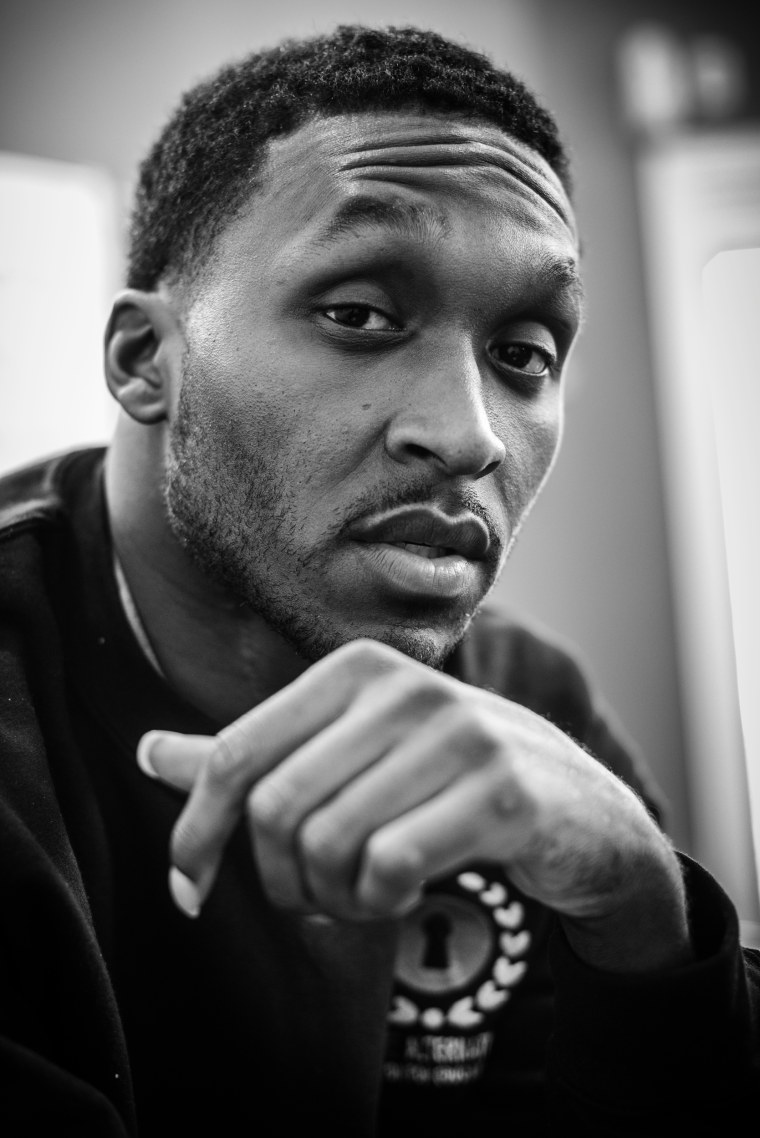 As a standout football star at an all-boys Catholic prep school, the trajectory of his life seemed focused on sports until his universe shifted in September 2004.
On a crisp fall day, as his mom and fellow fans watched from the bleachers, a seemingly routine tackle turned tragic. The three-star athlete who excelled at football, basketball and lacrosse remembers hearing a loud crack!, then lying on the field, conscious but motionless. "My head collided with the runner's knee, which broke my neck in two places, and left me paralyzed, initially, from the neck down."
Brooks was evacuated by a medical chopper to the University of Maryland Shock Trauma Center in Baltimore, undergoing surgery to relieve the pressure on his spine.
"And when I woke up, I was unable to do anything: talk, eat, breathe, and of course, move." His spinal cord, while not severed, was compressed. Doctors told the then 16-year-old that he'd be paralyzed from the neck down for the rest of his life.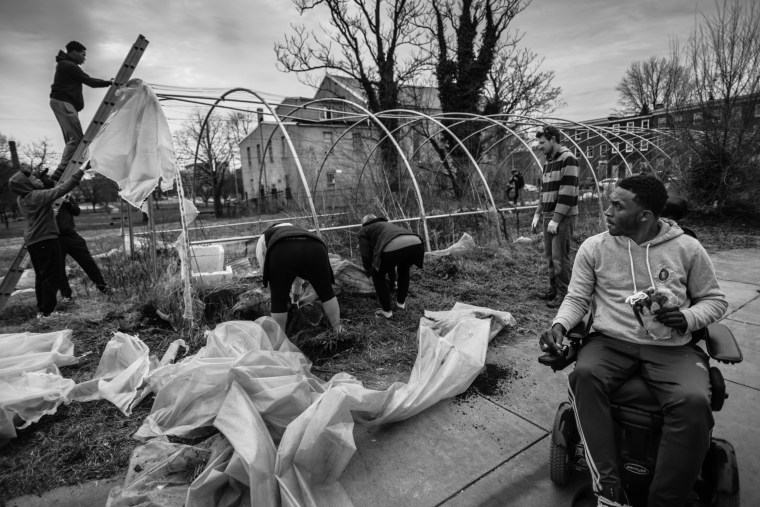 "That was very devastating," said Brooks, "and it was just something that I had to really try to figure out how I was gonna move through life."
As a Christian who acknowledged his faith "wasn't as strong as it probably could have been, but it was there," he sought answers from a higher power. "The question I always asked was, `Why me?'," he said. "I had all the potential in the world, I was on track to becoming a collegiate athlete, and essentially changing my family's lives. And when I suffered that injury, I wanted to know `Why me?'"
"So my faith actually disappeared, it was no longer existent," he continued. "And despite other people telling me, constantly, to pray, and despite other people coming to pray for me, it was just something I wasn't really feeling at the moment, and I just couldn't really get with it."
Yet Brooks' family (he is the youngest of five siblings in a blended clan) kept the faith, holding vigil by his bedside. Loved ones verbally reassured him, trusting that the teen silently understood—hooked up to a ventilator and breathing tube, he could only blink his eyes.
"One of us was there with him each night at the hospital," said Shelly Jones-Brooks, his mother. "We never left his side. It was upsetting, but I couldn't show him. Because if he could see that I'd been crying, it seemed to throw off his whole day."
While her maternal devotion was tenderly displayed, his father offered what some might describe as tough love. "I could ask, `Why my kid? He was classified as a quadriplegic. But that was what destiny had drawn for this particular child," said Van Brooks, who notes that his son isn't a "Junior"—he was purposefully given a different middle name.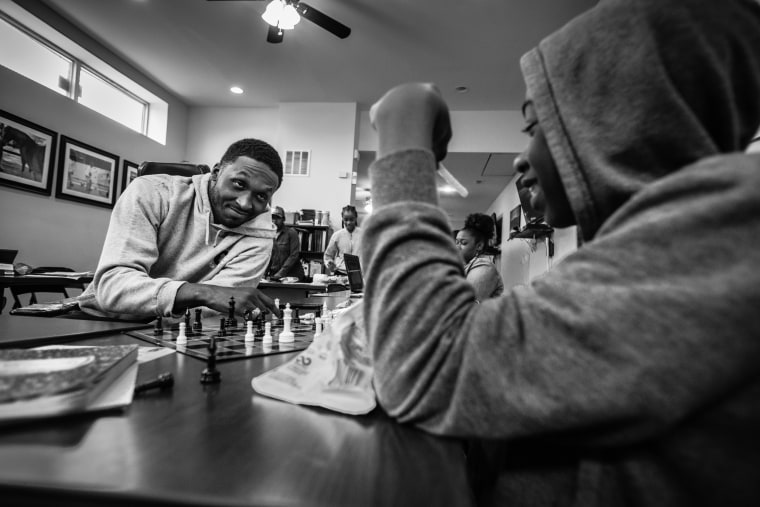 "I told him, 'A man isn't defeated when he gives up. A man is defeated when he quits'," said the elder Brooks, who shares that he'd read the scribbled missive in a hospital bathroom stall. "It was like I was being given a message. I told Van, `Me and God are gonna be working together to get you straight. But it's up to you to do the rest.'"
Family and friends say that as Brooks fought to recover from his injury, the journey was excruciating, both physically and mentally.
"Van has always been very quiet and reserved, and quite intuitive," said Kathleen Fillipelli, a longtime supporter who met him as principal of his grade school. "In the beginning he was saying `Why me?' but that didn't last long. He's a problem solver."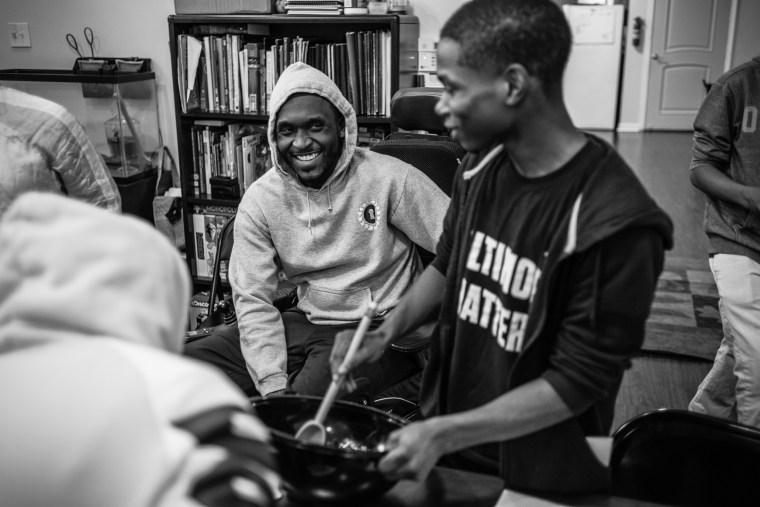 Within two months, Brooks was able to speak and eat. About a year into his recovery, he sat up in bed. There were periodic bouts of depression along the way, but always a fierce will to live. "Once, a psychiatrist asked my son if he was thinking about suicide," said Brooks' father. "He told her, "No. Are you thinking about killing yourself?' He didn't understand the question. It wasn't in his heart to quit."
The same discipline and drive that Brooks exhibited as a stellar athlete helped him remain on track academically; provided with tutors and make-up courses, he graduated on time from Loyola Blakefield high school with his classmates. He went on to attend Towson University, a leafy campus in a Baltimore suburb, earning a degree in Mass Communications in 2012.
One foot in front of the other
It proved a pivotal year. Months later, encouraged by his physicians and therapists at Kennedy Krieger Institute's International Center for Spinal Cord Injury, Brooks was determined to walk. Initially, he was aided by a safety harness and a walker. "I was able to take three steps on my own. And then I went back, 'cause I'm that person," he said proudly. "So I went back and I was able to take five steps. And I was like okay, three times is the charm. I went back and I was able to take more."
The moment, recorded on a smart phone, "had everyone in tears," said his mother. Armed with his degree and buoyed by his physical progress, Brooks wasn't certain what was next in life, but says the idea to uplift youth came to him in a dream. "I think it was God talking to me," he recalled. "It was pretty vivid."
In 2012, he founded the Safe Alternative Foundation for Education, Inc., a nonprofit whose mission stresses education (be it college or trade vocations) and exposing youth to new, positive experiences. With help from his family and grants, he later purchased a vacant building that now serves as its headquarters.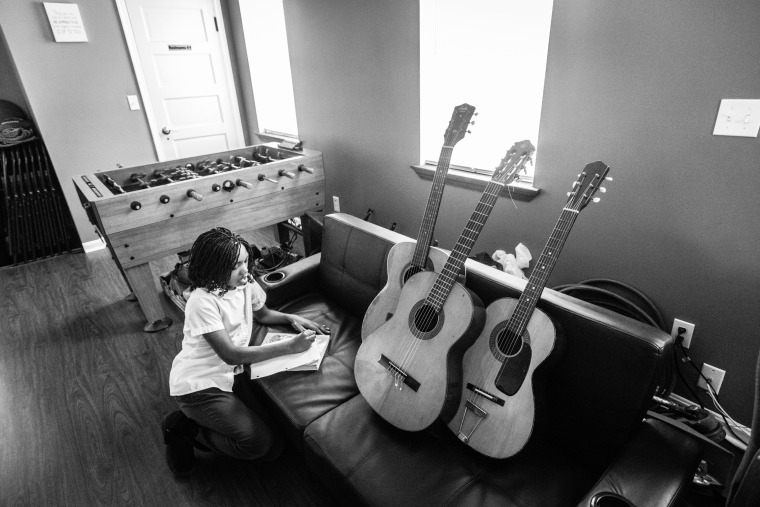 Students study after-school at the facility, and participate in hands-on activities, be it robotics, computer coding, or planting vegetables in a community greenhouse. They've taken dozens of field trips, gone sailing, horseback riding and tried sports that range from fencing to wrestling. There's an annual summer camp, too. Activities are typically underwritten by fundraisers, corporate/business sponsors and generous private benefactors.
"I met Van back when he was doing construction on the building that's now the center," said Daniel Schuster, owner of Schuster Concrete in Maryland. "I was impressed with what he was doing." Since that time, the donor has written checks and invited the children to his sprawling farm, where they enjoy nature.
Meanwhile, high school and college students, often from different racial and socioeconomic backgrounds, serve as mentors to the youngsters. The youth also engage with police officers and firefighters–playing tag football and other games—to build positive relationships. Guest speakers have run the gamut from pro athletes to CEOs.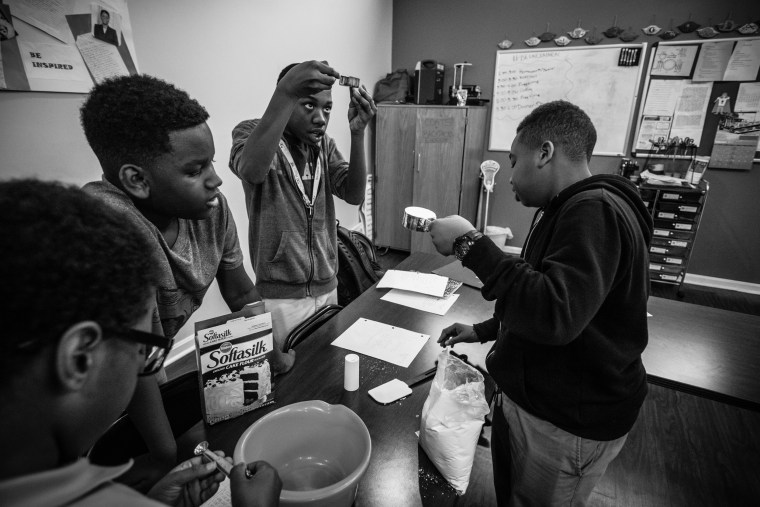 "I'm a very protective mom, and I really appreciate the SAFE Center," said Taralita Watkins, whose son, Corey Bowden, Jr., is a regular attendee. "Parents who work know their children aren't in the streets. And the kids are learning all kinds of new things."
Brooks has a small, tight-knit staff—Sharone McRae, Sakina Stamper, and a cousin, Annette Cole—who dote on the children. On a recent weekday, about a half-dozen boys and girls were gathered around a table inside the center, busily conducting a science experiment. The walls were plastered with colorful posters, essays about career goals, and motivational messages.
"Van has brought so much positive energy to the kids," said Watkins, who shared that her son's father is incarcerated. "He's been a great role model." Corey, a mannerly 14-year-old, agreed. The SAFE Center team recently helped him gain acceptance to a prestigious private high school.
"Coach Van helps us with homework and there's always stuff to engage in," said the young aspiring lawyer. "It could be dodgeball or kickball another organized activity. Or it could be as simple as reading a book."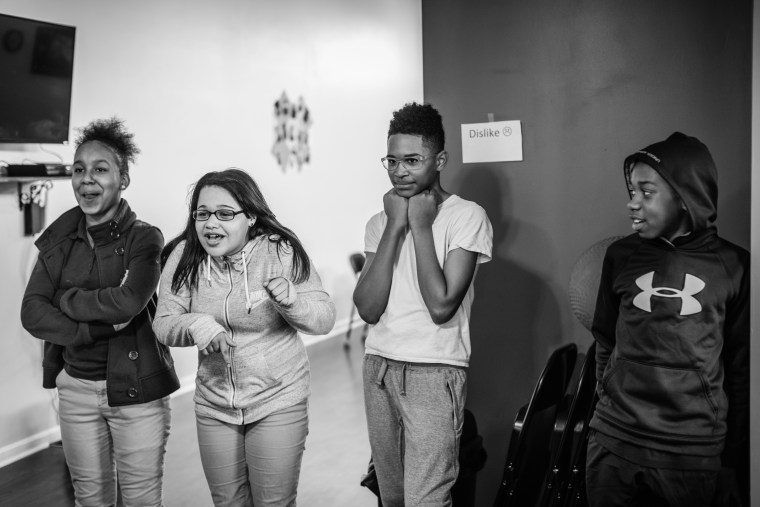 Brooks relishes his role as a leader, counselor, and sometime father figure, noting that students call him "Coach" or "Coach Dad." His youth advocacy, community service and personal triumphs have garnered a string of accolades. They include the 'President's Volunteer Service Award'—bestowed by the Obama White House—and the 'Living Legends Awards for Service to Humanity.' His high school and college alma maters' have bestowed honors as well.
Brooks, whose grit and tenacity are seemingly balanced by an equal dose of humility and kindness, seems to take the attention in stride.
Today, he has use of his upper extremities, except his fingers. He drives a specially equipped minivan. He has a personal trainer, and keeps his 6-foot-1 physique fit with gym visits, boxing and yoga.
"I push myself all the time," said Brooks. "I'm a doer."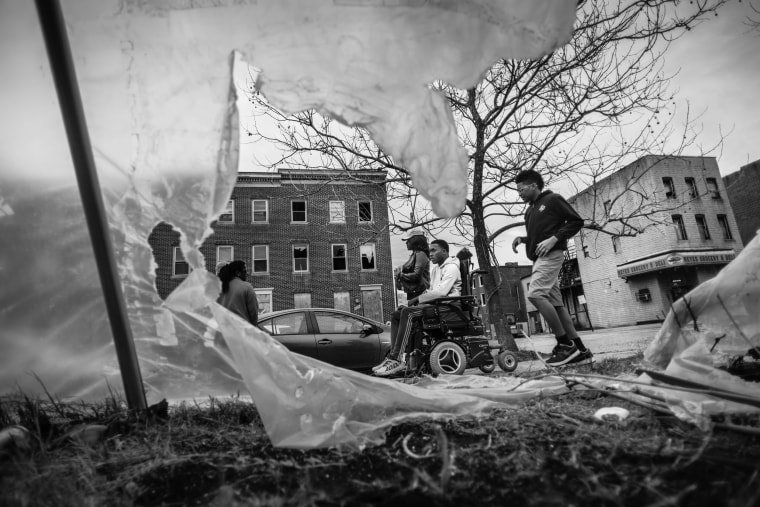 While he relies upon the wheelchair for now, he remains in therapy and has undergone Functional Electrical Stimulation, electrical pulses designed to activate muscles and regenerate nerves. Having taken steps again within the past year, Brooks holds fast to the belief that between medical advances and his faith, he will walk freely someday.
Meanwhile, his own example serves to inspire the children that they can overcome obstacles and succeed. He aspires to open additional SAFE centers, and possibly a school in the future.
"For years, my faith had dissipated but I'm in God's hands. Whatever is meant to happen will happen," said Brooks. "One of the things I tell the kids is that they can do anything they set their minds on, but to have a 'Plan B' in case life throws something else your way. Keep pushing regardless."