The beats of Drake, Kendrick Lamar, and Kanye West filled the air of the Pritzker auditorium, in Chicago's Harold Washington Library, as hundreds of high schoolers filed in on Monday night.
Sitting cross-legged on the stage in jeans, an 'Open Mike' staff t-shirt, and his signature White Sox hat sat Chance the Rapper, signing students up to perform poetry, rap songs, and dance performances in front of their peers. You would never know that the Chicago rapper, who handily sells out concert venues, was fresh off the set of Saturday Night Live—here, he was just another artist helping others express themselves.
It is the 10th Open Mike that Chance, 22, and his friend and fellow Chicago artist Malcolm London, 22, have organized for young creatives in their hometown of Chicago--an idea that was born roughly one year ago after the unexpected death of their mentor and YOUmedia coordinator, 38-year-old Mike Hawkins.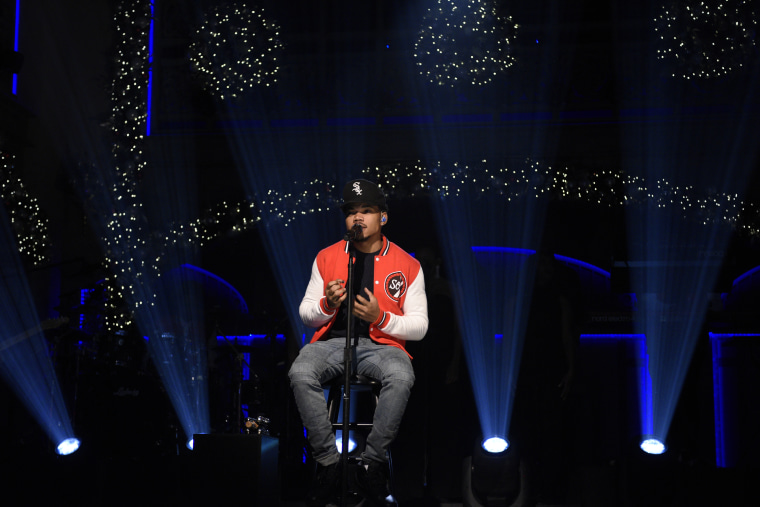 "Brother Mike, was a pillar in the city and a mentor. When he passed away and was taken from us early, we wanted to let his legacy live on." London said.
"He started the first Open Mike, and it meant that as kids we had a space to define ourselves for ourselves, and now we believe that young creatives will be the people changing this world and we want to be the ones to create that space."
At Open Mike, which officially launched in February and is only open to high school students, young artists perform spoken word, songs, dance, and poetry addressing issues ranging from a high school crush and what it means to be beautiful to commentary on sexual consent, gun violence, and sexuality. During Monday night's performance, many artists referenced the 16 shots that killed Chicago teen Laquan McDonald.
"I hope what we're giving young people is a space to talk about these issues in a way that allows them to say what they want to say, and not be judged while they're doing it." London said.
The most important, and only, rule of Open Mike is respect.
"We want to create that same safe space here. We want you to come speak your minds clear and unedited, but the most important thing is this is a place of respect and a place of love." Chance told the crowd.
The importance of a safe space for expression is not lost on the young rapper.
"It is hard, this isn't the Apollo, this isn't the Grammys, this isn't a big stage, this is where artists come in to hone their creativity," the rapper added.
"I used to go upstairs and perform pieces and forget the words, get scared, a lot of stuff would happen, and the only reason I kept going is because I had the Open Mike crowd that would coach me through my piece and be happy when I came up again."
The monthly forum has caught the eye of some of Chance's famous friends and idols such as Kanye West, who surprised the crowd with a performance in May, but it is important to the rapper and London that the event is not about fame or celebrity, but about mentoring young people who want to learn how to share their thoughts in a city that they feel does not always put their needs first.
For Imani Hardy, 18, who grew up in Chicago's Englewood neighborhood and now attends an alternative high school in North Lawndale on Chicago's West Side, Open Mike is one of the things he cherishes most in the city.
We want you to come speak your minds clear and unedited, but the most important thing is this is a place of respect and a place of love.
"It means a lot to me because when you are growing up in these neighborhoods and you see violence and police brutality—and I've seen police brutality and violence with a front row seat—when you're going through this, you need someplace to go and get away every once and while," Hardy said.
At Open Mike, Hardy pays close attention to Chance and London as mentors and appreciates the change he feels they are making in the city.
"This is the prime example of positive things going on in the city, it is someone from the city giving back," he said. "Chance is a busy guy, him and his staff don't have to do this, but they do, and I feel like this needs to be known because the only thing in the news is negativity—no one talks about the positive things Chicago has to offer," he said.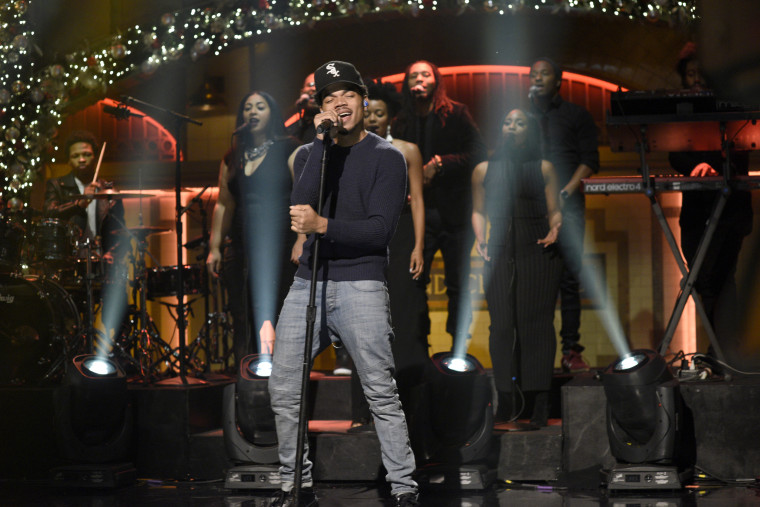 Singer Christian JaLon, 18, sees art as an overlooked form of activism that the city needs.
"Hearing about Laqaun McDonald, being part of the protests, and growing in my activism, it is very stressful not just physically, but mentally and emotionally, and being as young as I am, it weighs on my heart," she said.
"Coming here, if I don't get to say how I feel or if I don't know how to say what's on my mind, I know my peers might say it, and it's amazing to share that kind of emotion with different people."
Eventually, London says that he hopes some of the artists who have become regular performers will want to take over Open Mike for themselves, but that he and Chance will never stop working to make change in the city that made them.
"We want to give back what we got growing up. We had artists like brother Mike and Kevin Coval who saw the need to give back." London said.
"It becomes important for us to give back because we are living in the city, and we want to create it, and help add to it. We feel that responsibility whether we're making a million dollars and have a lot of fans or not, it doesn't make us less a part of this city."