Chicago Public Schools officials have backpedaled on a proposal to close three of four Englewood community high schools at the end of the summer, announcing Monday that they will allow current students to graduate from their schools and would delay the closures over the next three years.
In January, Chicago Public Schools (CPS) announced plans for an $85 million state-of-the-art neighborhood high school in the current location of Robeson High School in Englewood. The announcement followed a December 2017 announcement that four high schools, TEAM Englewood Community Academy, Harper High School, John Hope College Preparatory High School along with Robeson High School would be closed over the summer.
The decision to postpone the school closings, according to CPS CEO Dr. Janice K. Jackson, was due to feedback school officials received from many of the students and their families.
"We want to honor current students and their families, and we've heard that many of them want to be able to stay and graduate from their current schools," Jackson said in a news release. "We're happy to adjust our plans to take their feedback into account, and we will continue to support these students with additional resources throughout the transition."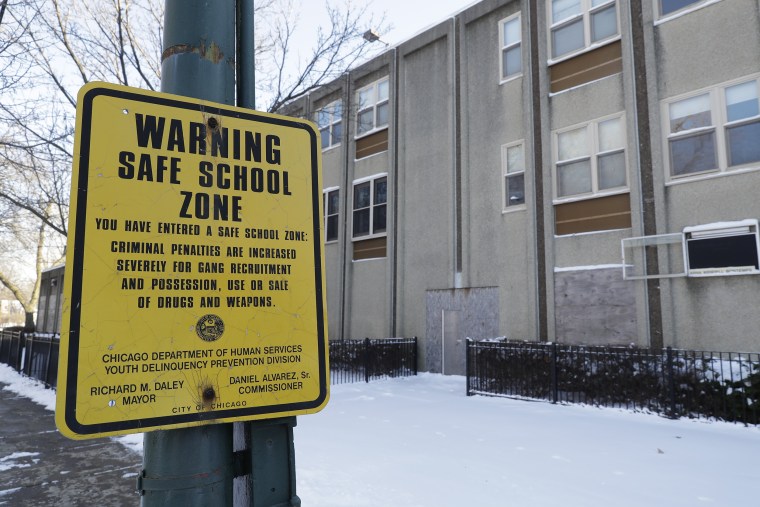 Community members, however, are not satisfied with the announcement or the decision. Jitu Brown, national director of Journey for Justice Alliance, told NBC News via email, that displacement is still displacement.
"Stopping the schools from closing, it's only a small part of the issue. What is the vision for public education for working and low-income black families? Who shapes that vision?" he asked. "Should it be bureaucrats or should it be the people directly impacted. We say the latter."
The Chicago Teachers Union called the decision a good step in the right direction. However, they called on CPS to shutter any plans they may have had in closing the Englewood community schools and other schools in the Chicago area in the future.
"Struggle, protest and organizing works," CTU Vice President Jesse Sharkey said in a statement to NBC News. "But now, it's time for CPS to embrace the larger demands of these school communities and schools across the city by providing resources our schools and students need to survive."
Prior to CPS's announcement that their plans had changed, students from within the community shared their concerns with NBC News while on a trip to Washington, D.C. to deliver 'report cards' to Education Secretary Betsy DeVos to mark her first year in office.
Miracle Boyd, who attends John Hope College Preparatory High School, expressed the detrimental impact of the school closures on her and others in the community.
"You cannot expect us to grow if we do not have the resources we need," Boyd told NBC News via phone. "Majority of black families will have to relocate to new communities and new schools, but the majority of the Englewood community is poor."
Mass school closings have become a growing trend in major cities across the country, including Philadelphia, New York City, Oakland and Detroit. In 2013, Chicago closed 50 schools because of underperformance and under-utilization, in addition to the 150 schools closed since 2001. Most, if not all, have been schools in mostly minority neighborhoods.
As far as Brown is concerned, the actions of Chicago city officials and CPS officials are an accelerated effort to push black people out of Chicago.
The solution, said Brown, is not a complicated one.
"America knows how to make great schools," he said. "America just chooses not to create great schools in black and brown neighborhoods."
NBC News reached out to the Department of Education about the school closures, but has not received a response.
A Jan. 5 news release says enrollment at the four Englewood high schools was significantly low, which prompted school officials to consider an alternative fix. According to CPS, enrollment at Englewood high schools has declined 70 to 85 percent over the past 10 years, resulting in student enrollment being between 90 and 135 students at the schools.
Bolton points out that in recent years, efforts were made to enhance enrollment at the area schools through investments, including investing $29.2 million in capital investments in the schools in 2006-2007; and investing $4.4 million in supplemental funding for after-school programs, mentorship and other academic needs over the past three years.
However, said Brown, it is easy to place blame on the parents and young people.
"What is happening in Chicago, what is happening in Englewood, with all of the high schools in the Englewood community being targeted for closure, is a land grab. There is an effort to displace students because families moving in to the southern part of downtown do not want to send their children to the black school," he added via phone.
For example, said Brown, National Teacher Academy, one of the high performing elementary schools in the community, serving 75 percent of low income African-American youth, is proposed to be closed.
"The mayor (Rahm Emmanuel) promised this building to wealthy white families," Brown said. "This is all happening in a city where before 2000, the African-American population was somewhere around 53 percent. In 18 years, the community has lost over 200,000 black residents because of school closures and a lack of affordable housing."
NBC News reached out to Emmanuel's office, but has not received a response regarding the proposed closures.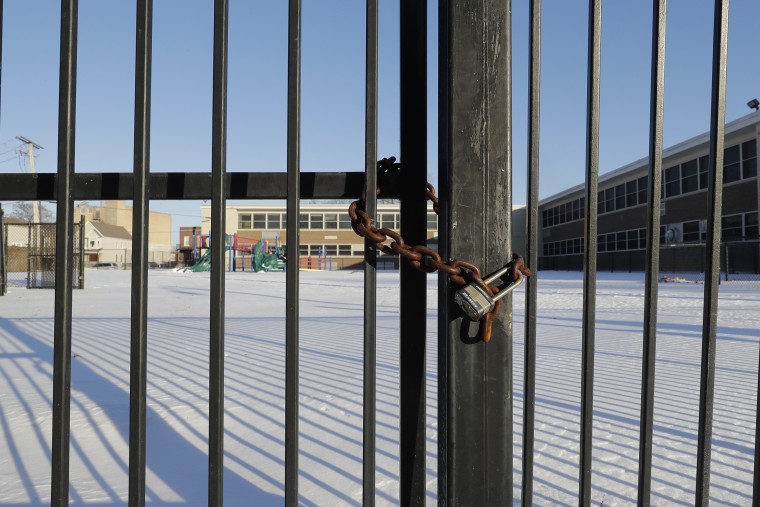 A list of demands has been submitted to city officials, said Brown. They are requesting that the four schools are invested in as sustainable community schools, full-service, evidence-based community schools designed to meet the needs of the community. The model is adopted from the success of schools in Cincinnati, New York and Tulsa, Oklahoma.
In addition, the proposal demands that CPS invest $12 million over a 3-year period to develop the schools.
"The community must be at the table shaping what education looks like in our communities. True education reform happens with us, not to us," Brown added after the announcement. "Mayor Rahm Emanuel is destroying our basic quality of life to force us out of the city we love. We will not be moved."
The Chicago Board of Education is slated to consider the revised proposal at a Feb. 28 board meeting.