As Orenthal James "O.J." Simpson appeared before the Nevada Board of Parole Commissioners to plead his case for freedom on Thursday, Christopher Darden, the former Los Angeles prosecutor who tried the 1994 homicide case against Simpson, watched the hearing with regretful eyes.
Darden, 61, sat behind a desk in a New York studio with a few loose pages of handwritten notes at his hands, attentively watching the network's live coverage of the proceeding, which appeared on a small monitor placed just below the camera lens in front of him.
Critics of Darden say he's a man who zealously pursued O.J. for over a year, but supporters say he was just doing his job.
In an interview that hit on a range of topics—from the 1994 trial and the ways race played into it, to the personal costs of prosecuting O.J. and the challenge of readjusting to life afterwards—Christopher Darden opened up, sharing details he'd never before discussed.
The Media's Obsession
On the day of O.J. Simpson's parole hearing, Darden had a busy schedule of on-air interviews, including one with NBC News anchors Lester Holt and Savannah Guthrie. NBC was one of eight networks to interrupt their regular programming to provide special news coverage of the hearing.
Silently, Darden peered into the camera and waited for the first question. It seemed all that anyone wanted to know was what Darden thought about the moment. And with that, the camera began to roll, and Guthrie's voice filled his ear.
"We have the benefit of [the] perspective of Christopher Darden, who was one of the lead prosecutors in the Simpson murder case, and of course a key person to ask at this moment how you feel – O.J. Simpson standing up, walking out of that hearing room. And soon, probably as soon as October, he's going to walk into society once again. How does that sit with you?"
The shadow of the 1994 murder case inevitably cloaked the hearing and with it every answer Darden offered.
"I'm not bothered by it," Darden began. "It's not my case. This case is not the case of a double murder in Los Angeles."
Related: O.J. Simpson Has Been Granted Parole. What Happens Next?
After his television commentary ended, he spoke about what it was like to watch and even participate in the intense media coverage of what some had even ventured to call the "parole of the century," a riff on the 1994 case that the media dubbed the "trial of the century."
"It was like old times," Darden said. "[O.J.] just has a way of turning sugar into s---. To take a non-event like a parole hearing and turn it into a huge media event is classic O.J. and I expect it."
"To take a non-event like a parole hearing and turn it into a huge media event is classic O.J."
The media's fascination with Simpson's legal woes was nothing new to Darden. When the issue of allowing cameras into the courtroom during the 1994 trial had first come up, Darden argued strongly against it.
In a recent Oxygen interview, as part of the network's new special "The Jury Speaks: O.J. Simpson," Darden explained that "lawyers are out of work actors who can't act." "So once that camera enters the courtroom, we tend to act up," he added.
In recent years, the 1994 trial has become the subject of renewed media attention. Last year saw the release of two major miniseries: the Oscar-winning documentary "O.J: Made in America" and the Emmy-winning FX drama "The People vs. O.J. Simpson: American Crime Story."
But what these award-winning dramas share in common is that they're premised on one of the biggest, and surely the most public, losses of Christopher Darden's life. Of course there was the reputational loss in terms of his career (Darden would be summarily fired from the LA County DA's office), but there was also a real personal loss in terms of his emotional well-being and livelihood.
The Personal Toll
At the onset, Darden knew that there would be personal costs to participating in "the trial of the century," with his main concern being the safety of his family, particularly his two brothers and four sisters who all lived in the Bay area at the time.
"It was a very dangerous time for me," Darden said. "It was not uncommon to have a police car parked on the street at my parents' home. We were under constant surveillance. People we knew and our family were constantly under surveillance and being harassed. Not just by paparazzi and the tabloids but by people who were against the prosecution," he added.
At first, none of Darden's siblings believed Simpson shouldn't be prosecuted. But this belief became less tenable as life became increasingly difficult, and the outside world became increasingly hostile.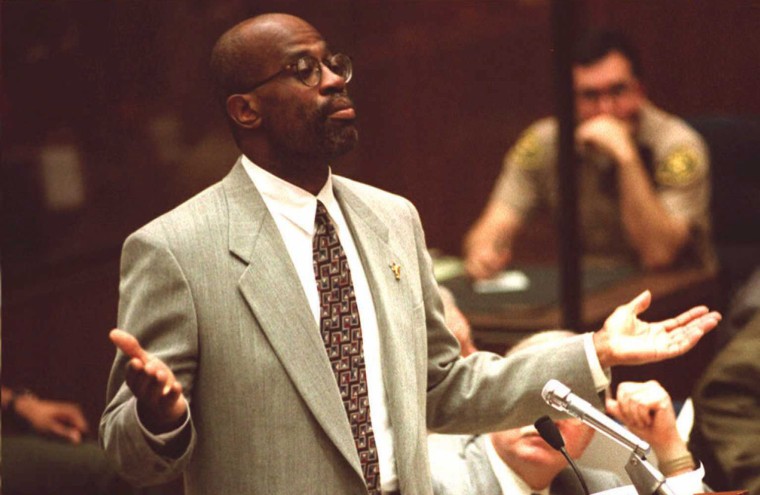 In one memorable encounter, eager spectators surrounded a Richmond, California mission where Darden's eldest brother, Michael, was staying. At the time, Michael had just told the Darden family that he was in the final throes of AIDS. Paparazzi entered the building to try to capture photos of him. Michael would later die on November 29, 1995, just two months after Simpson's acquittal.
As for Darden's other siblings, some of them sought the refuge of their own anonymity, avoiding the use of their last name in public settings, or openly affiliating themselves with the looming trial.
More than two decades later, Darden still receives emails and phone calls from people talking about the 1994 trial, sometimes even just the infamous black glove that just wouldn't fit. Some of the letters are encouraging; others, not.
But from the beginning, the one common theme that weaves through all the reaction and anger towards the case has been race.
The Case about Race
Contrary to what some might assume, Darden wasn't assigned the O.J. Simpson murder case; rather, he chose it. One of the original attorneys staffing the case, Bill Hodgman, had to drop out due to personal reasons, which left an empty chair at the prosecution's table.
"I knew it was a mess. I knew they were going to ask me," Darden said over the phone. "I had to talk with my father about it, and we both understood that. It was more than a murder case—it was a race case. And it would be a no-win situation."
By that point, Darden had already been involved in one element of Simpson's case—the investigation of the Bronco car chase down Los Angeles' 405 freeway—so he was already up to speed. And given his previous trial experience while on the officer-involved shooting investigations team, some thought Darden would make a good replacement for Hodgman. But with the help of his father, Darden decided that the case was not worth taking on.
"There are two Americas, divided by race: two Americas with citizens in each one [and] with completely different agendas."
It would take a close friend's personal appeal to convince him to take on the role, Darden said.
Now officially on the prosecution team, he would have to face down Simpson's star defense attorney, Johnnie Cochran, best known for his now famous quip, "If it doesn't fit, you must acquit."
This was the making of an epic duel, the likes of which the country had never seen. It was unheard of for two black lawyers to debate the problem of race in America on such a grand stage.
"By using television and a lot of very incendiary terms in court, [Cochran] flipped the case from a murder case to a race case. And that's all a lot of people saw," Darden said.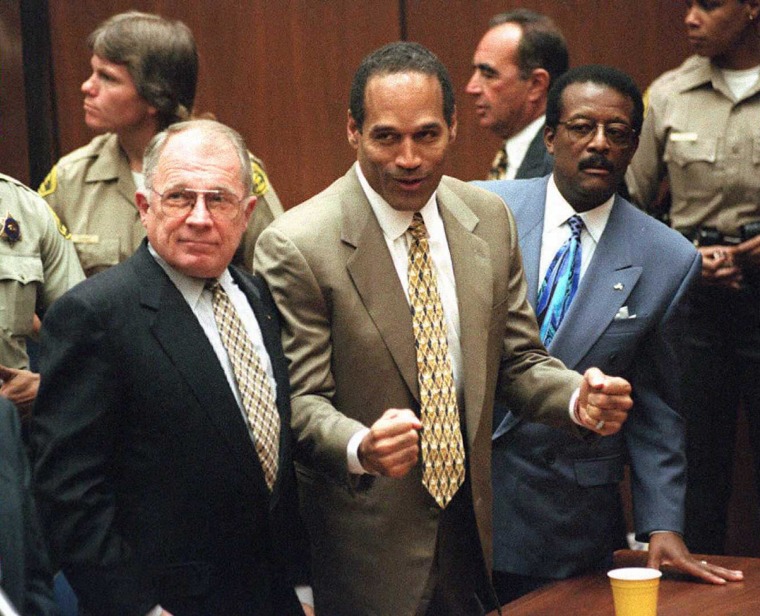 At the time, twenty-two percent of blacks believed Simpson was guilty of murder, compared to sixty-three percent of whites, according to a Washington Post – ABC News poll.
With the case reframed as a battle over civil rights of Los Angeles' black residents, Darden had come to be seen as a "traitor" to his own race—an "Uncle Tom." Looking back, Darden said he found this to be extremely painful and even shameful. In his mind, he was only trying to do his job.
"I was in a constant state of anger. I felt like I should really just turn around and bust one of those lawyers right in the god-damned mouth," Darden said. "Maybe that's the way they designed it."
Despite the public's continued interest in the case, Darden doesn't believe the 1994 trial still holds real significance for black people today.
By 2015, fifty-seven percent of blacks had come to believe that Simpson was guilty of murdering Nicole Brown Simpson and Ron Goldman, a thrifty-five point increase since 1994, according to the same Washington Post – ABC News poll.
Darden believes, for better or worse, people have moved on.
"I think people have forgotten about the Simpson verdict and what it said about this country—what it said back then and what it says today," Darden said. "There are two Americas, divided by race: two Americas with citizens in each one [and] with completely different agendas."
Related: New Doc Features Black Journalists Who Covered OJ Simpson Trial
Not everyone has forgotten though. Rapper Jay-Z explored the themes of race, social progress, and two Americas in his latest album, 4:44, on a track entitled "The Story of O.J."
And of course, there are those recent dramatizations of the Simpson murder trial, which have made the twenty-two year old case relevant to a whole new generation. In one particularly poignant scene in the final episode of the FX drama, "The People vs. O.J. Simpson," Courtney B. Vance (Johnnie Cochran) engages Sterling K. Brown (Christopher Darden) after the press conference at which the prosecution responds to Simpson's acquittal.
"I know how difficult this has been on you," Vance says. "And when the dust settles, I'd like to help you back into the community."
"Well, I never left," Brown shoots back.
I asked Darden if a similar scene ever happened in real life. Interestingly enough, yes. But unlike the personal tete-a-tete depicted in the series, the real encounter played out on stage at a reception in front of a large audience.
In December of 1995, at an awards ceremony hosted by former Congresswoman Yvonne Braithewaite Burke in Darden's honor, Cochran delivered opening remarks in the theme of welcoming Darden back into the black community. In his acceptance speech, Darden addressed the comments by saying he didn't need to be welcomed back because he had never left.
Christopher Darden generally looks back at this time regretfully, recalling the hurt and pain that he felt after many years of his community calling into question his sense of blackness. But with the help of friends, family, and an unlikely mentor, Darden said he's been able to get his life back.
A Return to Normalcy
After once being at the center of a media maelstrom, Darden faced the seemingly impossible challenge of readjusting to everyday life.
Just a week after the verdict, in 1995, Darden found himself sitting in the office of celebrity talent agent Norman Brokaw, who had been helping him negotiate a book deal. At one point, as Darden explained, Brokaw handed him the phone, saying: "someone wants to speak to you."
On the phone was another one of Brokaw's celebrity clients, Bill Cosby.
It was in Cosby that Darden found a supporter and confidant, a detail of the O.J. Simpson saga that Darden has never shared publically before now.
"[Cosby] was there for me. He supported me. He would have done anything for me," Darden remembered. "He wanted me to try and understand why the black community acted the way that it did [and] not to be bitter. He was a sort-of mentor."
Coincidentally, Cosby has recently faced his own legal woes that have severely tarnished his reputation in a Simpson-like fashion.
Related: O.J. Simpson Has Been Granted Parole. What Happens Next?
It's hard for Darden to watch Cosby go through his own legal battles, though he's able to recognize the parallels between the legal episodes of the two men.
"It's painful," Darden said.
But don't expect Darden to feel anything for O.J. Simpson anytime soon. Now twenty-two years later, Darden feels nothing towards Simpson, as the former football player's parole hearing appeared on the news. There's no churning in his stomach, or hesitation in his voice.
And when asked if he thought any justice has been served by Simpson spending nine years behind bars, Darden offered an emphatic, "No."
"Justice has been served in that case," he said sharply. "I don't think you get to murder two people, never do a day, and do a little time on a robbery charge."
After a series of interviews and on-air-appearances, Darden had only one thing on his mind: the families of Nicole Brown Simpson and Ron Goldman, and their never-ending quest for justice.