Actor Christopher Jackson said there's no greater gift than performing on a Broadway stage, knowing the composer wrote something just for you.
And when the stage is in the Richard Rodgers Theatre and the composer is Lin-Manuel Miranda, it's a gift that keeps on giving.
Jackson plays George Washington in the show "Hamilton," the success of which can be measured in a number of ways. The show has brought in over $29.5 million in ticket sales and a pile of prestigious awards, including a Pulitzer Prize for Drama and a Grammy for Best Musical Theater Album, and a record-breaking 16 Tony nominations.
Since opening last summer at the Richard Rodgers Theatre, "Hamilton" has captured the interest of a slew of public figures and stars, ranging from Beyoncé to Meryl Streep to Bernie Sanders, and particularly nerve-wracking for Jackson — Eminem.
"That's one of all of our Gods," Jackson said, who was nominated for a Tony Award for his performance in the show. "Outside of the pop culture spectrum, he's a giant in the industry."
The "Hamilton" cast also took parts of the show on the road to Washington, D.C., performing songs for President Barack Obama and First Lady Michelle Obama at the White House.
On the program for the Obamas was "One Last Time," a song in which former President George Washington tells Secretary of the Treasury Alexander Hamilton that he is stepping down and will not run for a third term.
Portraying a man in his last term in office, Jackson sang the lyrics out to Obama, a president also in his final term. On the wall hung a portrait of George Washington. It's something Jackson is still trying to process.
"It was overwhelming in a way I can't really describe," Jackson said. "And it's not something I'll soon forget."
RELATED: Lin-Manuel Miranda, Pope Francis Among TIME's 100 Most Influential People
Jackson and Miranda have a working relationship that echoes that of the characters they play in the Broadway hit. The two first worked together on "In The Heights," which won the Tony Award for Best Musical in 2008.
"To see his [Miranda's] growth and his maturation as a writer, you know, from sort of this obscure kid with this great idea — and being able to inject so much heart and feeling into the work that he was doing — to just the force of intelligence and craft and incredible sense of humor. He's one of my closest friends in the world."
Having a history of performing with Miranda undoubtedly has its advantages for Jackson.
"He knows what I like to do vocally," Jackson said. "He knows where my sweet spots are and the kinds of things that I really enjoy singing and he gives it to me, and I get to perform it eight times a week."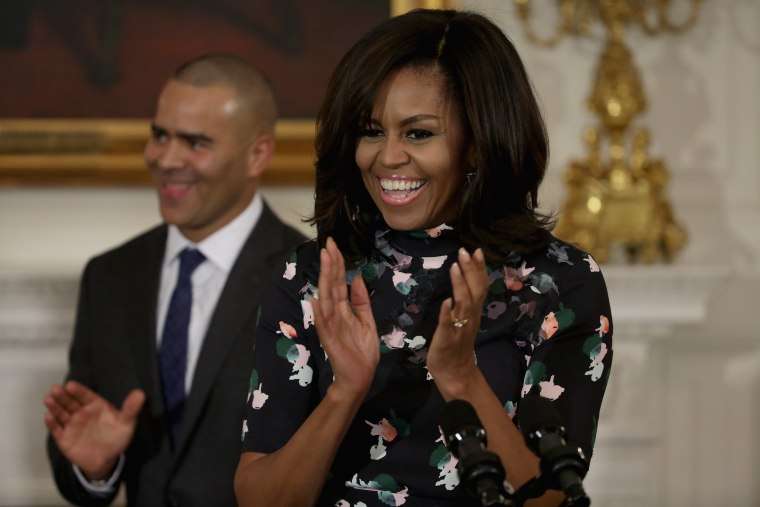 The performance schedule is a grind. When not on stage, Jackson said he sleeps, catches up on emails and tries to interact with people outside the world of "Hamilton."
Jackson is father to one daughter, Jadelyn, 6, and a son C.J., 11, who was diagnosed with autism in 2007.
"Being the parent of a child on the spectrum and of a child who's not on the spectrum - there are things that we have to now help our daughter come to understand about it," Jackson said. "It is a beautiful struggle in that it's only made me a better parent."
Jackson said every day with his son is a learning experience, and his wife, Veronica Vazquez-Jackson, is "tremendous." The pair has been married now for over a decade, something for which he has Miranda and director Thomas Kail to thank, at least partially.
RELATED: Lin-Manuel Miranda Urges Congress to Help Puerto Rico in Op-Ed
The couple met during a "chemistry read" for "In The Heights," and Jackson said he was blown away.
"I just basically look at her and said, 'Can I come and see you tomorrow? Maybe even later today, when you're at work?' And I did. And every day after that I harassed her until she finally gave in," Jackson said.
Outside of his success on Broadway, Jackson has composed a number of songs for Sesame Street, winning an "Outstanding Original Song" Emmy Award in 2011 for "What I Am."
Jackson's ties with the PBS children's television series were incorporated into a digital "Ham4Ham" show, a YouTube series which features guest performers and often ends with Miranda wishing fans hoping to win $10 tickets online, "good luck with the lotto."
Jackson said although it's an exhausting show to perform night after night, there is an infinite number of things to enjoy about it.
"It's all hard, it's all beautiful," Jackson said. "It empties you out every day and it fills you right back up the next time you go back in. It's a really extraordinary experience."