Colin Kaepernick's longtime girlfriend slammed Jay-Z's partnership with the NFL Wednesday, saying he was working with an organization that had blackballed Kaepernick.
"I don't mind you doing a business deal — but I do mind you wrapping it in social justice when you're working with an organization that denies someone an opportunity," Nessa Diab said on Hot 97 radio station.
Diab, a radio and television personality, was reacting to statements Jay-Z made at a news conference Wednesday with NFL Commissioner Roger Goodell where the two discussed a new partnership.
The NFL and Jay-Z's entertainment and sports representation company, Roc Nation, announced Tuesday they were teaming up for events and social activism.
Jay-Z, whose real name is Shawn Carter, said the deal had been in the works over the last seven months. Wednesday's news conference was held on the third anniversary of Kaepernick's first pre-game protest.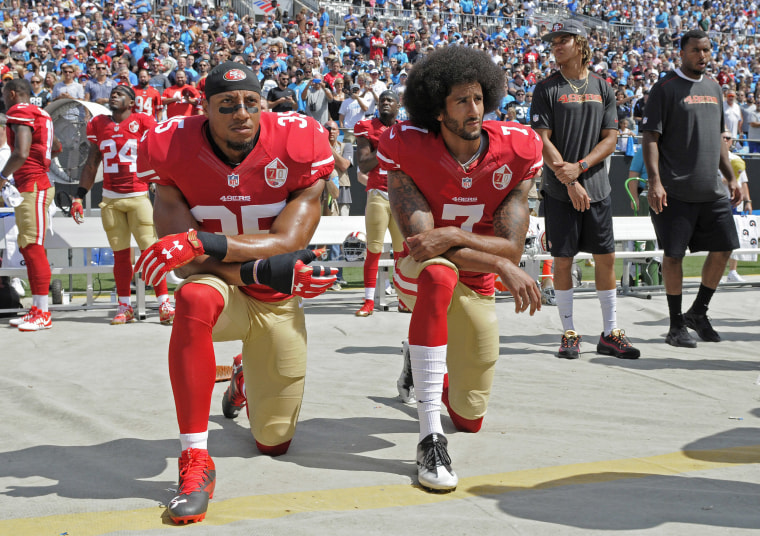 Kaepernick was invoked multiple times at Wednesday's news conference. The first question Jay-Z was asked was why he partnered with the NFL despite its fraught relationship with Kaepernick.
"We forget that Colin's whole thing was to bring attention to social injustice," Jay-Z responded. "In that case, this is a success. This is the next thing, because there are two parts to the protest — you go out and protest, and the company and individual says, 'I hear you. What do we do next?'"
Kaepernick has been out of the NFL since the 2016 season, when he began kneeling through the national anthem before games to protest police brutality against people of color and racial inequality.
Goodell did not answer questions Wednesday about whether players would be penalized if they protested during the anthem this season.
Jay-Z has been among Kaepernick's most public supporters. He said Wednesday he had spoken to Kaepernick, but declined to provide details about their conversation.
Diab said this was untrue and that Kaepernick was never included in any discussion with Jay-Z or the NFL ahead of the deal being announced.
When asked Wednesday if he would kneel or stand, Jay-Z said: "I think we've moved past kneeling and I think it's time to go into actionable items."
He added: "No, I don't want people to stop protesting at all. Kneeling — I know we're stuck on it because it's a real thing — but kneeling is a form of protest. I support protest across the board. We need to bring light to the issue. I think everyone knows what the issue is — we're done with that."
Jay-Z said at the news conference that he could not confirm whether Kaepernick would be involved in the project in the future.
"I'm not his boss. I can't just bring him into something," he said. "That's for him to say."
Without directly referencing Jay-Z, Kaepernick addressed his protest in separate social media statements Wednesday and Thursday.
"Today marks the three year anniversary of the first time I protested systemic oppression," he said Wednesday. "I continue to work and stand with the people in our fight for liberation, despite those who are trying to erase the movement! The movement has always lived with the people!
Diab credited Jay-Z for his "phenomenal music" and said "he's done so much," but advised him not to talk to her about the NFL "when they're doing dishonorable things."
"I don't care who you are," she continued. "Wrong is wrong. You're not gonna act funny towards my family."
In February, the NFL paid several million dollars to settle a grievance Kaepernick filed in 2017 accusing the league's 32 teams of colluding to keep him and former teammate Eric Reid, who also took a knee during the national anthem before games in 2016, from playing.
Reid, who has continued to play and is now with the Carolina Panthers, also condemned Jay-Z's partnership with the league.
"It looks like your goal was to make millions and millions of dollars by assisting the NFL in burying Colin's career," Reid tweeted.
On Thursday, Reid said Jay-Z doesn't need the NFL's help to address social injustices, adding the partnership was a "money move" for him and Roc Nation. Reid said the NFL gets to hide behind Jay-Z's "black face" to "try to cover up blackballing Kaepernick."
Rapper J. Cole and film director Ava DuVernay both expressed support for Kaepernick Wednesday.
DuVernay, who boycotted the Super Bowl in February in solidarity with Kaepernick, tweeted a photo of him with the hashtag, #ImStillWithKap.