Marshawn Lynch is about as far from a media darling as one can get. But the shunning of reporters after games that yielded a $100,000 fine from the NFL has snowballed into a viral Super Bowl press conference with meme-worthy quotables – "I am only here so I don't get fined" – and a buzz around Lynch's brand "Beast Mode."
On the eve of Super Bowl 49, Lynch's seemingly bizarre antics even led to an opening sketch on "Saturday Night Live" and another Key & Peele classic.
As odd as Lynch's ways may seem to some critics, they are only an extension of who he is and the culture from which he is from. A native of gritty north Oakland, some friends say "Beast Mode" has not changed much since his college days at University of California, Berkley.
"He didn't take his helmet off on the sidelines in college because he didn't want the recognition," said Rashaad Nunnally, a Cal track star who lived with Lynch in Berkeley. "He didn't want to talk to people then."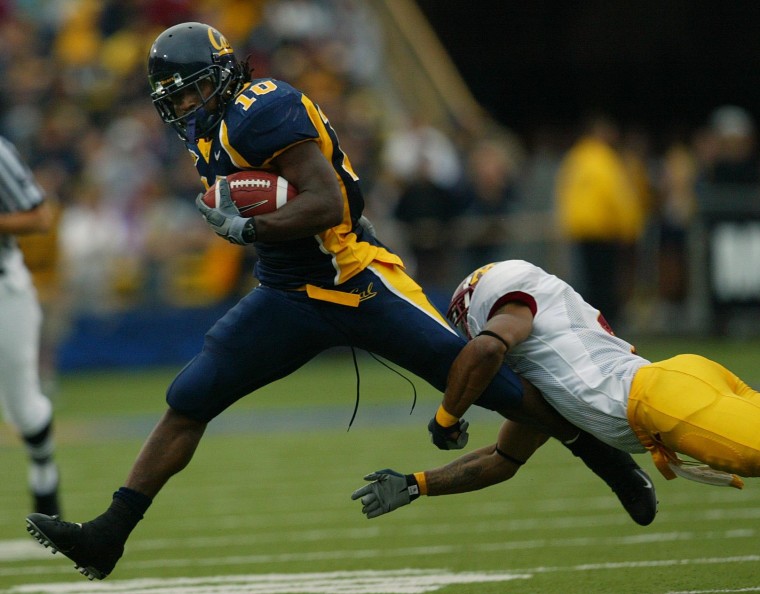 Coming from nearby Vallejo, Nunnally first met Lynch on campus in the summer of 2004. Lynch already had a crew, Fam First – now the name of his foundation – with two of his cousins, including fellow Cal Golden Bears football player Robert Jordan. Nunnally soon became part of the family. Rap, as much a form of media in the Bay Area as newspapers or radio, was part of their everyday life.
"It was a family thing on and off the field of all of us," Nunnally, whose stage name is Shaadie, said. "We played for Cal but we went to UC Berkeley. We can't help that we got looked at as 'just black athletes on scholarship' and people thinking that's the only reason we are here. So, it was like, we might as well be ourselves: we got dreads, we got tattoos, we got gold teeth.
"We set up our home studio with our scholarship checks," he continued. "We go to a party on Saturday, I am talking about it Monday on a song, next Saturday we're playing it at the next party."
Last year, Nunnally was in the studio working on what would become "Beastmode Bowl 48," an anthem dedicated to Lynch, when he received a call from his friend. "He wanted to get a song that we did back in the day, a snippet of which I posted on Instagram," Nunnally said. "I told him I was doing a song on the Super Bowl and he said to email that too. He played it on the morning of the game."
To hear Nunnally tell it, Lynch was always extremely private. "I would have to leave in the third quarter of games to pull the car around to the front of the locker room just so he and Rob can jump out – no shower, no nothing – to leave before anyone can get to the locker room," he said.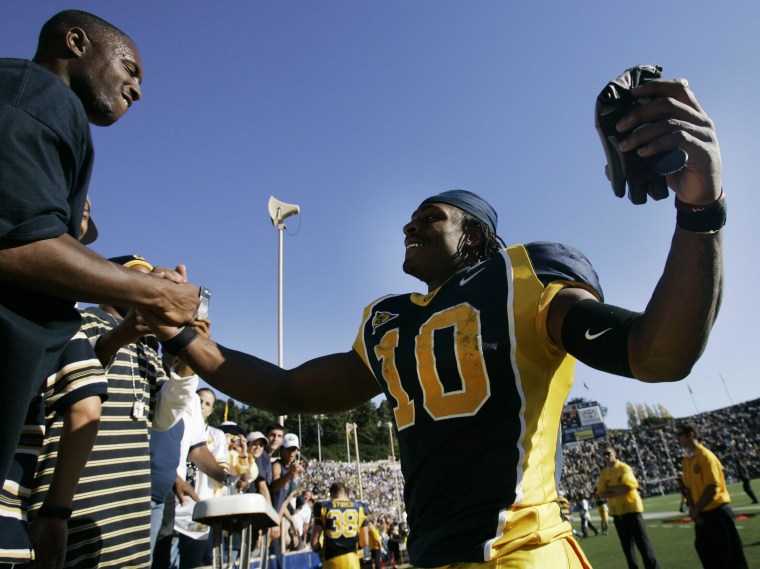 When Lynch arrived on Berkeley's campus, star wide receiver Geoff McArthur was in his senior season and Aaron Rodgers was the quarterback. McArthur remembers Lynch came by his house almost every day.
"We were texting yesterday and I was telling him he is a pioneer for what he is doing, [because] I think it will change the contract agreements in the near future," said McArthur, now a head coach at Canada Prep Football Academy. "His response was, 'whas hannin' folks.'"
The Oakland slang is just one of many signature idiosyncrasies Lynch has brought with him to the NFL. "Marshawn has been the same since day one," McArthur said. "When I was in my prime, I used to tell him be careful [in] how you act, be careful who you associate with, be careful in general. The NFL and sponsors don't want to pay someone the looks or acts too 'hood.'
"His explanation was priceless," McArthur added. "'GMac, when they came to my momma house and told me they love me, love the way I play ball, they didn't say they would love me if I changed.' So, in a nutshell, the people that accepted him as him are wrong for attempting to change him [in theory]."
Back in Berkeley, Nunnally said, Lynch and other Black athletes were fully aware of the school's prestige and the area's progressive politics. They were allowed to be themselves and that's something Lynch continues to do.
"If a man is bold enough, crazy enough, if he is liable to do that before the Super Bowl, you know that's really who he is," he said. "It's not a ploy."