A college student who worked a 32-hour-shift alone at a Texas hotel during Tropical Storm-turned-depression Imelda is now being lauded as a hero.
Satchel Smith, 21, was only supposed to work eight hours on Wednesday, Sept. 18, but when the flood struck, he found himself trapped at Homewood Suites in Beaumont, Texas.
"I got to work about 3 p.m. Wednesday and it had been raining the whole day, but it wasn't flooding yet," Smith told KBMT-TV, a dual ABC/NBC affiliated television station.
But just as his shift was ending, the co-worker who was supposed to relieve him texted to let him know she wouldn't be able to make it because of the weather.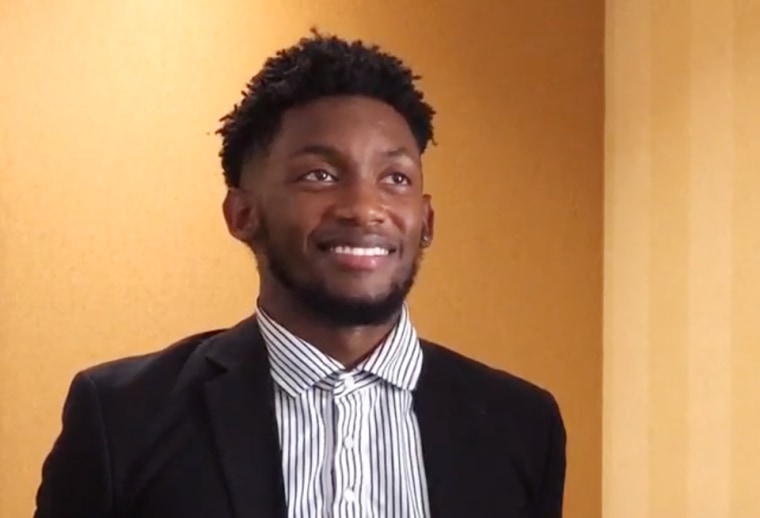 That's how Smith came to be the only employee working at the hotel, during the height of Imelda. Acting as the only employee of the hotel would be a difficult task during a normal week, but the storm made running Homewood Suites more complicated, as it interfered with hotel systems and set off fire alarms in the building randomly. There was also no chef. Smith served cereal to guests in the morning and made chicken pasta for them at night.
Yet, despite taking on all the vacant positions that needed filling, Smith was quick to problem solve: inviting guests from other hotels to join them for meals, since they didn't have any food in their facilities and bringing water to truckers who were stranded along the road.
"Meet Satchel. He is the only employee here at Homewood Suites in Beaumont," Angela Chandler, a guest at the hotel said in a Sept. 19 Facebook post that's been shared more than 14,000 times. "The access road is underwater and I-10 is shut down due to flooding. We can't get in or go out. The hotel a mile from us is underwater."
Satchel usually only works one day a week because he also has a full-time academic workload as a student at Lamar University, yet according to Chandler, who praised him for handling the situation "with grace, kindness, and a beautiful smile on his face," he rose to the occasion.
"If you know Satchel, tell him he is our hero!" Chandler wrote. "What an example of how to handle yourself in a crisis! Goodness gracious! I will stay here next time just knowing that despite whatever happens, I will have someone putting our needs above his own needs."
Tropical Depression Imelda turned southeast Texas into a disaster zone last week, dumping more than 40 inches of rain east of Houston. Hundreds of homes have been flooded and more than 1,000 people rescued from the floodwaters. At least five people have died as a result of the flood.
Smith's shift ended on Friday night, whereupon he said he took a short nap at the hotel and then returned to work to help out his coworkers and the guests. Still, Smith doesn't think of himself as a hero.
"We all came together," Smith told KBMT-TV. "It wasn't just me but my other co-workers called me and helped me through it."