Some took it as a joke when comedian Steve Harvey walked into Trump Tower, but once he entered the golden elevators and the doors closed people realized it wasn't.
After meeting with Donald Trump, Harvey and president-elect came down to the lobby and shook hands. The comedian and daytime talk show host told reporters it was a "really cool" and "successful" meeting.
The two compared notes on their golf scores, mutual friends, and favorite TV shows. Harvey also met Trump's daughters and was introduced by conference call to Housing and Urban Development nominee Dr. Ben Carson.
"We're going to team up and see if we can bring about some positive change in the inner cities which I felt was my only agenda and he agreed. And he wants to do something," Harvey said. "He realizes he needs some allies in that department, he seemed really sincere about it."
RELATED: Trump 'Thrilled' to Nominate Ben Carson as Housing, Urban Development Secretary
Detroit and Chicago were topics of discussion. Chicago, which is home to the taping of the "Steve Harvey Show" has seen a sharp rise in violence with 762 murders the past year. Harvey hopes to use his influence to change things.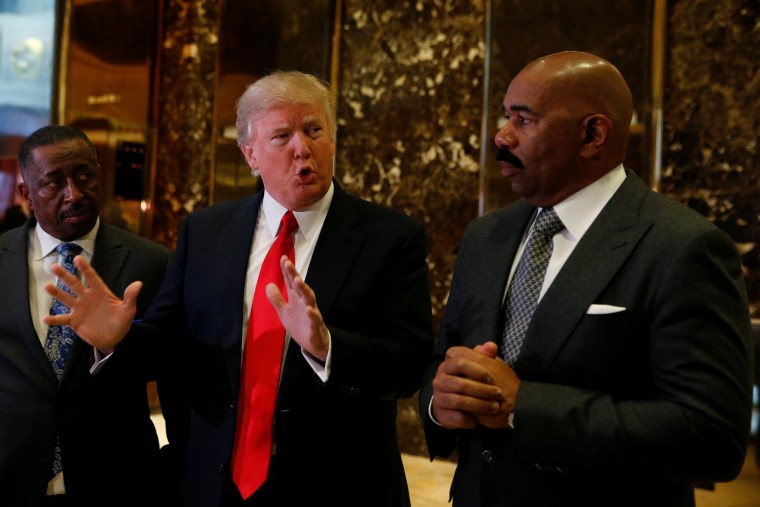 "I think it could be the beginning of something, but for them to invite me here to talk about a specific problem and thought that I might be able to help," Harvey said. "I know I got a big radio show, you know, I got a lot of people listening every morning, so I've always been concerned about inner city problems because they're huge."
During the campaign Harvey wasn't shy about his thoughts on Trump, and he endorsed then Democratic presidential nominee Hillary Clinton on his radio show. In February of 2016, Harvey told the Daily Beast he endorsed Trump for making the election, "fun to watch, but I'm not endorsing Donald Trump."
"How do you let a dude who was on the cover of Playboy magazine and has been married 18 times be your president? Now come on. Hell, then I qualify," Harvey said at the time.
Harvey joked with reporters Friday that he wouldn't pass a "background check" in politics, and said the idea of the Trumps vs. Clintons on "Family Feud" would be "skyrocketing for the ratings."
When he was asked if he supported the nomination of Sen. Jeff Sessions for Attorney General, Harvey said, "I don't really like commenting on stuff I don't really understand or know about."
Some on Twitter blasted Harvey for meeting with Trump and didn't think it was funny.
While some people were mad about the meeting, others supported it.
Harvey tried to justify his meeting the president-elect saying, "I stepped from behind my microphone and I came and talked to the guy that's going to be 45th President of the United States. I did what I was supposed to do."
Steve Harvey isn't the only African-American media figure to meet with Trump. In November Trump met with BET Founder Robert Johnson to discuss potential economic strategies. Trump also recently met with Kanye West and former NFL stars Ray Lewis and Jim Brown.
When asked if he would be attending the inauguration, Harvey said he wouldn't be in attendance because his birthday is Tuesday and his wife Marjorie Harvey is taking him on a trip.