After more than a year of being covered, the shroud has been lifted from a University of Kentucky mural that had drawn complaints from some students due to its depiction of Blacks and Native Americans.
UK President Capilouto ordered the mural covered in November 2015 after a group of black students told him the piece was demeaning because of scenes of blacks working in a tobacco field in which some argue are slaves, black musicians playing for white dancers and a Native American with a tomahawk. The mural was created in 1934 by deceased artist Ann L. Rice as part of the Public Works of Art Project during The Great Depression.
NBC Affiliate WLEX reports that along with the Memorial Hall mural re-unveiling, a plaque stands next to it to provide context about the piece and tell a more complete story. The sign describes the mural's history, how it was created, concerns raised about it over the years, and steps the university is taking to ensure an inclusive environment.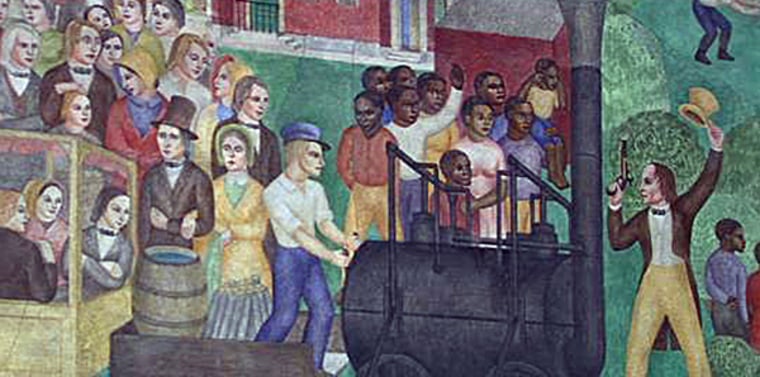 In a blog post, Capilouto says the mural is now viewed through a modern prism.
"Nearly 90 years after its completion, it is challenging to look at the mural through anything but the prism of our current day," Capilouto says. "Against that backdrop, the concern, for many, is that the mural does not adequately reflect the violence and inhumanity that many experienced through subjugation and slavery."
Related: Yale Janitor's Act of Civil Disobedience a Stand Against Racism
Sparking conversation across campus, some students say they are ready to move on.
"You have to put yourself in the shoes of black people essentially. We definitely need to recognize what went wrong and takes steps to make sure those things don't happen anymore," one student said.
While some say the mural should be taken down, Capilouto says the mural is necessary is to continue the conversation and learn from history.
"Like all conversations, our steps here are a beginning, not an end. They are not perfect, nor are they final or complete. They will stimulate more conversation; raise more questions; foster more debate," Capilouto said.
"We will seek answers, not escape, knowing that our search and our journey will never be complete. Our work will be informed by our humanity — at once colored by strength and frailty, guided by dueling strokes of compassion and imperfection on a canvas we create together."