The Rev. Leah D. Daughtry, the Chief Executive Officer of the 2016 Democratic National Convention, has a hard act to follow — her own.
She already has plans to make next July's Philadelphia gathering "the most diverse and the most forward-looking convention that we've had in recent history," she told NBCBLK in a recent conversation. "We've got so much technology at our disposal, so many cutting-edge things that are on the horizon that really reflect the way the way people live and work and play in the 21st century."
Daughtry had history on her side her first time as convention CEO in Denver in 2008, when Barack Obama was nominated to lead the presidential ticket. She understands the challenge ahead.
"Every four years you've got to go back out and earn the vote. You've to go back out and organize people, and convince people that you deserve their vote," she said. "Not having Obama at the head of the ticket means that we've got a little extra work to do, more than we normally do."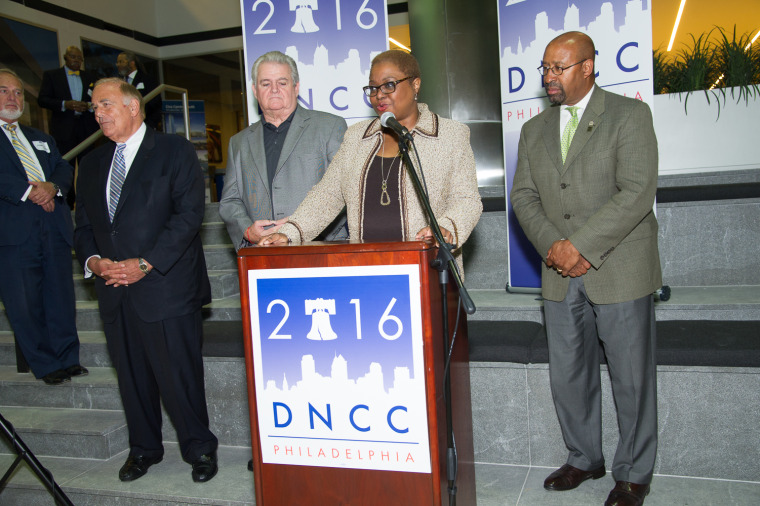 But while there will be innovations and surprises to ramp up excitement and showcase the party's values and send delegates home to work hard to elect its nominee, Daughtry promised herself that one convention ritual would remain the same. It's the one she says channels ancestors and history makers such as Fannie Lou Hamer, "who went to that convention [in 1964] and wasn't seated, and about how hard she fought to be able to be part of the party."
Daughtry explained: "I go into the hall the night before it opens. I go at about midnight just to walk and there's no one there — except a few media people poking around -- and I feel their spirits. It's like 'OK Miss Hamer. Here I am, and I'm in the place where you should have been.' … I thank them and I honor them because without them I wouldn't have this chance. I wouldn't have this opportunity."
"It's like 'OK Miss Hamer. Here I am, and I'm in the place where you should have been'."
"I am always conscious that I am a black woman doing this," said Daughtry, who is making history in other ways, as the first person to manage a Democratic Convention for a second time, "so box checked on that."
While managing the 2008 convention, she served as chief of staff of the Democratic National Committee. Daughtry, 52, held various senior posts at the U.S. Department of Labor during the Clinton Administration, including Acting Assistant Secretary for Administration and Management. She has overseen detailed operations and multi-billion-dollar budgets, and she is president and CEO of On These Things LLC, which provides strategic planning, event management, community engagement and organizational change.
When she was a senior at Dartmouth in 1984, Daughtry ran the Rev. Jesse L. Jackson's campaign in New Hampshire, but her political action began much earlier, growing up in Brooklyn, N.Y., the eldest of four children of pastors and activists Reverend Doctors Herbert and Karen Daughtry.
"When we were kids we went to Albany every year to meet our representatives," she said, of the trips with church members. "You can't make people vote. You can't tell them who to vote for. But we grew up with this awareness of who our elected people are, and that they had authority over our neighborhoods — where the parks are going to be, what time the trash was coming, whether there was a street light or a stop sign."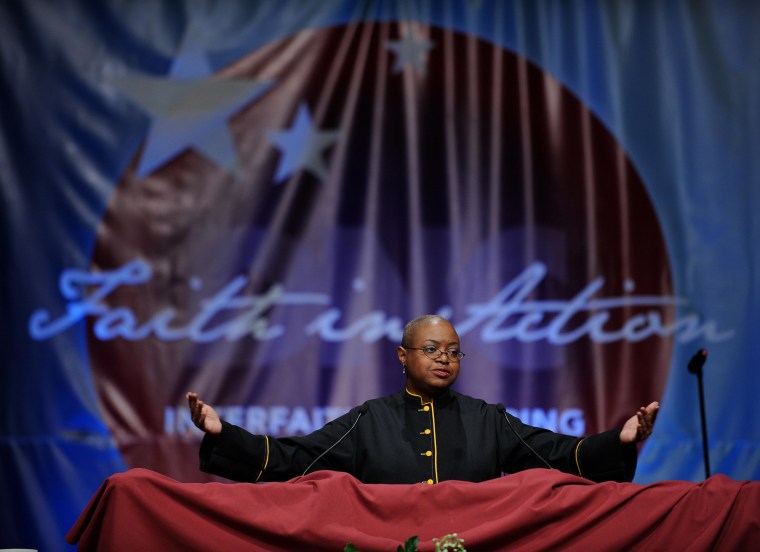 The commitment has continued, fueled by faith. As Daughtry describes it, her family has "been in the ministry since the days of enslavement." Ordained in 2002, she and her sister Dawnique, are both in the fifth consecutive generation of pastors in the Daughtry family. Leah currently leads the House of the Lord Church in Washington, D.C.
Daughtry recalled her own "coming of age" moment in college, far away from her congregation, when she made the decision for herself about what her faith and values were going to be. "No one's forcing me to go to church on Sunday. Now what do I believe? That time period of being in the mountains, I realized that what I believed was what I believed. God is the creator of all things; He is my father and my Savior."
RELATED: Philadelphia Barbershops to Shape Up Black Male Voter Turnout
That faith and the "guiding text" of the Bible, she said, is what led her to become involved in the political process, to advance a society "where we protect and honor and love and try to lift all of our brothers and sisters but most especially those who are the least and the last and the locked out and the left behind, and that we have an obligation because that's who God goes after." Daughtry said, "People want not just to work but to be able to make a living wage where they can support their families, and feel good about what they are doing for their families and for their own lives."
Daughtry is the creator of Faith In Action, the Democratic Party's outreach to communities of faith. She said she thinks Democrats need to be more vocal in challenging the notion that the Republican Party is more aligned with faith and values. "Everybody accepts that black Christians are Democrats," she said. "I know from my work with communities of faith -- Christians, Muslims, Jews, Sikhs, Hindus, people of every faithful persuasion who are part of the Democratic Party -- and they don't often speak loudly or forcefully about it, but their faith also drives them to be Democrats."
"You can't make people vote. You can't tell them who to vote for. But we grew up with this awareness of who our elected people are..."
For Daughtry the motivation is "to impact the society so everyone would be honored, respected, accepted and helped to move into their destiny — it's what we would call it in church, their destiny. In the world we would call it opportunity."
"Leah is a versatile and accomplished professional, bringing a unique religious, political, and community engagement perspective to her role as convention CEO," Democratic National Committee Chairwoman Debbie Wasserman Schultz told NBCBLK. "Having someone in the role who has done the job before and knows what to look out for, and who has learned important lessons, is invaluable. Her body of work and her personal background embody the values of the Democratic Party, and I'm thrilled to work with her to put on a convention that will showcase our party's values, lay out our vision for the future and celebrate our nominee."
RELATED: Making the Case: GOP Targets Conservative Black Women
The job of convention CEO is in the early stages now, Daughtry said, and will encompass the big picture and small details -- everything from taking state chairs on a walkthrough of convention hotels to picking the artwork for the credentials and making sure all shuttle buses are 100 percent accessible so delegates who are in wheelchairs don't need a special schedule.
Add to that who's speaking and "what is the message and what happens Monday night and what happens Tuesday and Wednesday and what happens at a convention when you have a sitting president and two former living presidents and a nominee."
As an African-American woman, one who has owned her own business, Daughtry said she is looking to extend the principle of diversity as staff, contractors and vendors are hired. "It can't just be a speech on the stage, it's got to be what we live every day."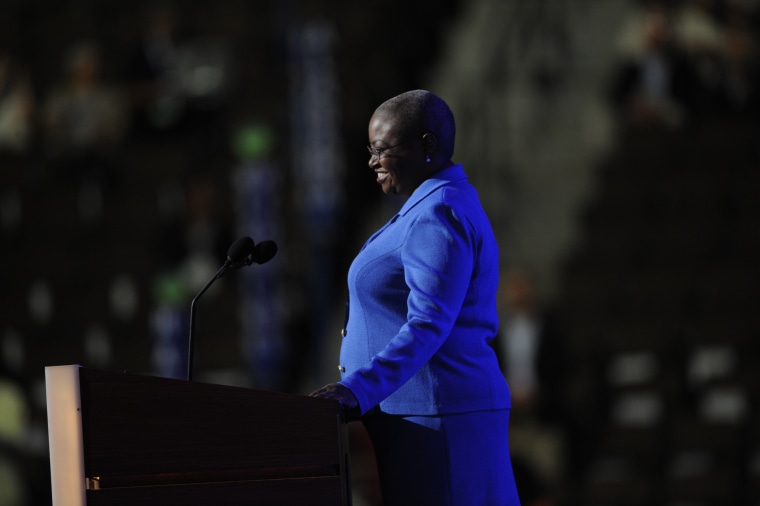 The Philadelphia setting will also play a role. "It's been a long time since we have had a back drop of something that is so historical and so foundational to our nation's birth and understanding who we are as Americans," she said. "You've got Independence Hall and all these great neighborhoods. How do we use this great backdrop to tell our story?"
"Philadelphia is the City of Brotherly Love and Sisterly Affection, as Mayor Nutter likes to say," said Wasserman Schultz, and it's this energy of inclusion and opportunity, combined with Leah's strategic vision and experience, that leave me confident this convention will be our strongest yet and a critical component of sending our nominee on to victory in November 2016."
Her goal is "a people's not politicians' convention," Daughtry said, "so that those who are in the hall as well as those who are sitting in their living rooms in Nebraska and Idaho and Florida and Missouri all become part of the convention experience."
Daughtry's thoughts always return to the memories of those who fought to make her accomplishments possible.
Could the Fannie Lou Hamers possibly have imagined that one day a black woman would preside over the convention? "I think, yes, they could, they did imagine it and that's why they fought so hard because they knew that this was possible that we had the intelligence, the temerity, the audacity to lead this party that they loved so much."