There's a kind of public and collective schadenfreude taking shape on black Twitter.
It began after Diamond and Silk, among the best known and most outspoken black supporters of President Donald Trump, were reported to have parted ways with Fox News after they promulgated unproven and dangerous medical advice, false claims, conspiracy theories and misinformation about the coronavirus outbreak.
Some of the posts on the women's social media accounts have been removed, and at least one account was briefly suspended. The women, who describe themselves as "opinionators," falsely told their online and television fans that the coronavirus was a ruse to fell Trump in the November election, as well as a fantastic plot crafted and controlled by the "globalist elitists" to manipulate Americans and "wreak havoc on our lives." They recommended that more Americans should not practice social distancing based on the as-yet medically unproven idea that it would confer lasting immunity against the coronavirus to more of the population.
Fox News, as well as Diamond and Silk, did not respond to requests for comment. But black Twitter, and indeed much of Twitter in general, has had no shortage of responses.
The irony is that the misinformation amplified by Diamond and Silk and others has gained traction in conservative, mostly white social media spaces and black, mostly left-leaning online spaces, too. Concepts similar enough to pass as first cousins on the misinformation family tree have proliferated in social media spaces that do not usually cross or blend.
One example: false conspiracy theories related to the tech billionaire Bill Gates' health care philanthropy. In conservative white spaces, there are unsubstantiated claims that the coronavirus is Gates' route to disease profit, a crafty government surveillance system or a man-made population-control mechanism with unfair economic consequences. When those fictional claims moved to conservative black Twitter, misinformation cast the virus as a black population reduction device, a useful if unplanned excuse for aggressive and unfair government monitoring or a poverty boosting tool. Once the misinformation circulated among left-leaning black social media, it often described the coronavirus and the resulting disproportionate death toll as racial population shaping. In those circles, social distancing measures were also sometimes described as a green light for abusive policing.
Full coverage of the coronavirus outbreak
"What you have are the same, often very dangerous, ideas repackaged in a way that makes sense to very different groups of people," said Shireen Mitchell, a researcher who studies online disinformation and harassment. "And it's distrust in government, in the establishment, in institutions that are the connective tissue — they're a prevailing theme that makes these wild ideas seem true to those who believe."
Years before the word Gamergate took on public meaning, Mitchell identified a pattern of harassment and doxing used to silence black women and girls. Then the same thing began happening to white women in gaming forums. In 2015, Mitchell and a small group of other black feminists began sounding the alarm about suspicious social media posts. They were written by people no one in the activist community had ever heard of, and they relied on sometimes laughable attempts at the black vernacular and cartoonishly offensive, extreme versions of activist ideas. It seemed to Mitchell then that someone was trying to stir up animosity and confusion.
Now, something strange is happening with coronavirus misinformation, and she is deeply concerned that it could have real consequences, such as online voter suppression, the focus of her current work. A lot of coronavirus myths are showing up in social media spaces where voting is the ostensible topic of conversation.
It was there at the beginning of the coronavirus pandemic that utterly false claims of black immunity spread like weeds. That happened while COVID-19 actually proliferated in the United States in ways that would ultimately produce a disproportionate death toll among black, Latino and Native Americans.
Later, unproven stories took hold that the virus was the work product of labs in various countries, including China and the U.S., followed by false claims about vaccine-related moneymaking schemes controlled by a tech billionaire and about the virus' being spread by cellphone technology. All three ideas jumped from mostly white, conservative circles to mostly black and politically liberal ones, where they have often been amplified by black social media influencers and celebrities.
The problem is so serious that the World Health Organization has called it an "infodemic," and it secured unprecedented cooperation from many American social media companies to tag, remove and otherwise try to limit the spread of misinformation. But that has had only limited success.
In the early weeks of the crisis in the U.S., there was already some evidence that critical differences of opinion had emerged along racial lines. In a March survey of 673 adults by Northwestern University's Center for Applied Health Research on Aging, analysts found that black respondents described themselves as less worried and viewed themselves as less likely to get COVID-19, yet also felt less prepared for an outbreak compared to white Americans.
"Bad actors — foreign and domestic — have seized this public health crisis as an opportunity to generate panic and sow distrust by spreading disinformation, often targeted at communities of color," Ben Block, digital rapid response director for the Democratic Congressional Campaign Committee, said in an email. "Amid a chaotic response from the Trump Administration and House Republicans dismissing the guidance of medical professionals, these dangerous disinformation campaigns that spread demonstrably false narratives pose serious threats."
The Democratic Congressional Campaign Committee, a party arm dedicated to electing Democrats to the House, began tracking online misinformation after the 2016 election. In March, the organization's digital rapid response team and an outside research agency noticed an uptick in coronavirus misinformation circulating heavily among black social media users.
"I am not surprised that disinformation is being spread," Block said in an interview. "I am surprised and troubled by the fact that COVID-19 is being used as a hook and as a way to further spread that disinformation, attaching a pandemic to issues such as voting rights and ... health care."
Democrats fear that misinformation about the disease, as well as some longstanding false claims by Republicans about widespread voter fraud, will dampen support for alternatives to in-person voting.
The risks are clear: At least 52 cases of COVID-19 have been possibly linked to in-person voting or polling site work during Wisconsin's primary April 7.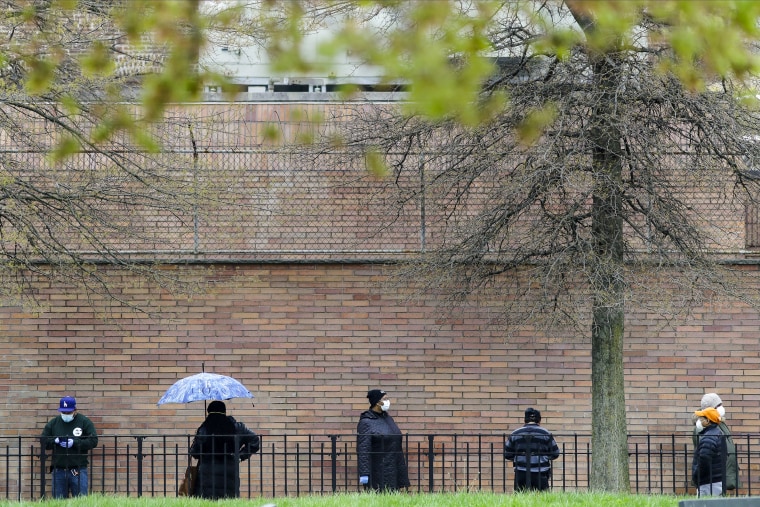 "There are tons of narratives that present themselves every day," said Jacquelyn Mason, a research analyst at First Draft News who is studying disinformation surrounding the coronavirus pandemic and the election. "Considering the current climate and how detrimental that could be to a lot of people's health and welfare, we decided to do some work in this world, where you can really begin to see some consistent themes circulating in different communities."
In April, anti-social distancing sentiment moved from online commentary to protests at some statehouses. Researchers and reporters have uncovered the role of conservative commentators and commercially motivated online agitators in drawing mostly white and conservative protesters to the events. There, because of a lack of social distancing and inconsistent mask use, the virus itself may have spread.
Mason said she has also noted a growing number of posts in black social media networks expressing fatalistic, infection-is-inevitable messages. She said rumors have increased among black people on social media about hydroxychloroquine — a longtime anti-malarial medication that was touted by Trump as a treatment for COVID-19 and purchased by the Bureau of Prisons but later proven to be dangerous or ineffective. Unsubstantiated claims have spread that it will be tested on black subjects who are unwilling or have not been informed. Both could dampen acceptance of future treatments and vaccines.
"If we take a laundry list of all the ways America has done black folks, Latino folks, Native American folks, Asian folks wrong, all sorts of things start to feel very plausible," said Niambi Carter, an assistant professor of political science at Howard University who researches and writes about public opinion and political behavior. "There is a well-earned distrust in some communities that allow conspiracy theories to flourish. They seem to explain real things, even if totally false. And where black people are concerned, sometimes the seemingly unbelievable turns out to be true."
Download the NBC News app for full coverage and alerts about the coronavirus outbreak
The truth, Carter said, is that in black America, "all roads effectively lead back to Tuskegee." That is a reference to the 40-year government-funded experiment conducted on hundreds of black men who, without their knowledge, were not treated for syphilis but instead were allowed to suffer and die from it and pass it on to others. It ended in 1972. The U.S. government has also been involved in birth control experiments and involuntary sterilization programs conducted in Puerto Rico and on the mainland on Native American women, as well as the poor.
Belief in conspiracy theories and the spread of misinformation does not begin and end with black social media users, said Michelle Amazeen, an assistant professor of mass communications specializing in media, propaganda and misinformation at Boston University.
What Amazeen and her research partner, Erik Bucy, a professor of strategic communication at Texas Tech University, found is that what makes a person vulnerable to misinformation is media knowledge — how well a person understands how news is gathered and what standards a piece must meet for publication or broadcast at different types of outlets and, therefore, which sites, publications and outlets are reputable and reliable sources of accurate information.
People most vulnerable to misinformation, they found, were more likely to believe and share "news" gleaned on social media. They also found that those people were more likely to overestimate how well they understood a topic.
"It's really like 2016 again," Bucy said. "The crisis of COVID has produced this explosion of scams, misinformation and maybe more. There's all kinds of great, high-quality, accurate information out there, but you have to go and get it and be aware of where to find it. And that, it turns out, is the problem for a lot of people."