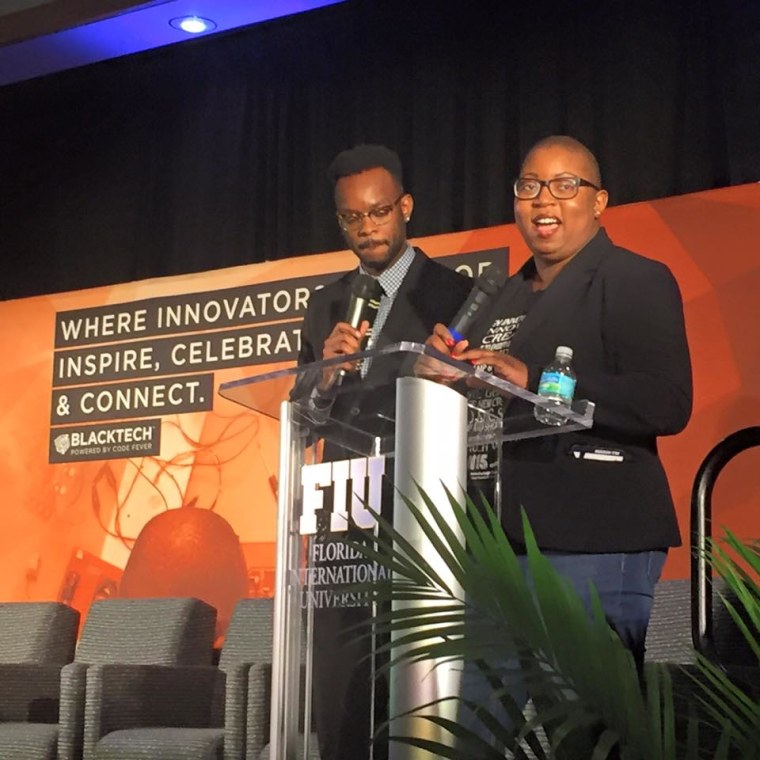 Call it the antidote to the digital divide: hundreds of Black techies, entrepreneurs, influencers, and angel investors from across the country and beyond, coming together and engaging in dialogue about everything from hot new apps to multi-million and billion-dollar business deals.
That's the vibe in Miami at the 2nd annual Black Tech Week conference.
Co-founded by South Florida residents Felecia Hatcher and Derick Pearson — a husband/wife team who developed `Code Fever' to teach African-American youth how to code and create — Black Tech Week is being billed as a "cultural celebration" that highlights cutting-edge technologies, innovation, entrepreneurship and more.
The event, which runs through Saturday at Florida International University and other venues, aims to change the narrative in the Black community related to digital empowerment. The goal is to support entrepreneurs of color and shift mindsets from merely consuming social media and technology to developing it. The topic seems especially timely during Black History Month.
"We have amazing genius and raw talent in our communities," Hatcher told an enthusiastic crowd at the Adrienne Arsht Center for Performing Arts during a preview reception. The Black Tech Week conference complemented a confab hosted earlier in the week by PowerMoves, a national initiative designed to increase the numbers of venture-backed minority businesses in America. Sponsors include Knight Foundation and Morgan Stanley.
These Black tech gatherings come amid growing calls for increased hiring diversity in Silicon Valley and elsewhere. The issue has been championed by activists like Jesse Jackson and Van Jones, to the White House, which recently hosted a STEM event for girls.
Various reports have shown that men, and specifically white and Asian males, far outnumber women and under-represented minorities in the nation's digital space, including at Tech giants such as Twitter, Google, Facebook, Yahoo and LinkedIn.
RELATED: Mark Luckie Joins Reddit As Head of Journalism & Media
The conference assembles Black tech leaders in private industry and government, venture capitalists, civic coders and visionaries from across the U.S., Africa and the Caribbean, who can network and create what the co-founders dub "collision points" to effectuate change, create jobs, build generational wealth and more. Events on tap range from sessions on the digital Civil Rights Movement to a women of color in tech luncheon.
"Black Tech Week is a very important event for number of different reasons. There is a perception that blacks aren't creators of tech. The diversity discussion in Silicon Valley illustrates that perception," said Clarence Wooten, the founder of VentureFund.io, who is among multiple speakers on the schedule this week. He was excited about sharing his insight into the intricacies of early stage funding for start-ups.
Noting the "successes and challenges faced by black founders and industry professionals," Wooten said it's important that "we shine a light" for future generations. "... The 12-year old boy and girl programmers in our community must have positive examples of success to be inspired by, and the greater tech community can take notice," he said.
So far, the forum's offerings have run the gamut from chats about the stages of business (start-up, building and optimization) to community responsibility.
Speaker Randal Pinkett, Ph.D., who won season four of Donald Trump's reality show "The Apprentice," noted that successful entrepreneurs should "give back to those people who don't have the opportunity you have."
RELATED: Meet Candice Morgan, Pinterest's New Head of Diversity
On Thursday, attendees can expect to hear from experts on topics ranging from navigating the "prison to wealth pipeline," to scaling a company, to Afrofuturism.
A few parties are on tap, too.
Organizers also expressed their hope that Black Tech Week will accelerate Miami's reputation as a U.S. gateway to parts of the African diaspora, much like the city has become a portal to Latin America.
Officials here tout the region as a growing global tech-hub with the added appeal of its beaches and tropical climate.
"Leading tech conferences from around the world, like e-Merge Americas, are already calling our destination home. Our homegrown platforms, such as The LAB Miami, are fueling the start-up ecosystem," said William D. Talbert, III, president & CEO of Greater Miami Convention & Visitors Bureau.
"Business is booming," he continued, citing the expansion and renovation of the Miami Beach Convention Center. "We will be home to one of the newest, most state-of-the-art and technologically-advanced convention centers in the world. Miami will be poised to be a technology meeting capital."
Whether in Florida or other parts of the U.S., Black tech professionals have the power to pursue their own inclusive visions, said co-founder Hatcher.
"We don't have to leave our communities to be creative. We have to build the city we want."