American University is investigating after bananas scrawled with racist messages were found hanging from fixtures around the Washington D.C. campus Monday morning.
The bananas, strung up in black noose-like rope, were marked with the words "Harambe bait" — a reference to the lowland gorilla who was shot at the Cincinnati zoo to protect a boy who fell into his enclosure and instantly became the subject of popular memes, some of which took on racist connotations — and "AKA free" in reference to Alpha Kappa Alpha, a predominantly Black sorority, and were found in three different places on campus.
The university president spoke out against the incident on Monday, calling it a "crude and racially insensitive act of bigotry."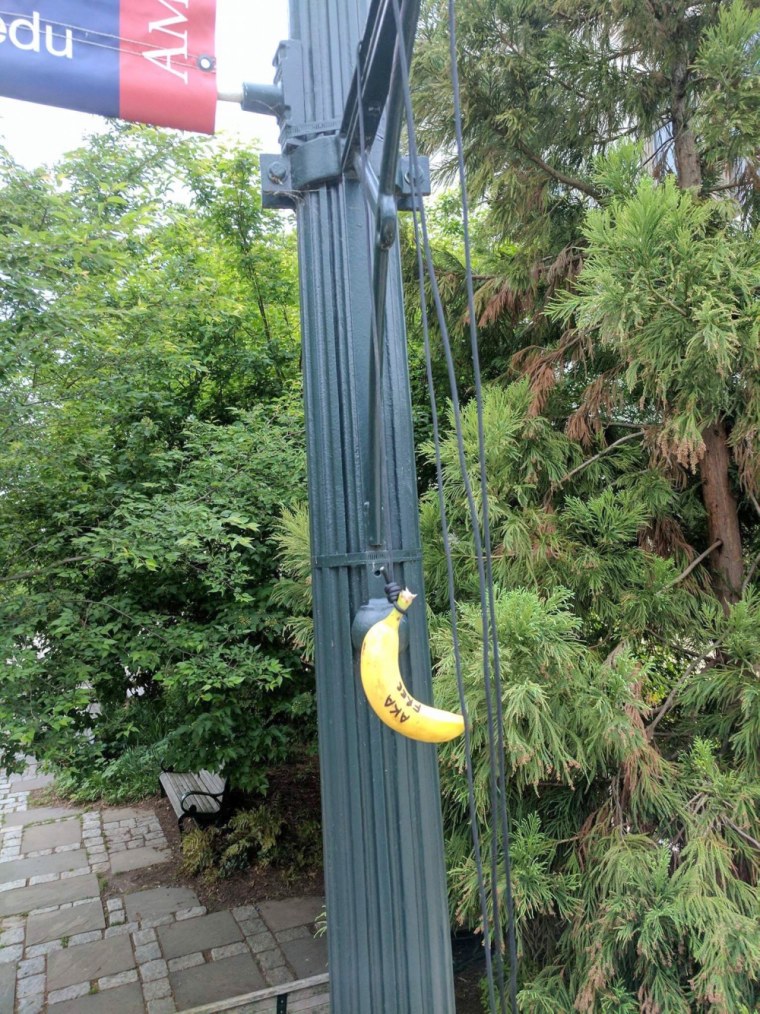 "Racially charged acts of bigotry are done to instill fear and inflict pain in our community—especially at stressful times, such as at the end of the term," university President Dr. Neil Kerwin said in a statement on Monday night. "I regret this happened, apologize to everyone offended, and state emphatically that this incident does not reflect what American University truly is."
The campus president continued to state that despite the "targeted" nature of the incident, "our entire university community has been adversely affected by this cowardly, despicable act."
The incident took place on the same day that Student Government Association president Taylor Dumpson, a member of Alpha Kappa Alpha, started the new position. "Being first isn't easy," Dumpson said addressing the incident in her first letter to the campus community. Calling the issue "disheartening" she called for unity.
"As the first black woman AUSG president, I implore all of us to unite in solidarity with those impacted by this situation and we must remember that 'if there is no struggle, there is no progress,' ─ Frederick Douglass," Dumpson said. "We must use this time to reflect on what we value as a community and we must show those in the community that bigotry, hate, and racism cannot and will not be tolerated."
The racist displays are being investigated by AU Campus Police with assistance from the D.C. Metropolitan Police Department (MPD) and other AU offices and senior officials.
The Eagle, the university newspaper, reported that school officials, members of the sorority, and campus police met Monday afternoon to discuss next steps.
Students and campus organizations took to social media to show solidarity with Dumpson and the sorority with the hashtag #AUSupportsAKA.
AU is no stranger to controversy regarding racial incidents. In September 2016, two black female students reported bananas were thrown at them by white students on campus, sparking protests and a university investigation.
And in March 2015, racially charged comments including, "It's obviously racist, but I don't like 99% of the black people I meet," were anonymously posted through social media app Yik Yak by alleged AU students, sparking backlash — and even more racist comments.