Spending time in the kitchen during the holidays can be more than just a chore and easier on your wallet — just ask Chef Deborah VanTrece, Chef Jennifer Booker, and mixologist Tiffanie Barriere.
Earlier this summer, we profiled the three culinary artists who were featured during this year's Atlanta Food & Wine Festival, highlighting their success while overcoming obstacles in the industry as black women while creating opportunities for others.
We caught up with them at Twisted Soul, VanTrece's restaurant in Atlanta, to discuss what the holiday season means to them, longstanding family traditions, cooking on budget, and do-it-yourself recipes. We also learned about the latest endeavor the three have launched together, Cast Iron Chronicles.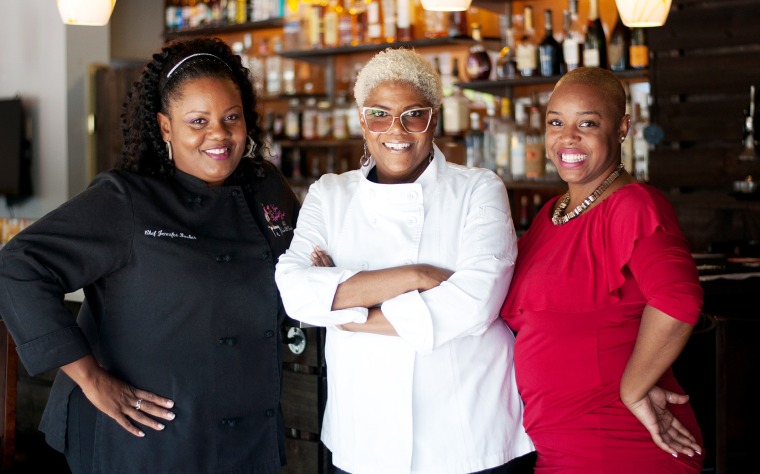 [This interview has been edited and condensed for clarity.]
What are your Thanksgiving favorites? What are those staples that are Thanksgiving must haves?
Deborah VanTrece: I have to have a turkey, cornbread dressing, chit'lins, gumbo, sweet potatoes, collard greens, homemade cranberry sauce and jelly cranberry sauce, yeast rolls, sweet potato pie, pound cake, green rice…spinach rice. Oh, and ham.
Tiffanie Barriere: I am having all of that, but she left off one of my favorites – a pan of green bean casserole, old school style. I want it organic – can soup, crunchy onions, don't get fancy with my green bean casserole. I want it just the way it is on the back of the can. I can eat a bowl of it. And yes, ham. And mac and cheese. My dad and I still do the wishbone from the turkey wings; we must do the wishbone. I've come out on top the past four years now – four years in a row.
Jennifer Booker: Must haves are cornbread dressing, giblet gravy. I don't have to have a turkey. But field peas are a must, chit'lins – it's the only time of the year where I will have chit'lins. Glazed ham, mustard and turnip greens; I have to have enough giblet gravy so I can have some the next day. Can cranberry jelly so you can just cut it – it has to have the ridges. And angry cornbread -- no sugar, no sweet milk, just butter, milk, .egg and cornmeal; cooked in a cast iron skillet.
I am getting hungry just talking about this. What's your beverage of choice?
Jennifer Booker: Moonshine or something brown, of course; if we visit my mom – Jack Daniels, Ezra Brooks, bourbon, and gin – it's just a progression.
Deborah VanTrece: We will have wine. My grandmother's drink was Manschewitz; luckily we graduated from that. Back then, when we were little, if they gave you a little sip, that was something. Oh, egg nog!
Tiffanie Barriere: I do make that (egg nog), we make it with cognac. My grandmother doesn't allow us to drink in her house anymore; her house is saved. So now we drink in the garage. She knows we're out there drinking, as long as we don't bring it all the way in the house.
So it sounds like, for the most part, you all like to keep it traditional – nothing too fancy or major. What are some tips for our readers so that they don't go broke while preparing for their Thanksgiving meals?
Jennifer Booker: I am a strong proponent of buying when it's on sale – canned goods, frozen goods, especially ahead of time. Butter. Brown sugar. Or ask others to bring a dish.
Deborah VanTrece: If they can cook.
Tiffanie Barriere: Yes!
Deborah VanTrece: It does not have to break you. This time of year, all major grocery stores are marking down. We are especially lucky because of the Amazon and Whole Foods merger. Prices have been slashed. Now everyone has to compete with them.
A few weeks after Thanksgiving, you all are hosting Cocktails, Cuisine and Conversation here in Atlanta as part of your Cast Iron Chronicles event series. How was the idea born?
Deborah VanTrece: The profile in NBC was the vehicle of contact. Jennifer mentioned, "Let's keep this going," and immediately for me, fireworks went off. Of course, why shouldn't we? By putting us together, it places the strength of each of us on display. Yeah we could have done something like this individually; but it's more impactful to do it as three.
Tiffanie Barriere: From the bar side, there is this disconnect between what happens at the bar and the kitchen. Pairing is not happening. But now there is this female connection, this black female connection – it would be silly not to nourish this and be in collaboration, a trifecta. We are reaching across cultures and generations. And more importantly, people are starting to listen.
Jennifer Booker: I have come to accept and respect the timeliness of things. Like Deborah, I have been doing this a long time and have been reluctant to being a trailblazer. I feel like we have been living parallel lives. We have been hacking and cutting and crying. And finally all three of our trails have been coming together. What we are doing now, it is what I have always done. Now it is nice to do what I have always done with two women I respect who have had similar experiences as I.
Recipes
Deborah VanTrece: Grandma Lue's Spinach Rice
Ingredients:
½ cup celery, diced
½ cup red peppers, diced
1 cup red onions, diced
4 ounce unsalted butter
2 pounds fresh spinach, washed, and trimmed
1 cup marinated artichokes, chopped
12 ounce cream cheese, softened
½ cup sour cream
1 cup shaved parmesan cheese
2 garlic cloves minced
3 cups cooked white rice. Cold
2 eggs, beaten
½ teaspoon ground black pepper
½ teaspoon onion powder
½ teaspoon garlic powder
1 teaspoon salt
Directions:
Heat the oven to 350 degrees.
Generously grease a 13 by 9 casserole or baking pan.
In a saute pan melt butter. Add celery, peppers, onions and spinach. Saute, stirring occasionally until vegetables are soft. Remove from heat and place cooked vegetables in a large bowl. Combine all remaining ingredients and mix well.
Pour combined ingredients in greased pan and bake covered for 20 minutes. Remove cover and bake for an additional 10 minutes. Goes well with everything or just alone!
Tiffanie Barriere: Holiday Hugs (not for the 'chilren')
Ingredients:
2 ounce apple cider
1 ounce honey/cinnamon syrup
Lemon, squeezed
2 ounce spirit of your choice
Directions:
Combine all and shake.
Pour over fresh ice into a glass.
Garnish with cinnamon sticks.
Store in glass container in fridge.
Shelf life: 2 weeks.
Cocktails, Cuisine and Conversation will take place at Twisted Soul in Atlanta on Dec. 4.