Forty years ago, it was rare to see a female police officer out on patrol. Now, three extraordinary women in Dallas are breaking brass ceilings in more unique ways than one.
Chief U. Renee Hall joined the Dallas Police Department earlier this month, becoming the first woman to serve as their police chief.
"This is a male dominated field and it has been for many years. And often times it's been asked, 'Are they strong enough? Can they do the job?' We have to be twice as smart in order to do the same job that a man does," says Chief Hall.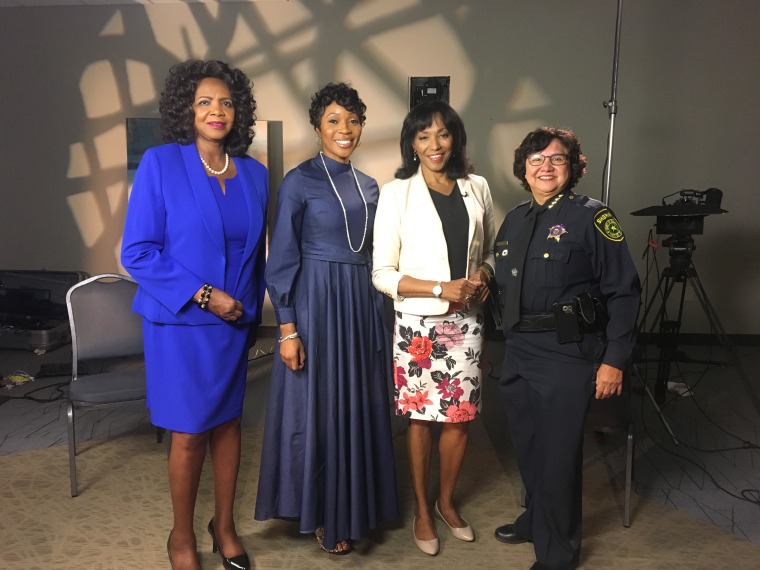 See this story tonight on NBC Nightly News With Lester Holt.
She hails from Detroit where she spent over 18 years with the force and most recently, as their deputy police chief.
Chief Hall joins Dallas County Sheriff Lupe Valdez and District Attorney Faith Johnson, where three minority women now serve in the top law enforcement jobs for the first time in the United States' ninth largest city.
Johnson served as a judge for 17 years and is now the first African-American female to serve as Dallas County's District Attorney. Throughout her career, she was the first African-American elected female district criminal judge in Texas and the first African-American female chief felony prosecutor in the Dallas County District Attorney's Office.
"No one wants to be a part of an organization that they don't see themselves in."
"We're not here because we're women. We love the idea that we're women, we appreciate that, but we are here because we are capable, qualified and educated, trained to do an outstanding job for the people we serve," says Johnson.
Sheriff Valdez has over 42 years in law enforcement and has led Dallas County Sheriff's Office since 2005, at a time when she was the only female elected sheriff. She is the also the first openly gay Latino female sheriff.
Valdez hopes her path will make the path easier for others to follow. "It's necessary for us to be able to say to them that is that you can do this. You know we've done it, it's easier for you to come down, but it's also important that they see themselves in you."
In the nation's ninth largest city, the Dallas Police Department is now 81.5 percent male and 18.5 percent female, with a total of 3,051 sworn personnel at the end of this past August, according to numbers provided by the department.
Nationwide, female officers account for less than 12 percent of total full-time law enforcement officers according to a 2015 FBI report.
Chief Hall says she bears the responsibility that while she sits in this seat, she can change the culture as well.
"Who wants to be in law enforcement if there are no women at the top? What woman wants to join?" says Chief Hall. "But it is up to us, now that we are in this position to ensure that there are women around us because no one wants to be a part of an organization that they don't see themselves in."
Young women from the Dallas Police Junior Explorers are proud to live in a city with minority women at the top. 11-year-old Desiree Flores hopes to become a detective one-day and says Chief Hall inspires her to be able to accomplish anything. "Her as a female, it kind of makes me feel like I could do anything I look up to," says Flores.
For 12-year-old Anahysa Saenz, her dream is to be a police officer. "I'm inspired by the new chief because it's considered we can do anything we want and the males should give females chances to become who we want to be," she says.