This year marks the 25th anniversary of FUBU pioneering the integration of fashion with hip-hop culture, multimedia and entertainment. The urban apparel line founded by CEO Daymond John was synonymous with T-shirts, sweatshirts, hoodies, hats, footwear and denim with the conjoined "FB" in bold, all caps font stitched on the fabric.
Entertainers like LL Cool J, Mary J. Blige, TLC, P. Diddy and Beyonce all wore FUBU to award shows, in music videos and in numerous print and television ads. At its pinnacle, FUBU had netted $350 million in sales through 5,000 retail stores: eventually grossing more than $6 billion globally.
An acronym that stands for "For Us By Us," FUBU was created to specifically target young African-American consumers. John, who started the operation with his childhood friends Keith Perrin, J. Alexander Martin and Carl Brown, created the clothing as a response to high-profile fashion brands expressing they didn't want to market their collections to ethnic audiences.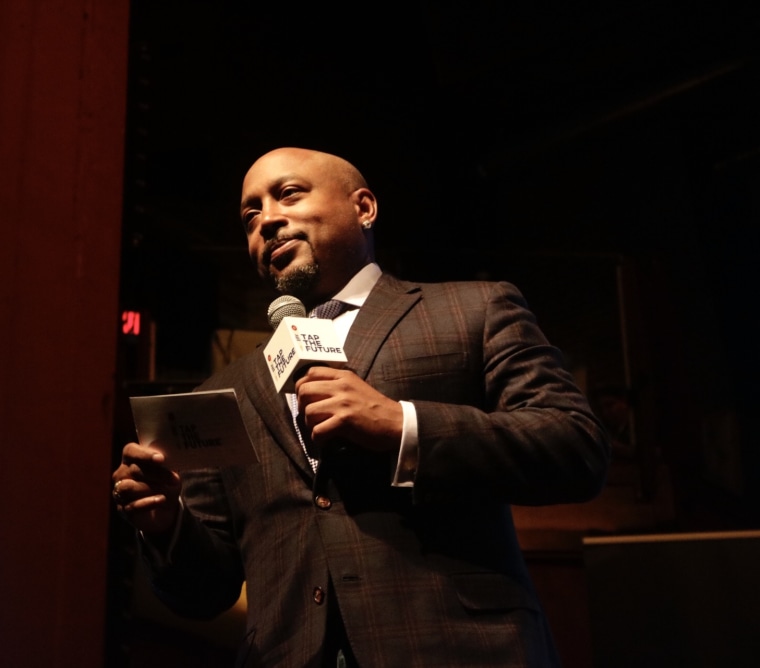 "I've been really fortunate to have been part of something that's a globally recognized brand," the modest coach and panelist on ABC's Emmy-winning reality series "Shark Tank," told NBC News. "It's close to me. I don't know necessarily the effect or impact that I've had, but whatever it is, I'm grateful." The concept for FUBU originated around 1989 as ski hats tied with string. John and his peers sold the merchandise on the corner for $10 each.
Three years later, John, then waiting tables at Red Lobster, mortgaged his mother's three-level Queens, N.Y. home for $100,000 to devote his time, energy and space towards mass producing headwear and shirts. Half of the house became an assembly line; the other half was living quarters for he and his team. Starting out with a $40 budget, John and Team FUBU hit up expos and tradeshows across the Northeast. Their inventory only consisted of about 10 shirts that they ended up rotating on various music videos sets.
Related: Shark Tank's Daymond John Breaks Down 'The Power of Broke'
Demand began to exceed product availability, leaving John, a savvy negotiator, to shake many hands as he searched for investors. Banks kept denying him capital. Before long, Samsung became a major investor in FUBU.
"Networking is the number one reason why people end up expanding their brand," said the problem solver. "You have to enjoy everybody that's around you and get to know them. Running a business is very hard. It takes a lot of work, energy, discipline and cash. You have to stay true to yourself, your passion and be consistent."
FUBU's popularity soared, producing accessories for all ages and sexes. The clothes' raw materials were imported from around the world. The clothing line created special edition collections commemorating Fat Albert and sports icon Muhammad Ali. Its record label, FUBU Records, released a gold-selling compilation in 2001 with Universal Records. Subsequent investments include a radio station, television network, fragrances, bedding, formal wear, personal care products, a NASCAR-BUSCH sponsorship and luxury hotels.
Hip-hop moguls like P. Diddy, Nelly and Jay-Z borrowed John's template to develop their own successful clothing companies. The man behind branding and marketing entity The Shark Group is humbled to witness those artists' evolution into cultural icons.
"When you're in the middle of doing something, you don't realize the effect it may have with people," shared John. "I had much bigger hope for FUBU. Ralph Lauren probably does about $3 to $4 billion a year still. I did $6 billion over 20 years. When anybody touches any extension of anything that you do, you should be extremely grateful."
Pre-FUBU, John was no stranger to entrepreneurship. The results-oriented Ambassador for Global Entrepreneurship appointed by former President Barack Obama owned six businesses, including a delivery service. Prior to judging a pitch competition, Miller Lite's Tap the Future, in Atlanta, the best-selling author of "Display of Power," "The Brand Within" and "The Power of Broke" shared some of his eye-opening realizations with NBC News that signaled FUBU's growth.
It's the same pearls of wisdom, or "Shark Tools," the businessman and brand strategist offers to budding entrepreneurs he mentors and Fortune 500 companies he consults. "It's about setting up a structure and making sure that all legal is in place," said John. "You have to know about trademarks and patents. Money is not going to really help you; it's your ability to solve problems, create a team and build a genuine following that can help you."
Related: How This 11-Year-Old Turned Something Scary Into Something Sweet
John, a thyroid cancer survivor, continues: "Being a boss is not somebody who comes in late, leaves early and fires everybody. You generally come in before everybody and leave after everybody. The buck stops with you, but it's a great process: a process you constantly have to learn. You don't get to a certain level and stop."
In the early 2000s, FUBU's visibility began to diminish. The recession later that decade caused FUBU to further tank. Still, FUBU's name never went anywhere.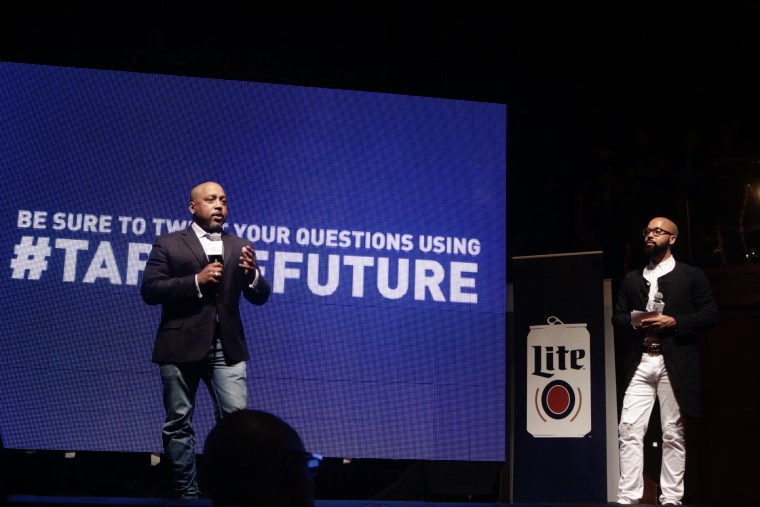 FUBU was recently revamped online through partnerships with Urban Outfitters and Ebbet Field Flannels. The retailers carry limited edition capsule collections of FUBU's original designs and sports jerseys. In Brooklyn, FUBU has opened six mobile stores. Grammy-winning entertainer Chris Brown took photos on-stage wearing a basic FUBU tee.
Reintroducing FUBU to a younger audience, John said, stemmed from noticing an influx of customers purchasing the past collections on eBay. "Reinvention is always going out, knowing who you are, what your brand is and finding an audience that resonates with it," he declared. "It's the customer first. Some kids will not even know FUBU from what it was 20 years ago. They'll just know it from getting on a phone with a whole bunch of content on it sensitive to what they like. It has to stay true to the brand. People have to demand it more than we're trying to push it."
These days, John is far from recreating another FUBU. The venture capitalist contributes to causes like donating mattresses and serving breakfast at homeless shelters. In February, he built a 17,000-square-foot member-based creative incubator, Blueprint + co, in New York City. "Shark Tank" is in its eighth season. He also invested in a barbecue restaurant and companies that produce novelty eyeglasses, bow ties and belts.
Related: Muktar Onifade: General Motors Engineer Serves Street Swag
John is grateful for FUBU allowing him to solidify a legacy by helping others fulfill their entrepreneurial aspirations. "I'm obviously a little more mature than when I was younger," he said. "At that time, I was working so hard on my first name. Now, I work so hard on what my last name will leave."