The suspected suicide of Edward Crawford, a well-known Ferguson protester, rolled over the city like a black cloud, dimming hope in a place with little to spare. His death came inexplicably, tragically, at the barrel of a gun.
Crawford, 27, the father of four, emerged as a powerful voice in the wake of the 2014 protests that shook the city, and the nation, following the killing of Michael Brown by a police officer. Crawford became a symbol of resistance, captured in an iconic photograph taken at the height of the unrest. Crawford's indelible image — wearing an American flag T-shirt, a bag of chips in one hand and the other throwing a flaming police teargas canister back at them — came to represent the city's fierce demand for justice in light of a well-documented history of abuses heaped upon the black community by police.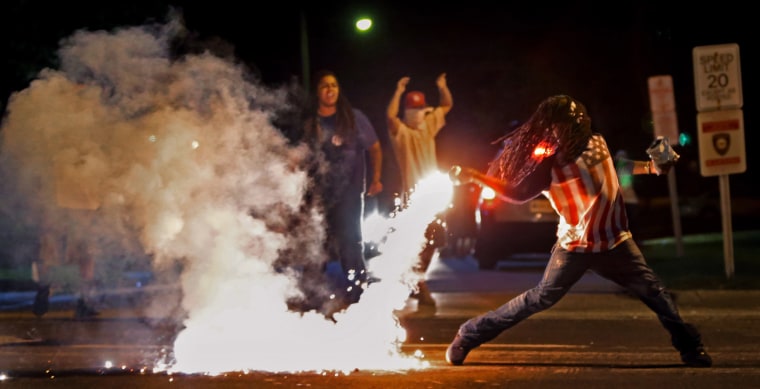 He became a fixture on the frontlines of the protests, alongside a new generation of accidental activists, activated by Brown's killing. As his body baked beneath the hot sun for four hours that day, so did their resolve to fight. And fight they did. With police. With politicians. With themselves. Their fight inspired others across the country to rise, especially the youth who'd felt long silenced by the established civil rights organizations and the white power and political structure alike.
But Crawford's death, reported Friday as a suicide by gun, has shaken the community that he embraced and championed. As word of his death began to spread from the streets of Ferguson and St. Louis to social media, there was a collective gasp. Crawford's family and friends doubted the suicide claims. Fellow protesters immediately cast doubt on the police's claims that his fatal wounds were self-inflicted. And his death was just the latest in a series of inexplicable deaths of young black men who'd been active in the Ferguson rebellions. In as many as four cases since Brown's death and the protests began, protesters were found shot dead in cars in St. Louis and Ferguson. In two of those cases the men were found dead in burning cars.
Crawford's death was another blow in a string of blows that have worked to dim the prospects of all the change folks have fought for.
"It just solidifies how we are losing people, we're losing important people in this protest," said Tony Rice, a veteran of the Ferguson protests. "It lets me know that everyone is important and we need all of our people alive."
Rice said he recalled seeing Crawford's fame rise after the photo of him tossing the teargas canister won a Pulitzer Prize. And then Crawford shrank a bit from the limelight.
"When the protests started, after that picture was taken, he was one of the most high-profile people you'd see. Every time that he came out it was a media frenzy," Rice said, adding that he thought Crawford was more comfortable in the heat of protest rather than the camera flash.
"This is terrible. It's like, we need some accomplishments. I'm not saying things aren't changing but these continued hits don't do well for our movement," he said. "It doesn't bode well for us fighting back.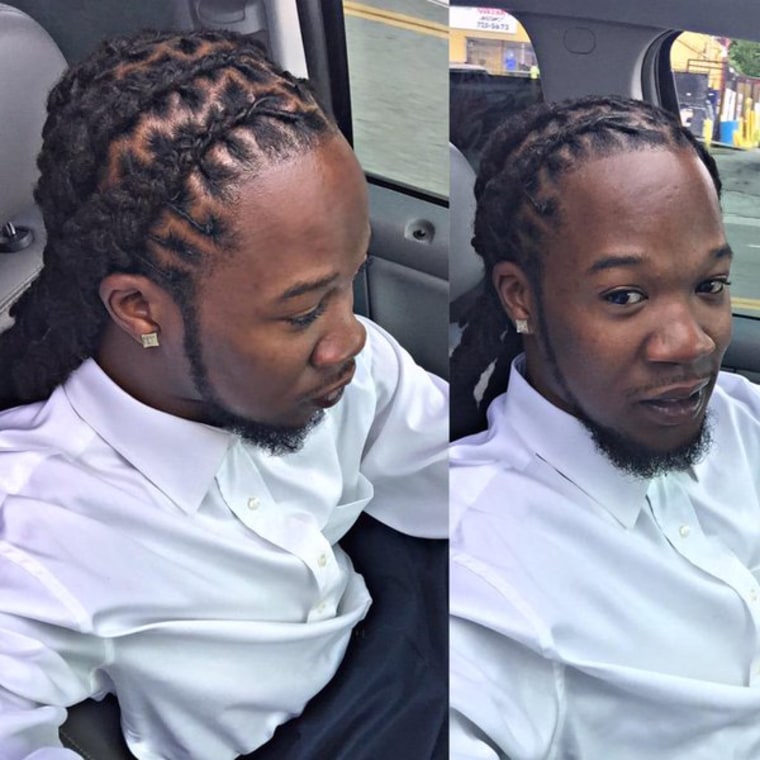 St. Louis police said that Crawford was riding in a car with friends just before midnight Thursday. He was sitting in the backseat, distraught about personal issues he was having. The last thing the passengers told police that they heard was Crawford rummaging in the backseat and then, a gunshot. Crawford suffered a single gunshot to the head, police said. He was pronounced dead at the scene.
"The incident appears to be a suicide," said Leah K. Freeman, a St. Louis police spokeswoman. "However the official cause of death is pending the results of an autopsy."
An investigation is ongoing, she said.
If Crawford's death was indeed a suicide, it'll be the second of a young Black Lives Matter protester in a little more than a year.
In February 2016, MarShawn McCarrel, 23, shot and killed himself on the steps of statehouse in Columbus, Ohio.
A few hours before he fatally shot himself, McCarrel posted an ominous final message on Facebook: "My demons won today. I'm sorry."
"It's depressing. That's what it is. There seems to be no hope."
The two deaths speak to the overwhelming emotional and psychological toll the resistance has taken on its young standard bearers. Organizers have made self-care a central pillar to their work. They've posted the phone numbers to suicide prevention lines on social media. And they've gone out of their way to comfort each other when the weight of the world seems too heavy to carry, especially those who've taken on the herculean task of changing it.
"Emotionally it is a struggle to know the reality of the conditions of the community that you are fighting for, knowing the limitations of the reforms you're asking for, and how far off true justice actually is," said Kayla Reed, an organizer with the St. Louis Action Council. "I think mentally, emotionally, sometimes the same thing that wears you down is the same thing you have to find motivation in. That's a complicated space to occupy for a long period of time. I think there's an expectation on people who do the work to always be inspirational, full of the answers and always ready with a response."
"And sometimes, some days we do not. Some days it's hard," she said.
With the bright lights and cameras of that summer of rage having faded from Ferguson, the media slunk away like moths drawn to the brighter lights of bigger stories.
What they left behind was a city still grappling with all of its broken piece — racial divisions, income inequality, a police department seemingly at war with black residents — magnified under the scrutiny that the killing of unarmed black teenager Michael Brown Jr. drew to the city. Since those early days of protest following Brown's killing three years ago this coming summer, there has been as much progress as there've been setbacks.
The city's police force is being reformed under a federal consent decree. A new generation of homegrown activists has risen to champion the needs of the city's most vulnerable and residents, both black and white, who seem to have moved further from their respective corners and closer to having the all-important race conversation than would've been impossible pre-Michael Brown.
But the setbacks have been frequent and dramatic. Despite boosting black voter turnout to record numbers in successive municipal elections, including one that added more blacks to the city council, their candidates of choice have mostly suffered defeat at the hands of the political establishment that stumbled through the crisis and upheaval following Brown's death.
The much-maligned Mayor James Knowles recently won re-election and activists say the federal consent decree meant to reform the city's troubled police department is moving at a snail's pace. Uncertainty around the agreement is even more so given orders by Attorney General Jeff Sessions for the Justice Department to review all of the Obama-era consent decrees. Sessions worries such agreements and investigations into police departments, even those with histories of widespread abuses, may lower the morale of officers.
When state Sen. Maria Chappelle-Nadal, who much like Crawford emerged on the national radar during Ferguson, heard the news of Crawford's death, she took to social media.
"He is #Ferguson's hero," the senator wrote on her Twitter account. "For those of us tear-gassed, he was our local champion."
"Everybody back home is just shocked," said Chappelle-Nadal, whose district includes Ferguson, from the capitol in Jefferson City.
"It's depressing. That's what it is. There seems to be no hope. It's like we are imprisoned as black people. There are so many barriers that are put up for us as you try to change things and you fail, you try and you fail, ultimately there is very little hope and then you see these cases like this," she said. "Folks who have been active in voicing their opinion on civil rights end up dead. It breaks you down."